Four different shows will dominate the July schedule on PokerGO with subscribers treated to a new slate of events and shows.
One PokerGO's newest tournament series of the PokerGO Cup wraps up, Phil Hellmuth will return for High Stakes Duel III to face Fox Sports 1's Nick Wright for $100,000. Also on the schedule is episodic content from Triton Million, along with the launch of Season 13 of Poker After Dark.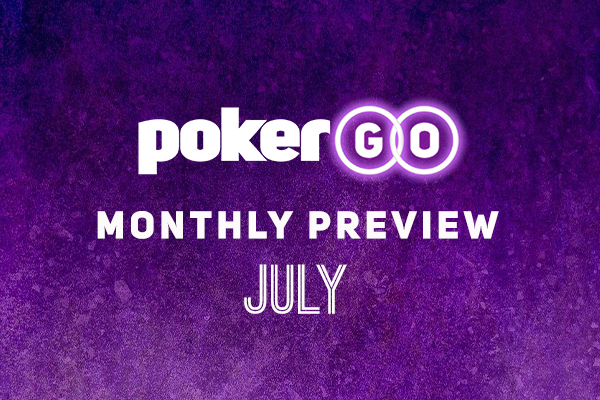 PokerGO Cup
The newest high-stakes tournament series will see eight No-Limit Hold'em events run from July 6-14 at the PokerGO Studio from ARIA Resort & Casino. The buy-ins start at $10,000 with the final two events being a $50,000 buy-in and a $100,000 buy-in Main Event.
Each of the PokerGO Cup events will play down to a final table on Day 1 before concluding the following day on PokerGO.com at 4 p.m. ET. The PokerGO Live Reporting team will also be on-site to provide live updates throughout the entire PokerGO Cup.
For the player that accumulates the most PokerGO Tour points throughout the PokerGO Cup, they will be crowned the PokerGO Cup champion and receive $50,000 in added prize money and the PokerGO Cup.
Eight straight days of high stakes no-limit hold'em!

2021 PokerGO Cup
Live streaming – July 7 to 14

Exclusively on PokerGO -> https://t.co/eerzDZ4BEy pic.twitter.com/i7aDjKL96i

— PokerGO (@PokerGO) July 1, 2021
Watch every PokerGO Cup final table air from July 7-14, at 4 p.m. ET
High Stakes Duel III
Phil Hellmuth swept Daniel Negreanu in High Stakes Duel II and was awarded his second consecutive High Stakes Duel Championship Belt. Hellmuth cashed out following Round 3 to win another $400,000 in prize money.
Hellmuth won't have too much time to relax though, as his High Stakes Duel III opponent has been announced with Fox Sports 1's Nick Wright stepping up to take on Hellmuth in the Round 1 match for $100,000. The announcement came on No Gamble, No Future, where Wright detailed his thoughts on Hellmuth, his previous opponents, and what plans he has to take down the champion.
Round 1 of High Stakes Duel III is set to premiere on Wednesday, July 28, at 8 p.m. ET with Hellmuth and Wright battling for $100,000. The Hype Show will air on Tuesday, July 27, at 8 p.m. ET, while The Weigh-In is set to air on Wednesday at 7:30 p.m. ET with Nick Schulman back on hosting duties.
Watch Round 1 of High Stakes Duel III on Wednesday, July 28, at 8 p.m. ET
Poker After Dark
Following the conclusion of Season 12 of Poker After Dark in June, Season 13 will begin airing on Monday, July 19, at 8 p.m. ET with the first of three episodes from "The Nosebleeds". Daniel Negreanu, Jake Daniels, Zach Franzi, MJ Gonzales, Scott Seiver, Dan Smith, and Matt Berkey will be playing $200/$400 No-Limit Hold'em, which is the biggest hold'em stakes played on Poker After Dark since Season 8 back in 2017.
The first-half of Season 13 will feature five different weeks of action that will see the likes of Phil Hellmuth, Eli Elezra, Maria Ho, Danielle Andersen, Bruce Buffer, and Landon Tice return. Players making their Poker After Debut include Franzi, Nick Wright, Ema Zajmovic, and Jon Aguiar.
New episodes of Poker After Dark are released every Monday at 8 p.m. ET.
Triton Million
The Triton Million was held at the London Hilton in London, England, in August 2019 as the biggest buy-in in poker history. The 54-player field was split evenly among businessmen and professional players as the world's elite created a £54 million prize pool that raised £2.7 million for charitable causes. Just 11 players finished in the money that reserved a staggering £19 million for the eventual winner of the 2019 Triton Million.
There are 10 episodes from the Triton Million as it culminates in Bryn Kenney and Aaron Zang playing for the title.
New episodes of the Triton Million are released every Thursday at 8 p.m. ET.
What Did You Miss in June?
The highlight during June on PokerGO was the conclusion of High Stakes Duel II which saw Hellmuth defeat Negreanu for a third consecutive time. It was another grueling match for the two poker legends which included some dramatic hands from Hellmuth bluffing with eight-three suited, to this crazy bad beat by Negreanu.
June also saw the conclusion of Season 12 of Poker After Dark that wrapped up with 29 episodes, along with 12 final tables from the 2021 U.S. Poker Open that saw David Peters win three events to be crowned the 2021 U.S. Poker Open Champion.
Connect with PokerGO on Facebook, Twitter, and Instagram.