High Stakes Poker has returned to PokerGO with a new commentary duo to see out Season 10. Live-streamed tournaments take a break for the month in preparation for a big March.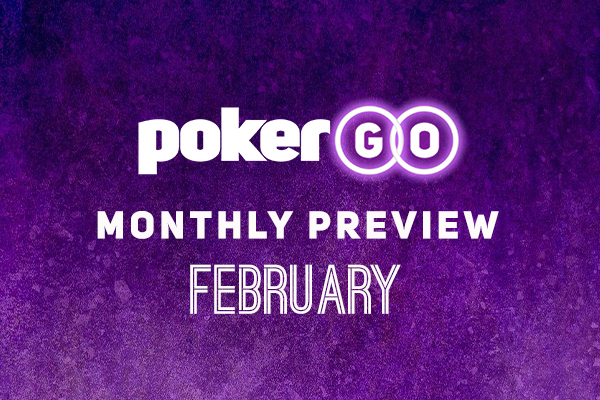 High Stakes Poker
The return of High Stakes Poker came with some sad news of Gabe Kaplan retiring, but in his place sits Nick Schulman. Kaplan was part of the first episode of the season, while Schulman will be assuming co-hosting duties for the remainder of the season.
One thing not missing from Season 10 of High Stakes Poker is incredible poker action with Episode 1 featuring one of the craziest hands that resulted in a chopped pot. However, it doesn't stop there as Eric Persson, Jennifer Tilly, Bobby Baldwin, Ema Zajmovic, Chino Rheem, Matt Hanks, and Jean-Robert Bellande continue $200/$400 No-Limit Hold'em action for two more episodes.
After the first four episodes of Season 10 have concluded, a new line-up will continue the $200/$400 No-Limit Hold'em action. Antonio Esfandiari returns to High Stakes Poker and will sit alongside Baldwin, Tilly, Roger Sippl, Robert Sanchez, and Bill Perkins.
Watch Season 10 episodes of High Stakes Poker every Tuesday at 8 p.m. ET.
Coming Next Month on PokerGO
March on PokerGO will open with the Global Poker Awards on Friday, March 3, while following the PGT PLO Series from March 11-19, the U.S. Poker Open will return with ten final table streams running from March 23 to April 4.
What Did You Miss in January?
The start of 2023 on PokerGO would see the conclusion of No Gamble, No Future with the final two episodes of the inaugural season featuring Eric Persson, Alan Keating, Jean-Robert Bellande, Pedro Velasco Adnet, Eric Hicks, Adi Chugh, and Matt Hanks playing $200/$400 No-Limit Hold'em.
The third installment of the PokerGO Cup kicked off in January with eight winners crowned that included Sean Winter, Aram Zobian, Ed Sebesta, Justin Saliba, Anthony Hu, Alex Foxen, Punnat Punsri, and Isaac Haxton. Cary Katz would be crowned the PokerGO Cup champion after cashing five times and amassing 460 PGT points – surpassing Anthony Hu by just six points!
As No Gamble, No Future concluded, High Stakes Poker began with Season 10 featuring some old favorites mixed in with some new faces. The first two episodes of the season featured Eric Persson, Jennifer Tilly, Bobby Baldwin, Ema Zajmovic, Chino Rheem, Matt Hanks, and Jean-Robert Bellande.
The most memorable hand from the start of the season was a hand where Zajmovic held pocket aces against the ace-ten of Hanks. An ace-high flop felt, and after all the money went in, the turn and river ran out a straight on the board to see Zajmovic's lock for a double turn into a chopped pot.
Many viewers will remember Episode 1 as the episode where Gabe Kaplan retired. Kaplan served as one of the High Stakes Poker commentators for nine seasons but will switch his microphone off at the age of 77. Kaplan passes the torch to Nick Schulman who will sit alongside A.J. Benza for the remainder of Season 10. "To join the show that started it all and replace the best to ever do it is a tremendous honor," Schulman said. To honor Kaplan's retirement, PokerGO aired the opening episode of the season for free on the PokerGO YouTube channel.
Connect with PokerGO on Facebook, Twitter, and Instagram.