The 2023 World Series of Poker (WSOP) is now in the rearview mirror as PokerGO enters August with a focus on episodic cash game content. PokerGO's two iconic shows of No Gamble, No Future and High Stakes Poker return with new seasons featuring your favorite players.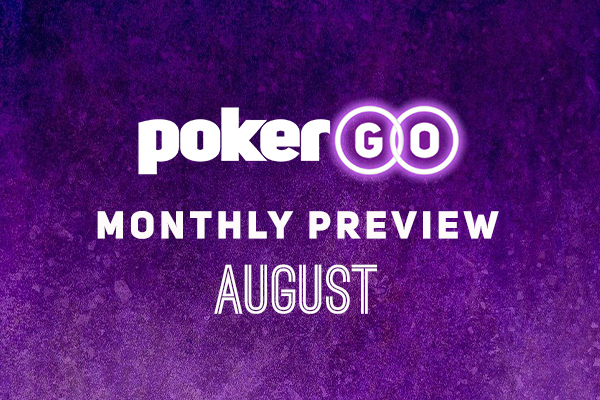 High Stakes Poker
The most iconic poker cash game show returns in 2023 with Season 11 of High Stakes Poker kicking off on Monday, August 7.
Season 11 will feature 14 episodes and will launch the season debut with the biggest stakes the show has seen with a $1,000/$2,000 No-Limit Hold'em cash game that includes a $500,000 minimum buy-in. The lineup includes Eric Persson, Charles Yu, Jean-Robert Bellande, Ferdinand Putra, Rob Yong, Andrew Robl, and Rick Salomon for six episodes.
Players returning to the High Stakes Poker set for Season 11 include Brandon Steven, Jennifer Tilly, Lynne Ji, and Doug Polk. New faces making their High Stakes Poker debut include Bob Bright, Matt Berkey, and Nik Airball.
Watch Season 11 episodes of High Stakes Poker every Monday at 8 p.m. ET.
No Gamble, No Future
Season 3 of No Gamble, No Future will see the iconic Cash of the Titans livestream cut into episodes to open the new season. Across the first 10 episodes, the three days of livestreams will track Andrew Robl, Markus Gonsalves, Rob Yong, Matthew Gonzales, Eric Persson, and Patrik Antonius playing escalating stakes that begin at $500/$500 and rise to $1,000/$2,000.
There's not just $5 million on the table, but there is also a $600,000 side bet – $100,000 from each player – that will be collected by the player that wins the most money throughout the three days.
The final six episodes of the 16-epiode season will see a mix of new and old faces. Returning to No Gamble, No Future include Eric Hicks, Eli Elezra, Shawn Madden, Justin Young, and Kevin Martin. Players making their No Gamble, No Future debut include poker all-stars Daniel Negreanu and Phil Hellmuth, along with Lynne Ji, Matt Steinberg, Lawford Edwards, and Arden Cho.
Watch Season 3 episodes of No Gamble, No Future every Wednesday at 8 p.m. ET.
High Stakes Duel
In early May, Daniel Negreanu defeated Eric Persson in Round 1 of High Stakes Duel 4 for $100,000. Persson declined the rematch, and as many players put their name in the mix to take on Negreanu, it was announced that Doug Polk would step up as the challenger for Round 2 where $200,000 would be on the line.
Negreanu and Polk have history in High Stakes Feud where the two played a hybrid of heads-up cash games – firstly at the PokerGO Studio, and then the remainder on WSOP.com. Polk won that battle, but now their own version of a Round 2 will be under High Stakes Duel 4 this August.
Both players are set to play in August, however, the date is not set yet but is expected to occur closer to the end of the month.
What Did You Miss in July?
The month of July on PokerGO saw the completion of the 2023 World Series of Poker which included Daniel Weinman winning the WSOP Main Event for $12.1 million in prize money.
Weinman topped the record-smashing field of 10,043 entrants in the 2023 WSOP Main Event and rode a wave of great play, mixed with some good fortune. Weinman won a hand with 14 players remaining that will go down as the luckiest hand he has ever played. For Joshua Payne, the hand will forever be his WSOP Main Event heartbreak moment.
Some of the wildest moments from the 2023 WSOP Main Event also included this hand from Tom Dwan that saw him hit the rail:
This wild bad beat on Day 5 of the 2023 WSOP Main Event that featured Bill Klein with pocket kings:
Connect with PokerGO on Facebook, Twitter, Instagram, and TikTok. Watch daily poker clips on the PokerGO YouTube channel. Join the conversation on the PokerGO Discord server.