I'm currently in the midst of a three-week-long trip to the U.S. the main reason for which is to cover the poker scene in Las Vegas during the WSOP. That being the case, I've happily utilized the occasion to spend the weekends with my brothers in New York during the first weekend, and my aunt, uncle, and many cousins from my mother's side in Los Angeles during the second and third weekends. After having spent the past week in Las Vegas, a few people I know from the poker world asked me why I was driving out to LA instead of staying in town. I explained that I was born and raised there, had lots of family and old friends still living there, and that I was looking forward to spending the Jewish Sabbath in my former hometown community. Especially since I live in Israel, many thousands of miles away, this trip presents a unique opportunity for me to have special family and friends reunions. In short, poker takes a back seat on the weekends so that I can dedicate time reconnecting with many of the people I love and hold so dear to me.
Last night, after the Sabbath ended, I drove to my cousin's house in the Pico/Robertson area and enjoyed a couple of great hours chatting with him and his wife. A little after midnight, after we said our goodbyes, I felt something nagging at me. Even with the World Series of Poker going on and my heading back there on Monday, how could I possibly be just a few short miles from the world's largest poker room and not pop in for a short visit? So, off to the Commerce Casino I headed with the intention of enjoying some low-stakes mixed games for an hour or two.
Enjoying some good old $4/$8 Stud at @CommerceCasino ? #pokerlife pic.twitter.com/dvBCH1jJeD

— Robbie Strazynski (@cardplayerlife) June 11, 2017
Not having been back to the Commerce for a few years, the room full of action that greeted me upon my arrival was a true sight for sore eyes. I started making my way to the cashier to buy some chips when all-of-a-sudden I heard the unmistakable sound of his voice.
It couldn't possibly be.
My head darted right and lo and behold there he was; Paul Young, in the flesh, animatedly walking and talking about a hand with a buddy of his. His hair now gray, but wearing that same white collared polo shirt (sans logo) I had seen him don day after day, summer after summer in camp, my heart skipped a beat. I hadn't seen Paul – I still call him Coach – in 12 years. He's not on social media and has always been quite particular about keeping his life away from camp extremely private. To the best of my knowledge, "Paul Young sightings" amongst his former campers and staff are exceedingly rare outside of Paul Young's Sports Club (PYSC) itself, a Jewish day camp he ran for 28 incredible summers.
This was a man who shaped my life in an indelible fashion; someone who I never thought I'd get the chance to see or speak to again… how could I ever have known he was into poker?!
My first summer at PYSC was as a seven-year old, and I loved every minute of it. Imagine 140 boys aged 6–12 playing board games, learning sports skills, having fun on busses, in swimming pools, at beaches, Dodger games and theme parks. All the while, we also learned the values of sportsmanlike conduct, teamwork, compassion, and camaraderie. Winning the gold medal in our annual intramural Maccabiah Games or 100 packs of baseball cards for bowling a strike with a red #1 pin was nowhere near as laudable as coming home with a Mensch Award. Lifelong friendships were forged at PYSC and thousands of Los Angeles youths who are today in their late teens, 20s, and 30s all share these wonderful experiences and memories.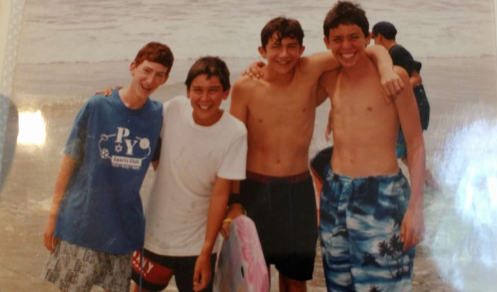 I returned each and every year for nine straight years, transitioning from camper to CIT (counselor in training), JC (junior counselor) and eventually a counselor. After graduating high school in 1998 I moved to Israel, but I would have one "last hurrah" in Coach Paul's camp for a month as a 23-year-old Assistant Director. At the time, when I called him out-of-the-blue to ask at the last minute if he needed an extra counselor, he replied that "there's always room for a Strazynski in my camp".
I called out to him, he spun around and immediately exclaimed "I don't believe it!" He recognized me immediately and the joy on his face was clearly just as palpable as the joy on mine. For the next hour or so, we proceeded to catch each other up on our lives. I couldn't believe it when he told me he is now 66 years old; he looked to be in great shape (as befits someone with a lifelong habit of proper physical education and instruction). I felt waves of emotion pour forth as I told him story after story about my "new life" in Israel over the past 17+ years and showed him pictures of my wife and children. He remembered my mother, of blessed memory, and had some beautiful things to say about her. He asked about my Dad and brothers, as well as my cousins, and I happily showed him some more pictures. With tremendous pride I shared how just a few weeks ago I took to my local basketball courts with my 9-year-old daughter and 7-year-old son and practiced passing and dribbling drills with them, just how he had taught me as a little kid, and how I had taught other campers as a teenage counselor.
Coach also shared many stories and memories of camp with me, many of which I could only now appreciate as an adult; all the hard work, time, and effort that went into pulling off those amazing summers – both the special events as well as the day-to-day. In comparing the "good old days" to how things are now, he mentioned a couple of times how "camp wasn't just about the money" to him. While he didn't say it, I could read in his eyes that Paul had quite simply made it one of his life's missions to give us campers amazing, unforgettable experiences. More than once he mentioned how he had kept all of the thank you letters from parents over the years. "It wasn't just about the money, Robbie."
Then we talked poker! Neither of us could believe the other was into the game. He told me about how he heads out to a live poker room to play a couple times a month, as well as about the unique laws California has that govern the poker being spread in all the big rooms. I told him how my Dad first introduced me to the game as a kid and the story of how I really got into the game in the wake of the Moneymaker Boom, eventually founding this blog. It gave me tremendous pleasure to gift Coach a deck of my branded cards and a Cardplayer Lifestyle patch; a couple of small tokens of my endless appreciation to a man whose imprint on my life runs so deeply.
Coach and I parted ways with a big hug. Instead of spending the short poker session that followed focused on my game, all I could think about was how I would finally, publicly, give Paul Young a big thank you through this article as tribute.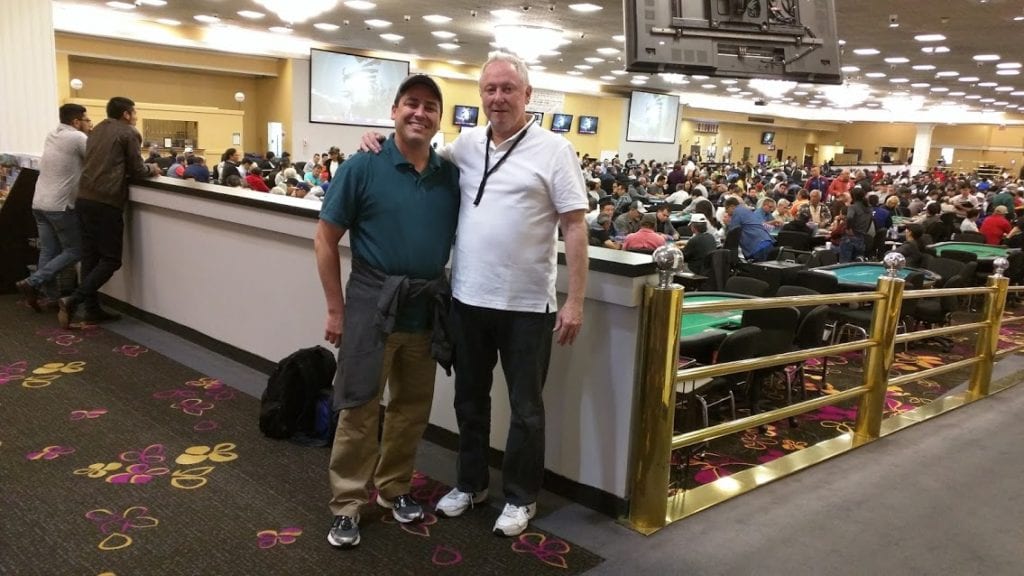 Dear Coach, you seemed so positive, at peace, and fulfilled. With all the good you've done for so many people over the years, you sure deserve happiness. I hope you keep on running well in life, and this has made you smile.
Poker, too, isn't always just about the money. Sometimes, the game we all love can just warm your heart.
I don't believe in coincidences. I'm so happy I decided to head out to the Commerce last night. I might have lost $100 during my short session, but I sure drove home feeling like a million bucks.