Iceland Poker – The Landscape
I visited Iceland for four days, renting a car, driving into the countryside, and staying every night in the capital and largest city on the island, Reykjavik.  Though poker in Iceland is not legal, I managed to find a few places where the game is spread.  Proprietors of these poker clubs consider poker to be in a grey area of the law – not strictly legal, but not truly illegal either – as poker clubs are generally allowed to operate as long as there are no clearly illegal activities, like drug use or underage drinking.

Iceland is a land of extraordinary scenery.  By extraordinary, I mean very different from ordinary.  As you get outside the city, you see terrain that looks other-worldly.  There are vast stretches of lava fields, covered often in moss and lichens, with few trees or even shrubs.  This barren terrain is interrupted by enormous gashes and outcroppings of black rock, and scored with deep crevices, cataracts, streams, inlets, and waterfalls.  There are active and inactive volcanos on the island. In certain spots there are also active geysers, as well as pools with superheated water bubbling up.  There are huge areas of glaciers and mountains that punctuate the horizon and ask for exploration and hiking.  It is the ideal spot for someone who loves to hike and commune with nature.
Iceland is located just south of the Arctic Circle.  Accordingly, there are nights with little to no darkness in summer, as well as very long and dark nights in winter.  In the fall to spring months it is an ideal place to watch the Northern Lights.
I traveled to Iceland in late August, when the sun rises around 6:15am and sets near 8:30pm.  The weather was ideal for me, typically with overcast skies, a slight drizzle for a few hours, and a strong breeze, with a temperature range of 45 to 68 degrees Fahrenheit.  There was a day-and-a-half of clear skies.  You'd want to make sure to bring a waterproof jacket with a hood, and probably a sweater or sweatshirt.  There are many used clothing stores if you don't want to bring your clothes with you.
It is an outdoorsman's paradise.
Strange then, I suppose, that I went in search of an indoor activity – poker.  But I did.  And I was rewarded for my efforts.
Poker Scene in Reykjavik, Iceland
There are two primary poker clubs in Iceland – both in the greater Reykjavik metropolitan area (if you can call a city with 140,000 people a metropolitan area), just over the eastern border of the city, in Kopavogur, about two miles from downtown Reykjavik.  I visited and played in both.  Given the beautiful weather, and the relatively late sunset, I elected to walk to them.  Considering how safe Reykjavik is, I even elected to walk home in the dark.  They were just a little over a mile from my hotel.  They were pleasant walks. (I also visited a third club that, sadly, did not manage to get a game going on the Wednesday night I was there.)
A word about finding poker in places like Iceland, that don't have fully legal public poker rooms.  There's a Facebook Page, Global Poker Community, whose members provided invaluable assistance.  I posted my request for a game in Reykjavik; and within two hours I had contacts who helped me find something.  I recommend it highly.
The first club was Hugar Poker.  (The Icelandic name is actually a lot longer; but is unpronounceable for native English speakers.)  They're located on the second floor of a shopping area – right over a sporting goods store.  Hugar has five or so tables, a game every night of the week, tournaments nearly every night, and an on-site kitchen.  They welcome foreign currency, and gladly changed my Canadian Dollars (left over from my poker trip to Alberta, Canada) into the local currency – at the official rate, with no fee.  It was an easy and convenient place to play poker.
The players were all extremely friendly, even offering me some of their menthol flavored, pouched, tobacco chew.  I politely refused.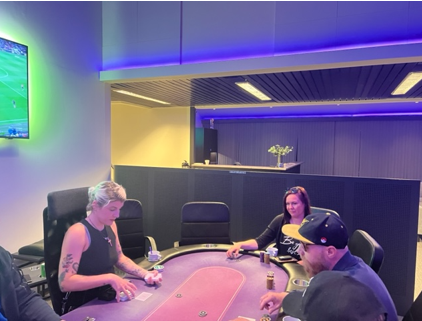 I played in the cash game and the tournament, visiting three of the five nights I was in Reykjavik.  It's an extremely well-run room, with a regular local clientele, and dedicated professional dealers.  The room itself is clean, well appointed, with good lighting, new-looking tables with firm felt, comfortable well-padded chairs, and beautiful plastic cards with images slightly different from those I've seen elsewhere.  There are chess boards set up, a dart board, and comfortable couches.  I also sampled the food.  I had chicken skewers.  They were well prepared, tasty, served very hot and with a wide assortment of dipping sauce.  They had sandwiches, hamburgers, salads, and a few Middle Eastern items on the menu. You wouldn't go here for the food, but from my dish, and what I saw others eating, it was a couple of levels better than adequate.  It was also a little cheaper than the typical restaurants in the area.
The game was played in the local currency, Icelandic Kroner.  There is only one cash game that is played in this city: 100/200 no limit Texas Hold'em, with a 100 minimum and 500 kroner maximum buy-in.  100 Kroner roughly equal to $.75 US.  The rake was 5% with a 4,000 Kroner maximum.
The tournaments featured a 10,000 Kroner buy-in, with a 1,000 Kroner add-on for the staff that got you an additional 10,000 chips to add to the starting stack of 30,000.  Everyone elected to purchase it.  The house took 10% of the initial buy-in, and nothing from any of the re-entries.  They got two tables, with half a dozen people re-entering – for a total of 22 entries.  I finished in sixth place, with three places paid.
The crowd seemed to consist of regulars – most of whom were at least fairly skilled – a couple highly skilled.  I did not see any completely clueless, new, inebriated, or otherwise hapless players during my eight hours of play.  Nor did I see any players who made their living at the game.
Poker Express, Iceland
I played one night at Poker Express.  This, too, is a well-run club, operated by a successful poker player, Isak, who won the Icelandic poker championship a few years ago, and who has had experience playing in Las Vegas.  He was present when I visited , played in the game,– and was extremely engaging and positive about the game and his club in particular.  I enjoyed sitting next to him when I played in their 100/200 game.  They also gladly exchanged my Canadian currency for Icelandic Kroner – for the official bank rate.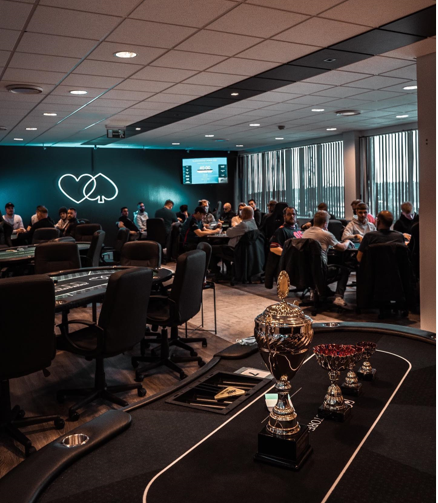 The players here were quite a bit younger and seemingly less experience, less skilled, and surely less aggressive than the players at Hugar. The younger demographic seems to be part of the owner's business model, as he mentioned that he was looking for a different vibe from the other major club in town. Notably, their rake cap was even higher at 5,000 Kroner.
I had a delightful and profitable session at both clubs.
The third club I visited, but did not play at since they didn't manage to get enough players, was Magma Poker Club, located in a building with a billiard and snooker club. They were welcoming, friendly, and, except for the operator and the dealer and me, completely empty.  (A college classmate of mine, seeing my posted picture of the club, told me that it was mis-named – since magma only refers to the molten form of lava, when it is still beneath the surface of the earth.  I had to correct him – as all of the clubs in Iceland are, because of their questionable legal status, underground!)
Below is a picture I took inside The Magma Club, Reykjavik, alongside club operator Thorri.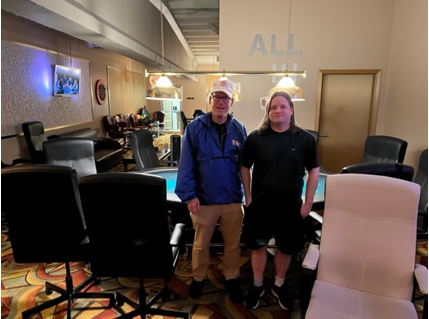 The Rake
Iceland, isolated as it is as an island in the North Atlantic, at least a two-hour flight from its nearest European neighbors, does not have much competition for players' poker dollar (or Kroner).  Poker, being technically illegal, also adds upward pressure to the cost of the game.  Accordingly, it isn't surprising that the cost of poker is among the highest in the world.
The cash games were raked at 5% with a maximum of between 4,000 and 5,000 Kroner.  At the current exchange rate that's a maximum rake of between $37 -$47 a pot.  I'm not sure how that is sustainable, but the two major clubs have been thriving for over a year – and show no signs of slowing down.
The Restaurants in Reykjavik
Reykjavik is a tourist city.  Much of the economy depends on visitors and on the many meals they purchase.  It's no surprise that there are some great seafood restaurants.  There are also many bars and pubs, a few of which have a gambling and poker theme.
Here's one of the more colorful pubs, from the heart of the tourist district.  But don't be fooled; though it seemed like a lovely pub, there is never any poker.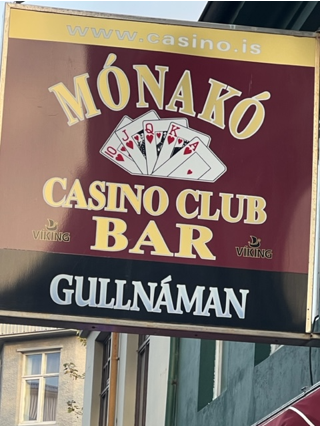 Iceland has great lamb and seafood – especially fish.  I had four fantastic fish meals and one dinner of delicious lamb ribs. My first was at Grillmarket, my second at Sumac (the lamb), my third at Messinn, my fourth at Reykjavik Fish, and my last and best meal was at Fish & Company.
But be forewarned: Iceland is quite expensive.  Even a modest hotel will run you about $200 a night.  Lunches will almost surely be at least $25; and dinners, at even the least fancy of restaurants, will likely run you $50-100, even without alcohol.
Getting to Iceland
Iceland is quite convenient to get to, with non-stop flights from all over Europe and North America.  It is a 4.5-hour flight from Boston, and a 3.5-hour flight from London or Paris.  Many cross-Atlantic flights on discount airlines like Play and Wow stop in Iceland.  If you can, I recommend extending your layover to include at least a night or two in Iceland.  This would allow you to tour the amazing countryside during the day, have dinner in the evening, and then catch a cash game or tournament in one of the poker clubs at night.  The rooms stay open until the following morning.  The rake is quite high, I know, but the experience of playing poker in this beautiful island nation, with these extremely friendly people, is priceless!