Wondering what it's like to play in your first World Series of Poker Main Event? Ask Steve Bierman. A landlord and the owner of an insurance company in New Orleans, Steve regularly plays $1/3 and $2/5 No-limit Hold'em. He's known, at Harrah's New Orleans, for his friendly table chatter and a pugnacious playing style. Last December, Steve won a free entry into a satellite whose prize was a $10,000 ticket to poker's most prestigious tournament. He outlasted 70 opponents to win the seat.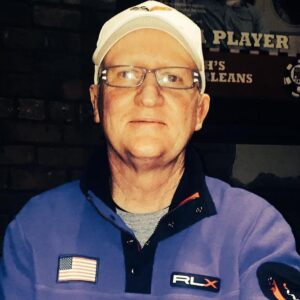 I first met Steve at Lager's International Ale House in Metairie, Louisiana, where we talked poker with "Wild" Bill Phillips, Steve's friend, coach, and co-founder of gulfcoastpoker.net. Determined to ready himself for the Main, Steve trained with Bill and played in Las Vegas for a full month. Just yesterday, during the first break of Day 1B, when swaths of grinders and fans and reporters swarmed the Brasilia Room of the Rio, I spotted Steve and asked him about his first WSOP experience.
Ben Saxton: "This is your first Main Event! This is huge. Why don't you walk me through your day to let me know how you prepared."
Steve Bierman: "Slept till 6 a.m., got up, ate breakfast. Went back to sleep, got back up at 11."
Nervous?
Extremely nervous. I'm telling you, Ben, I was sitting at the table for an hour and a half just focusing on my breath. That's all I could do.
What was your mentality going in?
I generally play pretty loose early on. Most people don't realize I'm an aggro, but with these levels as long as they are, I decided to tighten up.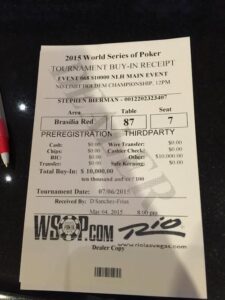 So you've been playing pretty tight?
Very tight. Extremely tight. I've been throwing away jack-king, ace-eight. Hands that I'd normally play.
How's your table?
I've played enough tournaments to know that your table draw is hugely important, and this is a good table draw. I feel like everybody's playing ABC poker. I've only got one aggro. Unfortunately he's to my left. I've noticed people are a lot more serious. This is unlike any other tournament I've ever played: everyone's dead serious.
You're at 36K, which is up a bit from the 30K starting stack. Any interesting hands so far?
I had pocket queens, raised preflop, and then the aggro to my left reraised me. A lot of times I'll reraise there, but I just flatted. Flop comes out jack-high, two low cards, rainbow. I check, he bets 1,200, I call. Turn comes, no damage. I check, he bets again. Now I'm thinking he has kings or aces, but I'm gonna call anyway. Of course the river's a queen. And—I think I might have screwed up here—I bet 4,000 on the river, and he folded.
I don't know. I think if he has kings or aces he's paying you off.
He said he had aces.
Did he really? Wow. I don't really believe that.
I've got a feeling he's a pro. I'd love to know his name.
You feeling good right now?
I'm feeling great. My friend has been sending me texts. Look at what he wrote to me after I told him I was nervous (see image below): "Courage is not the absence of fear but the mastery of it. You have been practicing for this. Your time to shine."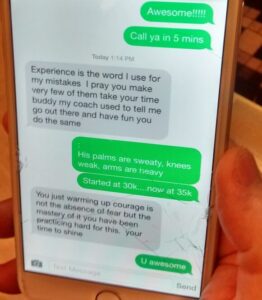 **
After six more hours at the tables, Steve looked excited and a bit tired towards the end of the evening. His stack had grown to 44K at 150/300 blinds. As soon as he found me on the rail, he was in mid-sentence about a confrontation with an aggressive player in seat one.   
**
Ace-eight suited. I make it 700, my nemesis makes it 1,500 on the button. This is the third time that he's raised me on the button. He can't have a hand every time! So I called him and the flop comes out Ace-King-Ten, two clubs. He bets 2,000. I felt like it was a weak bet, so I made it 7,000. He makes it 15,000 and I fold. What are you thinking?
I'm thinking you put yourself in a pretty tough spot there.
Where was the mistake?
I don't know… Raising the flop has to be bad, I think. You're never getting value from worse hands when you make it 7,000. So I think you can just check-call the flop and go from there. But it's a shitty spot. It's a very shitty spot. You're behind so many hands except for his bluffs. Even a hand like jack-ten has a pair and a gutshot.
That was the only mistake I made all day. I had to tussle with the one seat. And Bill told me, too: "Just leave him alone!"
How are you feeling?
I'm feeling great.
Nerves are gone?
Nerves are gone. I'm feeling good. Getting a little bit tired, but I'm all right.
Two more hours to go, right?
Yeah. I can't see me not making Day Two.
You'll make it.
**
Steve finished the night with 28.5K at 200/400 blinds. He'll play Day 2B tomorrow. Steve will be posting updates on twitter @NOLACorvette.