Playing in satellite tournaments has become a way to succeed in poker that appeals to both professionals and amateurs alike. From those just entering the game or playing for fun, it can be a way to play the high-ticket events by qualifying for a fraction of the cost. This is done by battling through a series of 'steps' tournaments until the prizes handed out are the entry to the tournament proper.
For professionals, satellites are perhaps even more important, frequently saving the canny pro player a huge amount of their regular buy-in bankroll. It's no surprise, then, that several professionals have put together some terrific literature to help the aspiring player tread their well-forged path through these satellites in order to be successful.
Bernard Lee's recent book Poker Satellite Success! walks you through all the stages you'll need to conquer in order to make money by playing poker satellites. As we found out by reading it, it's not just about the destination when it comes to satellite success, it's about making the most of the journey.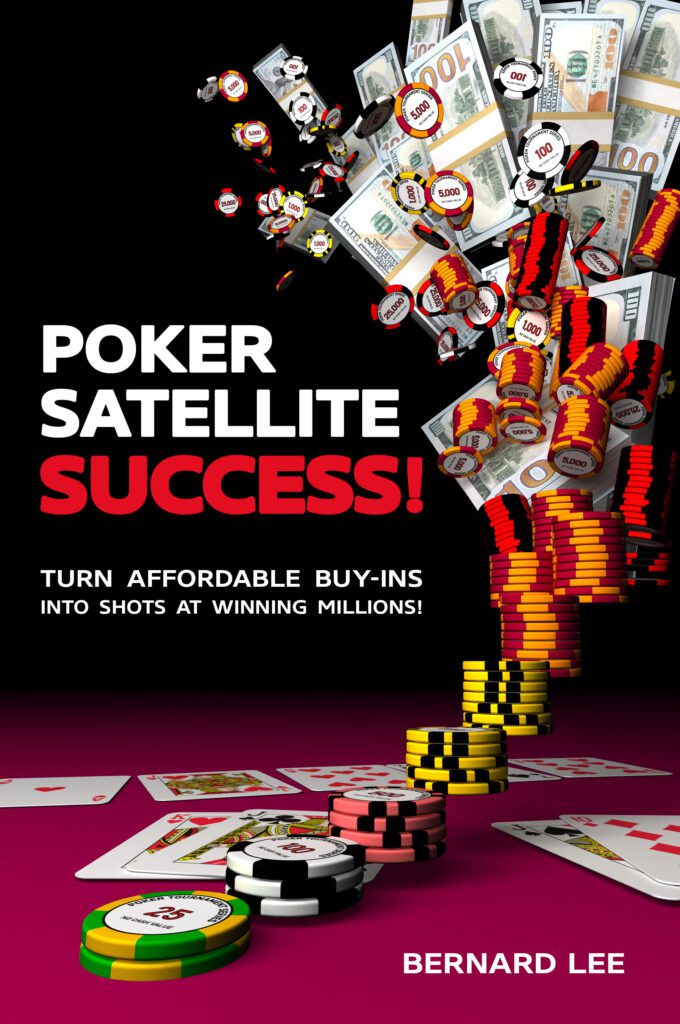 What's the Premise of the Book?
If there's a consistent path to maximizing your returns as a poker player at any level, it's playing satellites. Satellite tournaments may not have a top prize, paying a specific number of places an equal value ticket to an event with a bigger buy-in, but because of their nature they are extremely lucrative to those who know how to play them. Many players simply don't, and this is explored in brilliant detail in the book.
The notion of Poker Satellite Success! is that by breaking down the intricacies of satellite tournaments, Bernard Lee can transform the skills you already have into those of a winning poker satellite player.
Lee's inspiration from the book came from Chris Moneymaker's legendary spin-up in 2003, when the former accountant turned a satellite tournament entry on PokerStars worth $86 into entry into the $10,000 WSOP Main Event. Moneymaker, of course, went on to win that year's Main Event for a massive return of $2.5 million, changing poker forever and kickstarting the first poker 'boom'.
What's Bernard Lee's Background?
Lee, a Harvard University graduate, completely revolutionized his satellite game after this seminal moment in poker history, so much so that in 2005, Lee himself qualified for the Main Event, eventually finishing 13th for $400,000.
This achievement, not far off the luminous arrival of Moneymaker two years previously, showed the world that Bernard Lee knew exactly what he was doing. As his poker career took off and he went pro, he never forgot those lessons that he learned on his way to Las Vegas, and he passes on those lessons in this book.
Lee's mastery of poker satellites is evident in the well-written and engaging recollections he structures the book around. After turning pro, Lee became a well-known face and voice in poker, contributing to such outlets as ESPN.com, the Boston Herald, PokerNews.com, Card Player Magazine, Metrowest Daily News and right here at Cardplayer Lifestyle. Of course, he has also hosted his own radio program The Bernard Lee Poker Show for 14 years (and counting).
Lee's credentials are far-ranging, but he never comes across as knowing it all and we found his book one of humility and patient teaching. Lee would be the teacher you want to keep talking when the bell rings. His lessons in the early phase are neatly structured to introduce the concepts that you'll need to master without ever feeling like you're taking on too much information.
We went for the digital copy, which allows you to highlight and collate the most relevant points to impact our poker game, but in physical form, the book would be just as useful and playing live satellites would be a lot of fun with this book in your satchel.
The Master of Observation
Lee's gift isn't just that he's great at playing satellites, as in itself that wouldn't help at all if you couldn't replicate exactly what he does. We all know that the most impossible thing to do in poker is to ape another's game exactly as we all have strengths and weaknesses, and this is where we found Poker Satellite Success! really came into its own.
Bernard Lee's book gives you the opening information you'll need then base a series of calculations on. That then becomes knowledge you have in the bank, such as working out the blind levels and how they impact your strategy and range-finding, when to play premium hands and how to identify other players' tells.
Lee would be a great player to chat with at the table, but most of us would leave without chips because you can read all about his 'particular set of skills' and they're formidable. The best thing about Poker Satellite Success! is that adapting his lessons to your own game couldn't be simpler. From moving through the early, middle and late levels of a poker satellite to negotiating that all-important bubble, Lee has it cracked and he's determined to teach you how to do it to, by adapting your own poker game.
Advanced Extras that are Included
There are, as we've already described, multiple books available on playing poker satellites. Where many of them end, however, is how to succeed in them over the short-term. Lee goes further; there is a whole section on how to be creative and develop that key ability in satellite play of timing. Whether a deal needs to be made or what your opponents' strategies and objectives might be – points overlooked in many similar books – are both key skills that Lee presses home.
Many poker strategy books hand you a shield they've crafted and expect you to be able to defend with it instantly. Poker Satellite Success! feels like having chainmail meticulously fitted to your form. From knowing exactly when you should fold or push all in to making sure you don't make mistakes when you're nursing a chip stack through high pressure levels — something Lee did on Day 3 of the WSOP Main Event 16 years ago — everything you need to succeed is here.
If you want to succeed playing poker satellites – and we're assuming that you don't own a tree from which money grows – then Bernard Lee's Poker Satellite Success can be the book that gives you confidence to make this format pay… literally.