WPT Global Poker Room Review
Pros:
Modern mobile app
Good action at the cash tables
Generous promotions
NFT player avatars
Cons:
Desktop software not as good as mobile offering
No PLO cash games available yet
History of WPT Global
WPT Global is a newcomer to the online poker space, but the operator has quickly made its presence known through generous promotions and a quality mobile app to suit the needs of experienced grinders and those playing the game for fun alike. WPT Global launched in April 2022, powered by the expertise of the famous World Poker Tour brand, bringing a breath of fresh air into the online poker industry that's long been dominated by the same few names.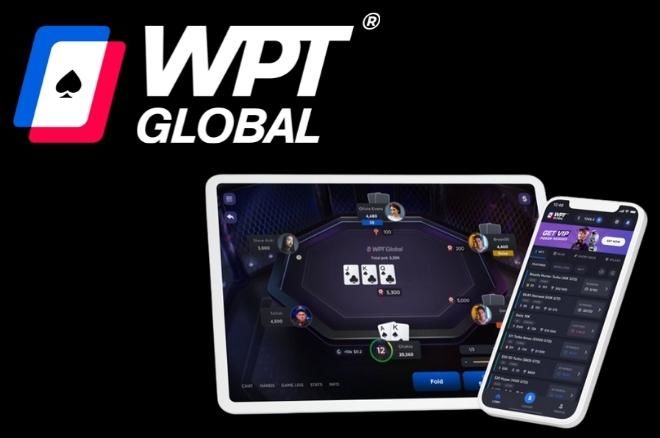 Aware of the current market trends, the operator launched as a mobile-first product, with modern apps for Android and iOS devices. This, combined with very generous promotions for new players (going beyond your standard welcome bonus), and some very cool features such as NFT avatars of poker celebrities, gave WPT Global a very strong start upon launching.
At the moment, the operator accepts players from over 50 countries worldwide, although certain popular regulated markets (such as the UK and the United States) are not currently on this list of allowed countries. It's easy to set up your account and get started using bonus code CPL, and this WPT Global review brings you all the information you need before signing up, including: details about bonuses offered, player traffic, tournament schedules, and a slew of other useful information.
WPT Global Live Tournaments
Working in cooperation with one of the largest live tournament brands out there, WPT Global will likely offer plenty of opportunities for online players to win their way into competing in World Poker Tour live events. as well as win their seats via the platform. Of course, they could also partner up with other live poker event hosts, too. In fact, WPT Global actually set up their first event in June – July 2022, partnering up with "The Festival" in Tallinn, Estonia.
It remains to be seen what else WPT Global has in store for the future, but it is clear live tournaments will play a significant role in that future to some degree. Players looking to get their shot to experience the thrill of a large live event will have plenty of opportunity to qualify online, either via the satellites or through one of many promotions running on the site.
WPT Global Online Tournaments
WPT Global offers a very solid MTT schedule for players across all stakes levels. Currently, supported game formats include No Limit Hold'em, Pot Limit Omaha, and Short Deck Hold'em. While most events have relatively modest guarantees, there are also some big ones in there, including the $100,000 GTD events taking place every month. As a new player, you can actually get a ticket to one of these when signing up, but more on that a bit later in this review.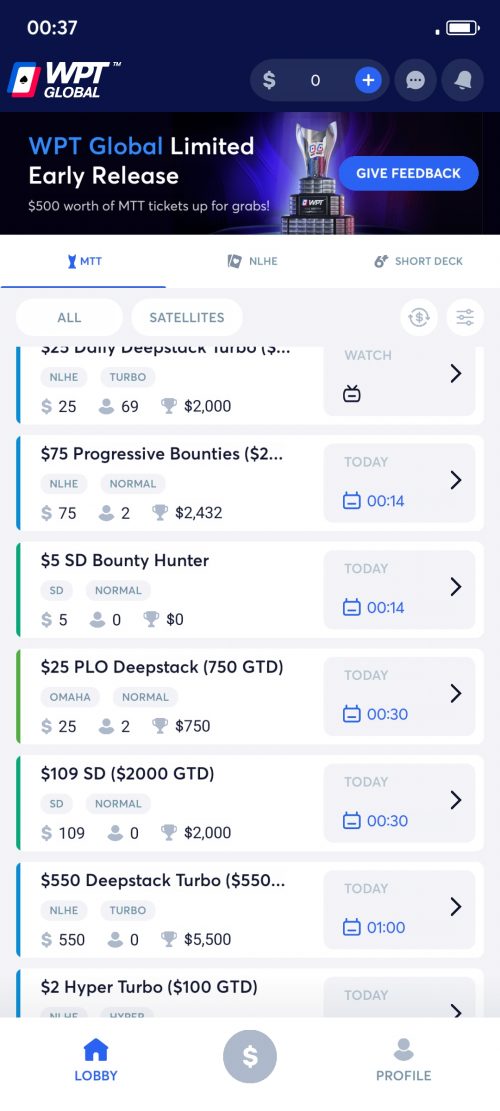 Tournaments on the platform also come in all sorts of formats – you will find deepstack MTTs, turbo events, Progressive Knockouts (PKOs), and more. For those with smaller bankrolls or just looking to start from scratch, WPT Global has some interesting freerolls, too, including the Daily Freeroll with a prize pool of $200 open to everyone.
For real money tournaments, buy-ins start at $2 and go up to $550. There are two or three events going off every hour, so there is enough action to keep you busy, depending on your bankroll and game preferences.
Players with larger bankrolls can take advantage of $109 events running regularly on the platform (featuring both standard and turbo structures). There are also great value $25 MTTs with $2,000 guaranteed and some fairly soft competition.
At the moment, the operator's flagship event is the Golden Weekly Tournament, featuring the buy-in of CNY550 (around $82) and the guaranteed prize pool in excess of $100,000. The tournament takes place every Sunday, with numerous $25 and $55 satellites running throughout the week and featuring different time slots to accommodate players from all over the world.
WPT Global Cash Games
If cash games are more your forte, the good news is there is plenty of action across all stakes at WPT Global. For the time being, cash tables are only available for No Limit Hold'em and Short Deck (6+ Hold'em), but it is safe to assume the operator will add at least PLO in the near future, as it is already available in tournaments.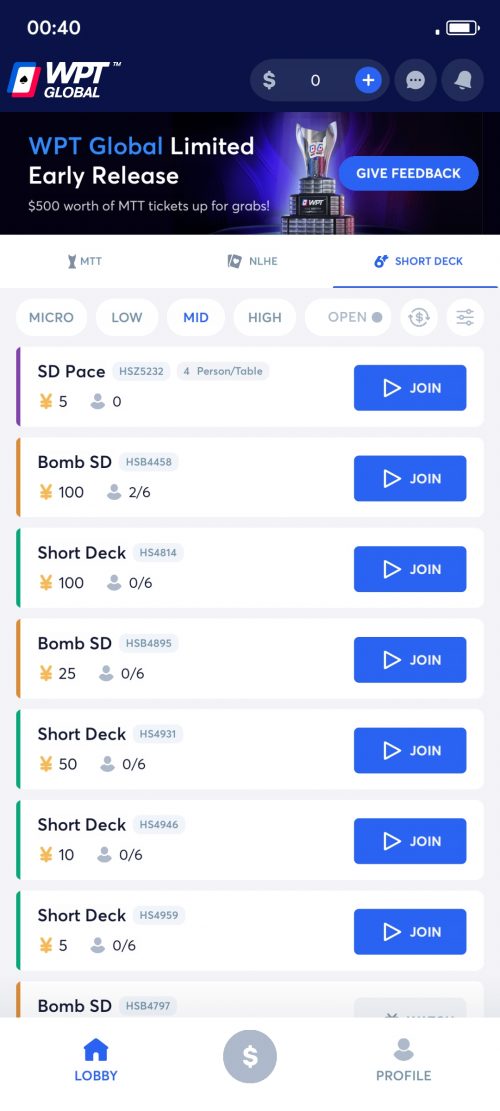 One thing to be aware of is that there are two currencies used at WPT Global: USD and Chinese Yuan (CNY). You can play at all tables, of course, and if your account is denominated in USD, the money will be converted when sitting down and leaving the table.
Stakes-wise, there is a very solid range of options, even if you're looking for the absolute micros. The lowest stakes games are CNY 0.02/0.05. From there, there is a great spread of levels, with the highest tables available at the moment being $2/4/8 (as all cash tables allow straddling) and CNY 25/50/100.
The player traffic is quite solid, which is a key ingredient in the success of a good online poker site, and there are always at least a few tables at almost any level you prefer, save for the highest ones. These games run as well, but just not as regularly.
WPT Global also has its own version of fast-fold poker, called "Pace." In these games, you can fold your hand and get dealt into the new one immediately, without any waiting time. For the time being, the traffic in these doesn't seem that great, but it's likely to pick up as more and more players open new accounts on the site. You can open yours now using bonus code CPL.
For those players looking for games with even more action, you might want to check out WPT Global's Bomb Tables. In these games, every 12 minutes, 8 big blinds are added to the pot from every active player's stack before the cards are even dealt. This helps ensure players can't just sit around waiting for premium hands and have to get involved. You can't ask for more guaranteed action than that!
The rake structure at WPT Global tables is decent as well. At the micros, pots are raked at 4%. At small stakes, the rake is 3%, with a cap of 1.5 times the straddle. On all higher-limit tables, the rake is 3%, with a cap of 0.75x the straddle for up to four players, and 1.5x the straddle when five players or more are seated.
WPT Global Software & Features
As mentioned, WPT Global is a mobile-first poker operator, and they have clearly put a lot of effort into building their mobile app. It is now available for Android and iOS devices, and it comes equipped with some interesting features.
For instance, players can choose from a variety of fun avatars to represent them at the tables. There are also different emojis to use in the chat, which always helps make the experience more fun and relaxed. You can personalize things even more by choosing from different table backgrounds, deck styles, and more.
A very cool feature available on every table is the hand replayer, where you can easily go through the recent hands to see what happened. This is a very useful feature, especially if you haven't been paying attention to the action that much and want to catch up.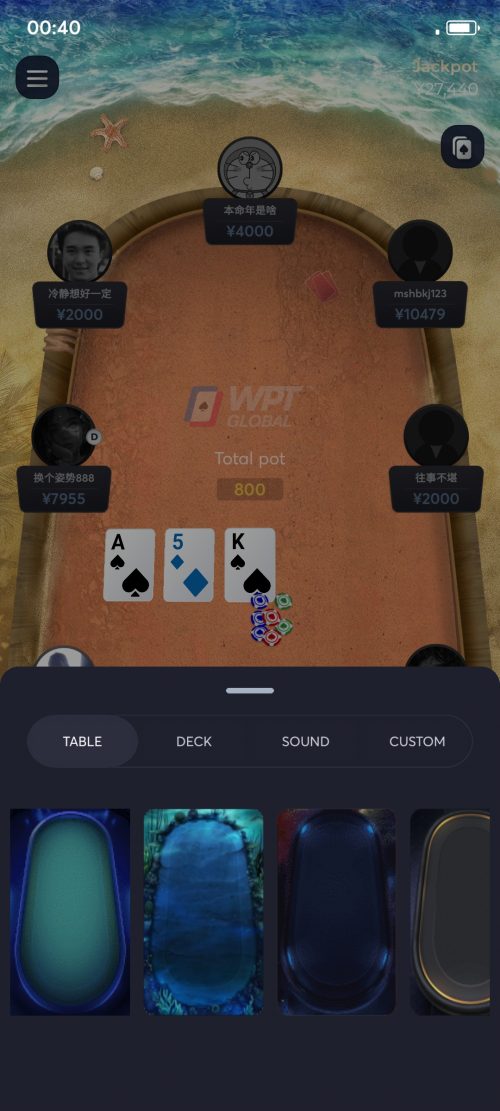 The lobby itself provides a great number of filters to help you find the games you want to play. You can filter tournaments by types, buy-ins, blind structures, and starting times, which makes navigation much easier. For cash games, there aren't as many filters, but you can still sort tables by blind levels.
If you prefer to play on your desktop computer, there is also desktop software you can download. There is still some work to be done for the desktop platform, though, to catch up to the mobile app experience, which is much smoother.
The Exclusive Poker Heroes Club
Looking to be a truly modern operator and stand out from the rest, WPT Global has also launched a very interesting project in cooperation with GAMAVRS. Called the Poker Heroes Club, it will open its doors to 9,999 owners of special NFT avatars divided into three rarity categories:
Avatars represent many popular poker players and celebrities, including the likes of Phil Ivey, Tom Dwan, Brad Owen, Steve Aoki, and many more.
This is how we make the best take of Poker possible 😎🔥 https://t.co/il5xlged40

— WPT Global (@wpt_global) June 6, 2022
Players who obtain one of these avatars will gain access to special promotions, such as access to the Members Only Club, invitations to VIP events, chances to play with the ambassadors, access to a private Discord server, entries to $100,000 freerolls, and more.
The process of minting avatars has already started and it is expected to be completed around October, 2022. When this happens, players who own one of these avatars will be able to activate them in the app and gain access to these different perks, depending on the avatar type they have.
WPT Global Welcome Bonus & Promotions
New players at WPT Global who sign up using bonus code CPL can take advantage of a sizeable 100% match bonus up to $1,200. This is a very straightforward and quite generous offer that will double your money on any first deposit between $20 and $1,200.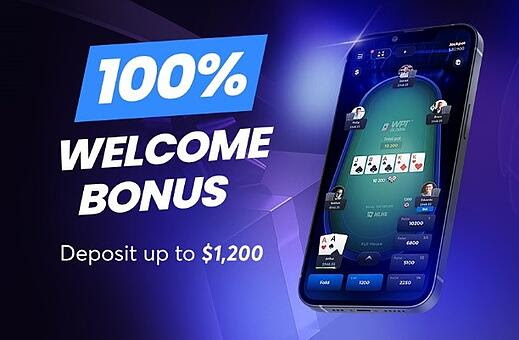 Like most poker bonuses, this one is also issued in increments rather than all at once. When you claim the bonus, it will be added to your bonus funds. As you play real money games, it will convert to real cash. Every time you pay $20 in rake, $5 will be moved from the bonus to your real balance.
However, this isn't the only thing that WPT Global has in store for new players. Looking to really make its mark, the operator has other regular and occasional incentives on top of their welcome bonus, such as:
$110 tickets to a $100,000 GTD WPT Global Welcome Event
Register via your favorite WPT Global streamer and receive a ticket to the $10,000 Influencer event and a chance to compete in the $100,000 final tournament
As you might imagine, these promotions will likely change with time, but it's safe to assume WPT Global will have similar promos moving forward as well. For the most recent ones, you can always check their promotions page and see what's new.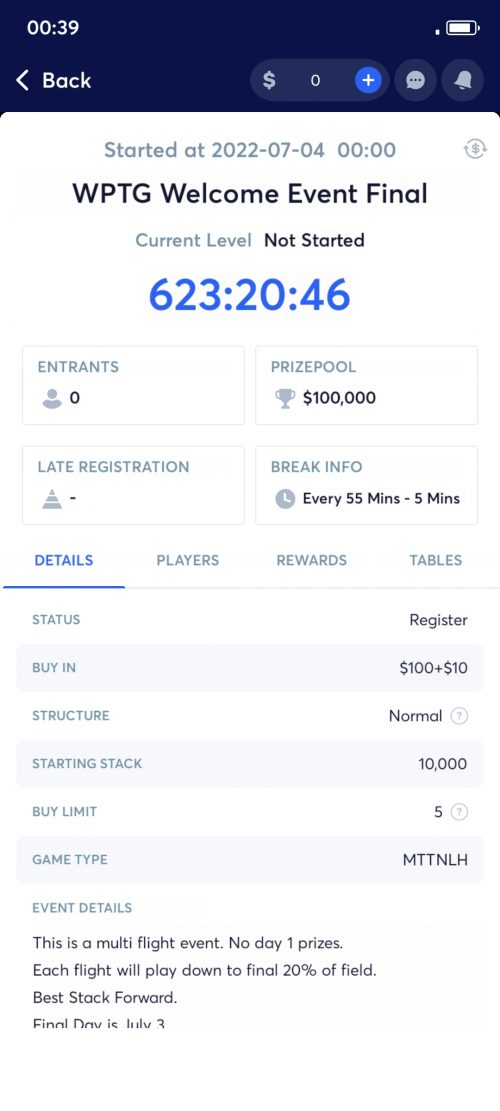 WPT Global is also in the process of setting up a unique loyalty program that will seek to offer fair and equitable rewards across the board. While the details are still in the works, it seems players will receive different percentages of rakeback based on their behavior and experience level. Players generating action and starting new tables will receive better rewards, as will less experienced players. With this, WPT Global hopes to create and sustain a fair and fun ecosystem for everyone, rewarding active players who help sustain the action.
Partnership With LearnWPT
WPT Global has joined forces with LearnWPT to give players the best chance of getting started on the right foot, especially those new to poker. For a membership fee of just $5 for the first month, players can get full Silver Access for 30 days, giving them:
More than 450 on-demand strategy videos
24 GTO Trainer Solutions powered by WPT
Ask A Pro feature
Live Workshops from LearnWPT also provide players with a comprehensive and very clear approach to the game of Texas Hold'em, giving them a winning plan to use on every single street, from preflop to river.
READ MORE: LearnWPT Online Poker Training — A Comprehensive Review
WPT Global Licensing
WPT Global is licensed by Curacao, and it caters to players from over 100 countries worldwide. However, the room currently does not cater to the residents of individually regulated markets in Europe (such as the UK) or in the United States.
WPT Global Frequently Asked Questions
Question: Does WPT Global accept players from the US?
Answer: No, US players can't play at WPT Global. The operator caters to over 100 countries worldwide, but it doesn't operate in locally regulated markets.
Question: What's the wagering like for the WPT Global welcome bonus?
Answer: Once you sign up to WPT Global using bonus code CPL, in order to clear your welcome bonus, you'll need to generate $20 in rake to release $5 from the bonus funds to your real money account. You can generate rake on cash game tables and by participating in real money tournaments with a buy-in, where the tournament fee will go towards the rake paid. So, while playing with the bonus, you'll effectively have 25% rakeback active on your account.
Question: Does WPT Global have a loyalty program in place?
Answer: WPT Global is working on developing a loyalty program that will aim to provide a fair, enjoyable, and rewarding environment for everyone. Players will be rewarded based on their experience level, engagement, and overall contribution. Thus, if you generally help to start and maintain the games, for example, you can look forward to better rakeback.
Question: Is WPT Global just a mobile app, or can I also play on my computer?
Answer: You can download and install a WPT Global desktop client as well. The desktop platform isn't as advanced as the mobile app, but it has all the main features you'll need to play without any major issues. That said, playing more than a few tables at a time could be challenging.
Question: What are WPT Global NFT avatars?
Answer: WPT Global has partnered up with a company called GAMAVRS to bring together the worlds of NFTs and online poker. If you get a hold of one of 9,999 avatars representing famous poker players and celebrities from other walks of life, you'll gain access to special perks like invitations to VIP events, access to special tournaments, and much more. The avatars are not yet active, but they are expected to go fully live on the platform towards the end of the year.