Poker Room Reviews > Redbet Poker Room Review
Pros
Licensed in Malta
Reputable brand (founded in 2004)
Supports multi-tabling
Loyalty program for players
Cons
Multi-tabling is a hassle on mobile
Does not accept players from the US and UK
Table of Contents
History of Redbet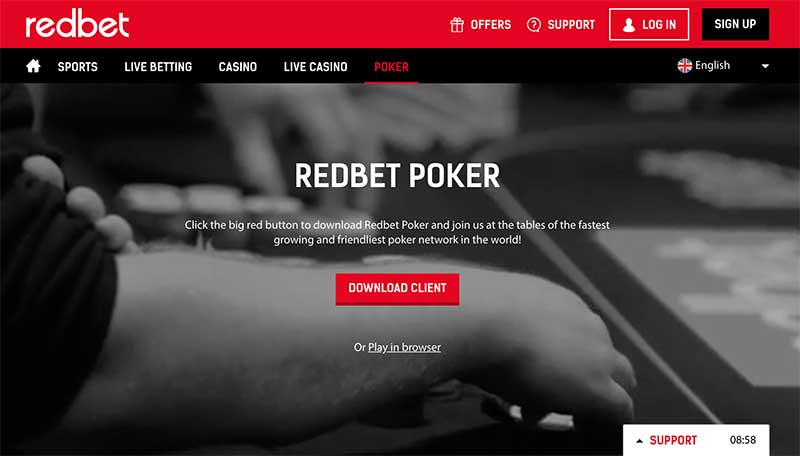 Established in 2004, RedBet's goal was to provide players with an entertaining online gaming experience focused on Casino, Sports, and Poker. Since its establishment, the brand has gone on to do so much more. In particular, its poker room has seen impressive growth thanks to its pivot to target and develop casual players. This was evident with the poker room's launch of its Hey Series of Poker back in 2010. What made this tournament (which was held around several locations in Europe) unique was that it had low buy-ins which made it relatively easy for casual players to join and get a chance to win impressive prizes. After four years, the brand opted to change the tournament's name to RedBet Live. This change was precipitated by the poker room's shift in focus to facilitating/sponsoring live events (other than just poker tournaments). Thanks to its offerings and its focus on making its target market happy, RedBet Poker is still going strong after a decade and a half of operations.
The RedBet brand is a part of the Evoke Gaming Group, which was acquired by Mr. Green Ltd for €7 million in December 2017. As with most acquisitions of this kind, the brand (especially its poker room) has continued its operations with there being no end in sight for its live events and tournaments.
Redbet Poker Live Tournaments
As mentioned earlier, RedBet has its RedBet Live series of tournaments and events. Since the brand is licensed and regulated in Malta, many of its live tournaments are held there. January 2018 saw the poker room hold its RedBet Live events at the Dragonara Casino in Malta. It featured some of the top poker players on the platform and in the region. In March, the poker room again held a well-received RedBet Live event in Malta (also at the Dragonara Casino).
Aside from holding its events at Dragonara, the online poker room has also been known to partner with other major poker tournament series. Most recently, it has partnered with the Malta Poker Festival to be held at the Portomaso Casino in Malta from November 1–6, 2018. To mark the partnership, the poker room has satellite tournaments that its players can join to win a Malta Poker Festival Final Package. Players who win the package will get entry to the event worth €550, a ticket to all of the organizers' event parties, €250 worth of expenses covered by the poker room, as well as a 5-night stay at the Hilton Hotel near the casino.
Redbet Poker Online Tournaments
If they're not too keen on going to live tournaments or events, then players can of course check out RedBet Poker numerous online tournaments. Since the poker room makes use of Microgaming poker software, players will have the chance to take part in a great online poker tournament series, namely the United Championship of Poker (UCOP). Marketed as a tournament for the casual crowd, UCOP's prizes are pretty impressive. In the most recent iteration of the tournament, MPN and the poker room were able to offer a guaranteed prize pool of €500,000. Other than this, the poker room also has Fish Party poker, which is ideal for players who prefer low buy-ins and fast, yet fun action.
Other online tournaments that players can take part in at RedBet Poker include the Classic and Mini-Classic tournament series, the Mini-Bubble Busters Freeroll, the Bubble Busters Freeroll, and the Classic Millionaire's Freeroll. Aside from the Classic Freerolls, the poker room also ran a Premium League that functioned a lot like a leaderboard. As the league then wrapped up, players who topped its leaderboard were awarded with €5.50 to €320 worth of tickets that could then be used for the Classic tournaments. The most recent of the poker room's online tournaments is the Football Fever Poker Missions. To be a part of this, players need to complete missions that will then give them anywhere from 1,500 to 15,000 chip stacks (depending on the number of missions they complete). These chip stacks would then allow players to be a part of a freeroll tournament with prize pools ranging from €1,000 to €15,000 (guaranteed).
In addition to regular online tournaments, there are Cash Games, Sit & Gos, as well as Multi-table tournaments (MTTs) for the poker room's Blaze, Omaha, and Hold'em sections that players can then opt to join. These feature relatively low buy-ins for beginners or higher stakes games for more experienced players.
Redbet Sponsored Poker Pros
Owing to its focus on drawing the casual crowd, RedBet Poker hasn't been as active when it comes to sponsoring poker professionals. With that said, the poker room did get Swedish athlete/former women's boxing champion Mikaela Lauren as its brand ambassador back in 2015.
Redbet Poker Welcome Bonus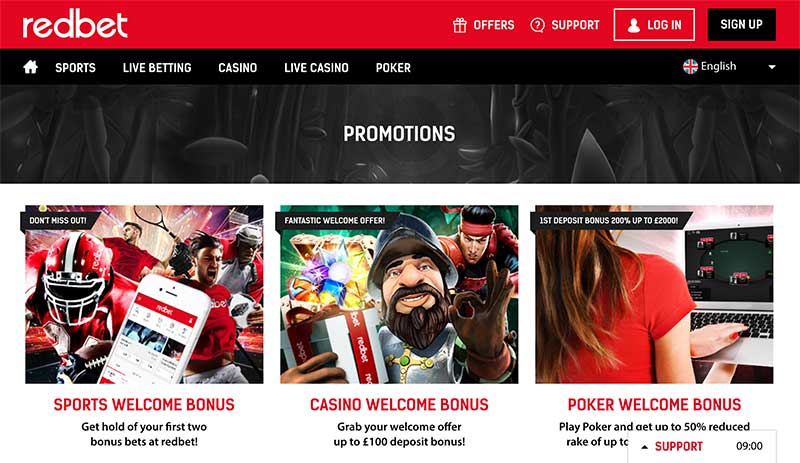 By registering for a RedBet Poker account, players will get to enjoy a generous welcome offer. Through this offer, a player will receive a 200% bonus that can go up to a whooping €2,000. To get the bonus, a deposit of at least €10 will be needed. After depositing, the poker room will give players 50c for every €1 the player contributes to rake or tournament fees. For players who deposit €11 to €200, the release rate of their bonus is set at 25%, with the poker room giving them 60 days to meet the earning requirements. If they deposited €201 or more, the poker room will set the release rate for the players' bonus (under the welcome offer) to 20%. As noted by the poker room, the discrepancy between release rates boils down to its focus on improving the poker economy by incentivizing newer players.
Always check terms and conditions before signing up and claiming any bonuses.
Redbet Poker on your Devices
RedBet Poker can be accessed through a standalone poker client that's available on desktops/laptops that run either Windows or Mac. The system requirements to run the poker client are relatively low and any computer made in the last six or seven years should have no issues running it. Players who don't want to use the poker client can also choose the instant play option through their browsers. It should be noted, however, that for the best experience, players should only use modern browsers such as Chrome, Safari, Opera, and Firefox. Players should also have no issues accessing the poker room on their mobile devices. Regardless of their device's OS, the poker room can be accessed through modern mobile browsers that fully support HTML5. Regrettably, the poker room doesn't have a dedicated mobile app as of yet.
Redbet Poker Licensing
RedBet Poker has a license to operate issued and regulated by the Malta Gaming Authority. This license allows the poker room to accept players from countries in Europe that include (but aren't limited to) Sweden, Norway, Finland, Germany, Spain, Portugal, and Turkey. The poker room can also accommodate players from outside of Europe, but they'll need to make sure that online casino/gambling isn't illegal in their respective jurisdictions.
Redbet Ownership
RedBet Poker was initially owned by Evoke Gaming Ltd. However, the Malta-based company was acquired back in December 2017 by Mr. Green & Co AB. This iGaming company is based in Malta (Mr. Green Ltd) as well as Sweden and is considered one of the fastest growing in the industry today. It currently boasts of a sizable presence in 13 markets through a number of popular online casino, bingo, and poker brands. Its flagship brand, Mr. Green, has been around since 2008 (the company was formed in 2007) and continues to be one of the most popular online casino and gaming brands in the European market. Other than Mr. Green and RedBet, the company also boasts of having brands like 11.lv, Winning Room, Bertil, Mama Mia Bingo, BingoSlottet, and BingoSjov.
Currently, Mr. Green & Co AB is listed at Nasdaq Stockholm as MRG. Much like the big names in the industry, the company has started developing its own gaming platform. As a result of its efforts, the company was able to debut new products/services such as Reel Thrill, One-Minute-Keno, as well as a smart sportsbook platform in 2016. This year, the company saw the release of a 3-D Casino called Live Beyond Live.
Redbet Poker Frequently Asked Questions
Question: Does RedBet Poker take US players?
Answer: RedBet Poker has not accepted (and likely never will accept) players residing in the US. This is thanks to the limited scope and coverage of the poker room's MGA license as well as the US Government's stand on online gambling.
Question: Does the software allow for playing at multiple tables at once?
Answer: As with any Microgaming Poker Network skin, RedBet Poker features support for multi-tabling. Unfortunately, this feature is only limited to the poker client. This means that if players want to multi-table, they'll have to download the poker client to their computers first. It should be noted that multi-tabling works differently with the RedBet poker client (or with Microgaming Poker clients in general). Every time players buy-in to a new table, the client will open an independent window. It is then up to the player to manually arrange the windows/tables on their screens. This is quite different than with other clients that just feature all the tables arranged in a single window. Multi-tabling is also possible on mobile or on Instant Play. With that said, it is a lot more complicated. Players will need to open up a new tab on their browser every time they buy-in on a new table. This could then end up being a nuisance considering they'll have sift through their browser tabs to keep track of the action on each table they've bought in to.
Question: Is there a VIP & Loyalty rewards program for frequent players?
Answer: Players automatically become a part of RedBet Poker's Loyalty program the moment they register for an account. The program has 3 Loyalty tiers with players starting out at Spark and progressing through Flame and Inferno levels. To progress through the rankings, players first need to earn Loyalty Points. As of now, the poker room gives players approximately 12 Loyalty Points for every €1 they generate in rake and tournament fees.
Question: What are the wagering requirements of the signup bonus?
Answer: RedBet Poker gives its players 60 days to meet the earning requirements of the poker room's welcome offer. For every €1 spent on tournaments fees or rake, players will get rewarded with 50 cents on their account balance. Depending on the amount they deposited, the poker room will then release the bonus either at a rate of 25% (for initial deposits of at least €10 but not more than €200) or 20% (for initial deposits of €201 and above).
Question: Can I wager my welcome bonus on casino games or in the sportsbook?
Answer: As with most brands, the bonuses for RedBet's Poker and Casino sections are different. The bonuses players get through the poker room are given only after they've managed to hit milestones on their wagering requirements. On the other hand, the casino and sportsbook sections give players bonuses automatically and players will then need to wager a certain amount if they wish to withdraw the winnings made from those bonuses. Due to the unique nature of the poker room bonuses, players won't be able to use them across other sections. In the same manner, casino and/or sportsbook bonuses will also be unusable in the poker room.