Everygame Poker Room Review
If your gambling revolves around online poker, sports betting, or casino gaming, you may have heard the name Everygame. You'll almost certainly have heard of Intertops. So what's the connection between the two?
Well, Everygame is the rebranded name for Intertops. This operator built up a significant reputation in the gambling industry over many years before the name change, especially for their poker room.
So can Everygame poker continue that great work? In this Everygame poker review, we'll aim to find out just what position they can command in the ranks of online poker rooms. In particular, we'll analyse how Everygame handles the operation's gaming side, what bonuses and promotions offer value to players, and how you get money in and out of a player account.
Everygame Poker Pros
High value welcome bonus and 36% rakeback
Accepts players from the United States, Canada, and most other countries
Wide range of permanent and one-off promotions
Long-running gambling industry history
Access to full in-house sportsbook and two online casinos
Cons
Lower traffic numbers than other major poker rooms
Mobile poker client could use some improvement
Table of Contents
Everygame History
We can trace back the evolution of Everygame right to even before the early days of the internet. It was 1983 when the name Intertops first appeared as a telephone-based sportsbook.
Intertops served sports bettors via phone betting for the next 13 years and, in 1996, was one of the first gambling operators to venture online. Indeed, 'Tops was the first to accept an online sports bet. That early foray into sports betting was soon supplemented with casino gaming, creating one of the first combined online sportsbooks and casino operations.
In 2003, as online poker began to attract players, Intertops were quick out of the gates with their efforts to expand into the poker market. At the time,  Party Poker was the largest online poker room, and Intertops made a smart move by becoming one of the original Party Poker Network operators.
When partyoker ceased its association with its skins, Intertops joined the Microgaming Network. Still, they again hit some problems when – a few years later – Microgaming decided to stop serving US-based players. This situation led to Intertops joining the Cake Poker Network, which subsequently evolved into the Revolution Gaming Network in 2012 and then became the Horizon Network.
After such a chequered but illustrious history, it caught players by surprise in late 2021 when there was an announcement that the Intertops brand was about to disappear and be replaced by the name of Everygame.
There were obvious concerns at the time of the announcement around what exactly would happen. Assurances were coming from Intertops that, in reality, all that would happen was the name change. Indeed, that's exactly how it panned out. All the operational elements of Everygame now are the same as Intertops.
That's great news, of course. Intertops had long been recognized within the gambling industry as one of the best online poker sites, with confirmation seen in ratings from both gambling watchdog sites and players. 'Tops was seen as the highest-rated online poker room on The Horizon Network – highly regarded especially for its ability to process payments in fast timescales.
So, even though there's a lengthy history, it's really from 2022 onwards that we need to see whether Everygame can keep up the same level of performance. The early signs are encouraging.
Everygame Poker Online Tournaments
From daily freerolls to $125 tournaments, the Everygame tournament calendar includes something for everyone's bankroll; however, events at the higher end of this spectrum are in short supply. The Sunday Sundowner is one to note with a guaranteed $10,000. This tourney rotates between three formats: deep-stacked, huge bounty, and progressive bounty, and is the only $110 + $15 entry on the schedule.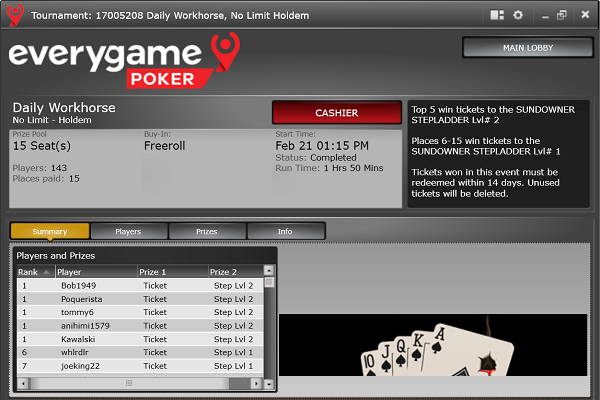 Most MTTs use eight-seat tables, but you'll find that a few $1.10 tournaments have six-max tables. NLHE tournaments predominate, with a few small-stakes PLO and PLO/8 games thrown in for good measure. Freezeouts and rebuy/add-on events are evenly distributed.
Most tournaments have guarantees, and there are situations when the money donated by buyins is inadequate to fulfil the guarantee, and the contest is cancelled.
Everygame is recognized for sponsoring satellites to mid-sized live tournaments, with two great examples being the Millionaire Maker that runs in Vegas and the WSOP Caribbean Circuit. These tournaments do tend to overlay fairly frequently, handing out more in prize pool distributions to entrants than the total buyins received justify. Small tournament series are usually held a few times a year.
Everygame Poker Online Cash Games
No-Limit Texas Hold 'em, Pot Limit Omaha, and Pot-Limit Omaha Hi-Lo are the three most popular cash game types at Everygame. All three big-bet games have blind levels ranging from $0.02/$0.04 to $10/$20. Limit Hold 'em up to $50/$100, Limit Omaha/8 up to $3/$6, and NLO8 up to $10/$20 are also available; however, these specialist variants only have tables with players on occasion.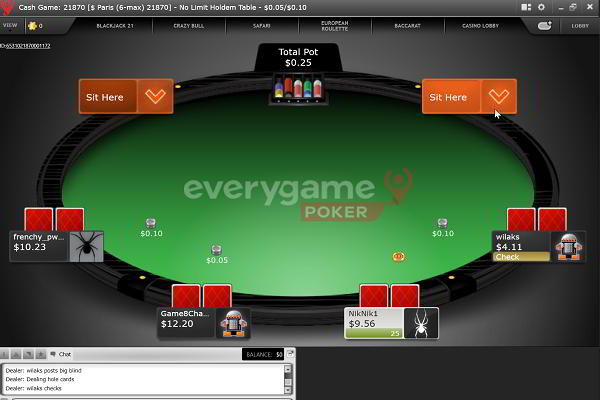 Tables have eight seats, 6-max, and are heads-up. Play money ring games are available as well, but only at six-max tables, and beginner players will find the practise chips (play money) area is practically empty most of the time.
Sit n Go's
SNGs can cost anything from $0.09 to $500. Heads-up matches are only available in contests above $60, with the remainder of the list consisting of HU, 3-player, 4-max, and 6-seat games. NLHE is available at all buyin levels, but PLO/8 is only available up to $200, and PLO is only available at $30 and lower.
Like Hold 'em, the greatest buyins for four-card poker are confined to two-player tournaments. Everygame is one of the few sites that feature fixed limit Hold 'em sit-and-go tournaments, which range from $5 to $100 and are all HUHU matchups.
There are also DoubleUp (when half the field is paid the same amount) and Heads-up SNGs, in addition to ordinary SNGs with the conventional payout structure. The winner is determined by a coinflip (one hand auto-all-in).
Everygame Sponsored Pros
There's no doubt that some capable online poker players have honed their skills at the Intertops tables in the past. Similarly, there are bound to be a few that currently play with Everygame that may end up playing at a professional level in future. Some may well have their names in lights as resident pros at the Everygame cash tables and tournaments.
With all that said, Everygame doesn't play the resident pro player game in the same way that some industry giants like PokerStars do. That's possibly a good thing for players, with Everygame choosing to focus on getting their game value and variety right instead of seeking out big names for advertising purposes.
Everygame Poker Bonuses
Like virtually all other gambling operators, Everygame offers bonuses to new players on their first deposit and reload bonuses once you have a funded account. Some extra good news here is there are also no deposit bonuses available that you won't find on a widespread basis.
Welcome Bonus
Everygame provides a generous first-time poker deposit bonus of up to $1,000, based on a 200% match on your first deposit. The best approach for depositors here would be to make a $500 deposit to take advantage of this 200% up to $1,000 deposit incentive.
Unlike bonuses on many other sites that take a long time to clear, the Everygame bonus is genuine and easy to obtain with a 90-day time limit. Depending on what game(s) one plays when clearing this bonus, this bonus code can earn an excellent 25% cashback equivalent for flat rakeback players and about 50% rakeback rates or even a touch more for VIP players. You'll receive your bonus after you've signed up and made a deposit.
If you're keen on sports betting, it's worth noting there's a $200 new player signup bonus.
Reload Bonus
Existing players that keep their eyes open for a notification email will frequently receive a reload bonus. The percentage and amount given may fluctuate. Still, it's always worth watching out for any follow-up bonuses.
No Deposit Bonus
The Everygame no deposit bonuses work in conjunction with Frequent Player Points (FPP) and associated gold chips. You'll accumulate FPP's as you spend time playing at the tables, and for every 100 you collect, you'll be awarded a gold chip. Collect 20 gold chips, and you'll be able to exchange them for a $5 bonus. The FPPs you receive as awards depend on the size of pots in the games you're playing – bigger pots equal more points.
That bonus won't just appear automatically, and you'll need to send an email indicating your login/user details to [email protected] with the subject line stating "Gold Chips $x Bonus". X, of course, is replaced with the dollar figure you're claiming.
If you don't want the bonus, there's an option to use your gold chips as buyins on some tournaments.
Playing Everygame Poker on Your Devices
On Windows desktop devices, you'll have a choice of downloading software or using the instant play option. If you're using a MAC or some other form of an operating system, you'll need to use Instant Play.
For mobile gaming, this Instant Play feature is also the solution. There are no dedicated apps for iOS, Android, or any other alternatives, so you reach Instant Play from a mobile phone just by logging in and navigating to it from the home page.
There are no significant differences in game availability or variety between the two options. Perhaps the browser-based solution will take a bit of getting used to, but you should have access to most games and tournaments.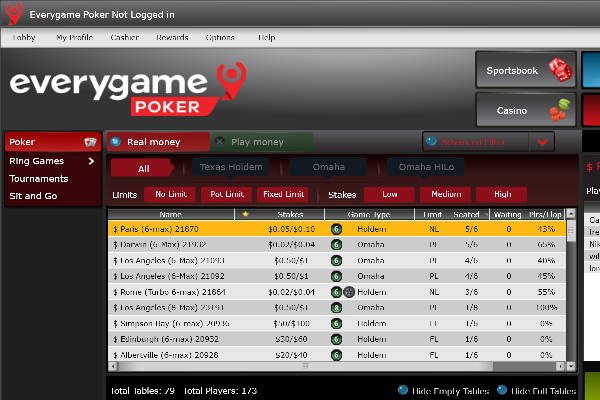 Everygame Poker Licensing
Like many gambling operators, Everygame holds a Curacao license. The company is also headquartered in the Antilles. This licensing might give rise to a small element of distrust from some online poker players, but, in this case, you'll have the whole history of Intertops to provide the trust and reputation value to any decision to sign up and play. Where a licence is issued doesn't hold much weight when talking about operators with this level of base reputation.
You can see a great example of why you can place your trust in Everygame from their approach to the financial side of the business. Online poker history has been tarnished at times, with players funds getting locked up and becoming inaccessible. Still, Everygame operates a strict funds segregation policy designed to prevent this.
With Everygame, you can be sure that your playing balance is kept separate from the operational accounting side of the operation, so if anything does happen at a higher financial level, the money that belongs to players will always be there for payouts.
Prohibited Countries
Everygame offers gambling opportunities to many players worldwide, making it easier to state which countries are not accepted rather than those that are.
It probably won't be too surprising to learn that restrictions apply to players from Australia, Austria, France, Germany, the UK. Residents of most US states can play while the list of those states with restrictions includes Kentucky, Louisiana, Maryland, Missouri, New Jersey, NY, and Washington.
Frequently Asked Questions
Question: Does Everygame Poker accept US players?
Answer: Yes, Everygame is well-known for working with US-based poker players, sports bettors, and casino gamers now and in its previous guise as Intertops. As is often the case where US players are accepted at gambling sites, some state residents are excluded. In this case, players wanting a game within Kentucky, Louisiana, Maryland, Missouri, New Jersey, New York, or Washington will be out of luck.
Question: Does the Everygame software let you play multiple tables simultaneously?
Answer: Yes, there are options for multi-tabling for players wanting to maximize profits. Everygame have an article entirely dedicated to the multi-tabling subject.
Question: Are there VIP or Loyalty rewards programs for frequent Everygame players?
Answer: Yes, the Everygame FPP programme (Frequent Player Points) is the best example. This FPP is explained in more detail in the no deposit bonus section above. Still, as a summary, it allows players to build up points through participation in games that they can later choose to be exchanged for bonus cash or used for tournament entries.
There is also a Loyalty Tiers program that is made up of 50 progression levels. Each tier has an FPP target, and every time you hit one, you'll receive a cash payment. Reach the tiers within specified timescales, and this payment is increased.
Question: What are the Everygame FPP races?
Answer: You won't solely be building up points by playing regularly, and some nice cash prizes are awaiting the most engaged players. Every week, $4000 is available to be divided among the players with the most FPPS in that week.
The top performer gets $420, with subsequent players in the descending list receiving smaller amounts down to the 100th position, where the payout is $3. Payouts are made within four days of the week being recorded and are made in straight cash direct to player accounts.
Question: How does the Everygame Instant Play option work?
Answer: Instant Play on any gambling site allows you to play games in your browser without downloading any software. The Everygame Instant Play is no different and can be easily used by navigating to the home page and choosing how to play.