I finally make it down to the casino, down the freakishly long, I mean Ghostbuster-freakishly long hallway on my hotel floor, down the elevator which smells like locker room musk that I will try and erase from my memory (it hasn't worked months later), and inwardly cringe at the line that's already formed at Subway. CRAP. I'm wearing a hat, no makeup, a sundress covered in a WSOP zip-up hoodie. It's taken me hours to work up the energy to make it to this Subway, and I didn't take into account that players from the Big 50 were on a scheduled break. This WSOP event, a new one celebrating the 50th annual WSOP would end up attracting a record-breaking amount of players. I felt like most of them were in line with me.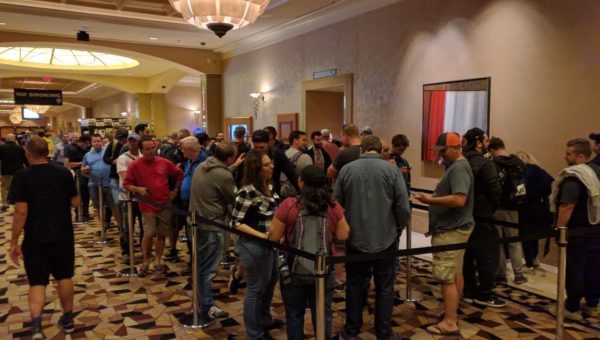 The hotel I was at was as close to the Rio as possible, as I planning on working the WSOP all summer. While I considered staying at one of the 5 best casinos in the city, I felt it more prudent to be walking distance from work rather than have to Uber each way every day. At the Subway, I'm surrounded by backpacks and hoodies, as well as stories of the bad beats players have encountered in the Big 50 tournament so far. At the moment, I'm trying to prevent flop sweat running down my back, and not make actual eye contact with anyone in line.
My normal job at the WSOP, as some of you know, is interviewing the players for the Poker PROductions bio team, usually once they reach the final table, except for the Main Event where we talk with them sooner. I gather their biographical information, which is then coupled with other research data and then given to the commentators for use during live streaming broadcasts.
I love the job. I love interviewing the players, getting to know them better, getting to meet people I would never be speaking with normally, all bound together by one singular passion. Even after numerous summers doing the job, I'm still curious why each and every one of them are there, whether seasoned by experience or there for their first time. The energy is palpable, for the players and for the people who work the event. I only see some of the members on my team once a year, for the Main Event, and every year it feels like yesterday and 100 years ago since I've seen them. It's "Poker Summer Camp," as so many people call it. We even buy shirts/hoodies that show that we've been to that same camp year after year.
So Sick. So, So Sick…
The second day of the WSOP, I got horrifically sick. I did everything I could do to try and pull it together, to no avail. I'm so lucky to have the boss I do, who made it wonderfully easy for me to try and get better. But, in the midst of feeling like I could explode from the inside out, I had massive poker fomo. Reading the updates from PokerNews, on Twitter, from friends of mine on FB felt like "Oh f*&k, why aren't I there?" I missed my friends, the energy, the excitement. However, reading the updates online still made me feel involved, a part of the poker community. The action that was happening less than a mile away from me was almost more painful than when I had poker fomo when I lived in Maui, Hawaii. There, it took a huge effort to want to go play at a card room, or speak to anyone who knew what a kill pot was.
Gratitude Is Always the Answer
However, as bad as that feeling was of missing out on the biggest season of poker, I'm so grateful for the poker online community. I got to vicariously be there, hear what was happening, be grateful that I didn't see the man pull his pants down and throw a shoe at another player. I was so happy for my friends and team members who were still there, either playing it or working it. During the rest of the year, it makes me feel like we're still connected, still asking about poker, wondering about Postle, about POY standings, about how we still need to change the perspective about what women want at a poker table (not shirtless dealers! I'll touch on this in a future column).
READ MORE: 5 Reasons to Invite Women to Your Next Home Poker Game
I still remember one of my first times playing live poker. It was in the Orleans Ballroom upstairs (for some reason it was there that week), and people were speaking my language; language I'd learned in Rounders, from my mother, from playing with friends and family, and finally from playing at Stateline, NV for the first time live. This language is now stronger than ever, all over the world and in a format that keeps me updated constantly. Sometimes I go down the rabbit hole reading about it, but I'm just glad it's there.
Turns out, I ended up inadvertently interviewing guys in the line at the Subway. As sick as I was, I couldn't help myself. And I thought to myself, see you next year.