In May of this year, a new poker circuit debuted: the Moneymaker Tour. As they've now staged four successful stops, the poker world is eager to know what the Moneymaker Tour's plans will be for next year. We reached out to Tony Burns, Executive Manager of the circuit and its creator and namesake Chris Moneymaker, to get their thoughts about "how well they've done" in year one and what their goals are for 2024.
Moneymaker Tour: The Origin
This is how Tony remembers the first time he met Chris: "I met him back in 2018 when he worked for PokerStars and visited the Seminole Hard Rock in Hollywood, Florida for the Road to PSPC. We hit it off and kept in contact over the years and through COVID times. Once he started his social club in Kentucky and wanted to get his tour launched, he reached out to me and the rest is history."
We asked Chris what motivated him to launch his own circuit and he told us that he was motivated to do something mainly by: "the amount of shadiness in the poker tournament industry. From properties cancelling guarantees midway during an event, extra high fees for players to play certain tours, tours that have not paid players, and tours not listening to player desires."
What separates the Moneymaker Tour from other poker circuits? Tony answers us: "Having Chris at our events and the way he engages with players makes our series different than anywhere else. We look to also have off the felt activities, merchandise, and trophies that are unlike any other circuit as well."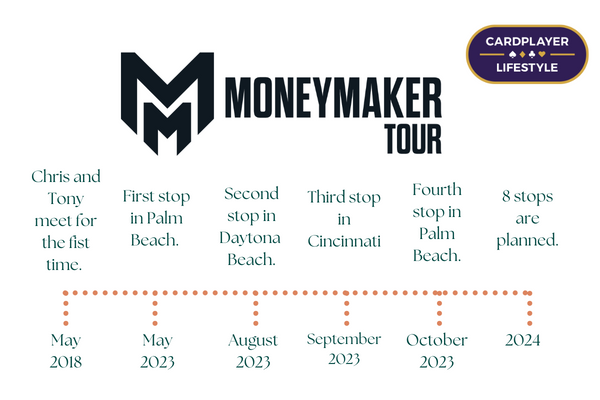 Moneymaker Tour Debut in West Palm Beach
The debut of the Moneymaker Tour was May 10-24 at the Palm Beach Kennel Club in West Palm Beach and the festival featured 21 events with buy-ins between $186 and $2,500. The Main Event had 262 entries and distributed $589K in prizes among the top 33 players. The champion was Michael Rossi, who took home a prize of $138K. Among the finalists were recognized players such as Stephen Song and James Carroll.
In the secondary events of the festival, Eugene Calden stood out, who at 100(!) years old won Event #5 and took home a $5K prize. He also placed fifth in the H.O.R.S.E. event, seventh in the Mega Stack and ninth in a Pot-Limit Omaha tournament. During the festival's four events he won a total of $7,475 to boost his impressive career stats to 181 cashes with $180K in live earnings.
Tony had some warm words to share about the great Eugene: "Gene is a regular at the Palm Beach Kennel Club who turned 100 years old in January 2023. He trapped and knocked Chris out of two events including an H.O.R.S.E. final table and the Main Event. Let's just say their on-the-felt friendship grew from there. Gene is a WWII Veteran and all-around great guy. Chris decided to buy Gene into the WSOP Main Event this year and it just so happened he became the oldest Main Event participant in WSOP history."
Moneymaker Tour: Second Stop, at Daytona Beach
The Moneymaker Tour's second stop of 2023 was played from August 17 to 28 at the Daytona Beach Racing & Card Club in Daytona Beach, Florida, with eight events on the schedule. The Main Event featured 379 $1,500 entries and boasted a prize pool of $511K. The champion was Michael Jagroo, winning $102K.
Moneymaker Tour: Third Stop, in Cincinnati
The tour's third stop expanded to a whopping 26 events and took place from September 21 to October 2 at the Hard Rock Casino in Cincinnati, Ohio. The $1,500 buy-in Main Event set a record for the circuit, as it had 788 entries and distributed $1M in prizes among the top 81 players. Notably, that final table featured two past WSOP Main Event Champions: Joe McKeehen (2015) and Chris Moneymaker (2003). Joseph Bakun managed to defeat them both and win a prize of $168K after a heads-up deal.
Joseph Bakun ($208,034) is your @Hardrock_Cincy Main Event Champion! He defeated Ian Richardson heads-up and received the crystal & guitar trophy, custom painting signed by Chris, and new @FadedSpadeBrand setup!

Congrats Joseph! pic.twitter.com/hAipbavHAi

— Moneymaker Tour (@MoneymakerTour) October 3, 2023
Moneymaker Tour: Fourth Stop, West Palm Beach
The fourth and final stop of the year for the Moneymaker Tour began on October 25 at the Palm Beach Kennel Club, is currently ongoing, and will be played until November 6. A total of 42 events will be played with several satellites to the $1,500 Main Event that will have a guaranteed prize pool of $300K.
What expectations does Tony have from the festival? "I expect to see solid turnouts from a great area poker. The WSOP circuit just wrapped up, so we see the only major event going on in South Florida."
Jimmy Tomblin wins the @PBKennelClub Mystery Bounty Event #1 for over $53,000 (including bounties)!!! Full results will be posted later this morning! Congrats Jimmy! pic.twitter.com/pzoTN2AiFP

— Moneymaker Tour (@MoneymakerTour) October 30, 2023
Moneymaker Tour Goals for 2024
While we naturally hope the Moneymaker Tour sees continued success, it's insightful to learn how Burns and Moneymaker view their progress thus far, as well as to hear player feedback. Tony told us: "The three events this year went extremely well for all venues. My home base is South Florida so a lot of the players there already knew me. They were all really excited to see the new tour and wished Chris and I the best while showing their support by coming out."
Regarding their plans for 2024, Tony shared that: "We do have some venues confirmed for 2024 but waiting to be officially announced. We hope to double the amount of stops in 2024 to eight and include our first West Coast and international stops. We are currently in discussions with venues in a few different countries and hope to finalize something soon."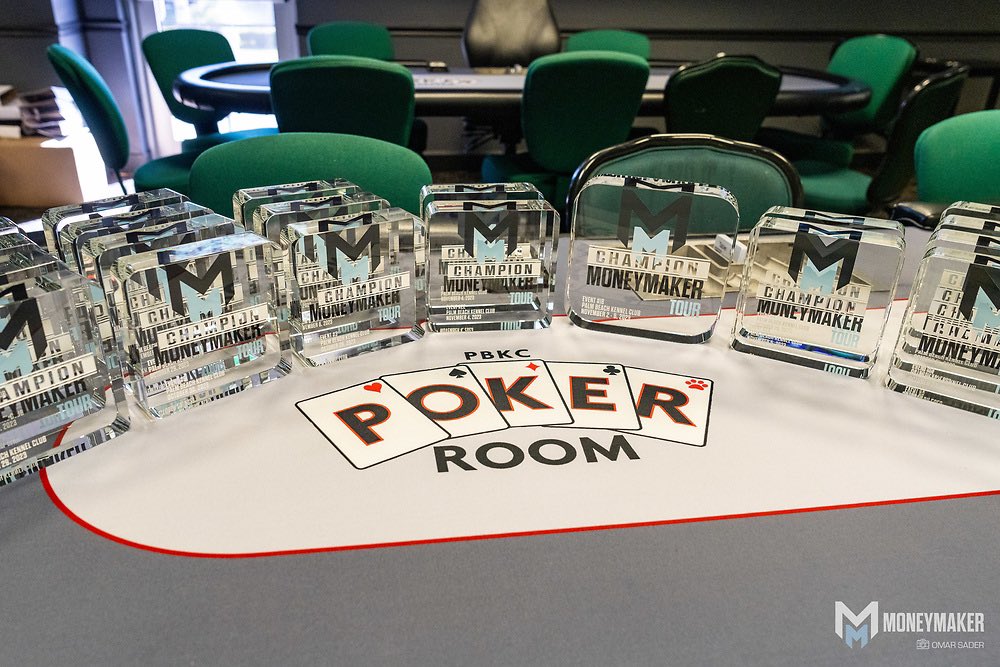 What objectives does the Moneymaker Tour have? Chris told us: "I would like to see the tour grow and expand to give everyone an opportunity to play a well structured buy-in prize pool event.  A tour that will honor guarantees and offer players a voice.  I would like to get on the level of a WPT and WSOP event."
Chris usually participates in the tournaments at each festival and we asked him what he enjoys most about that: "I like playing in Moneymaker Tour events because most all of the players are there to have a good time. Tony and staff run the tour super professionally but it has a light and fun vibe at the events."
Based on how well-received the Moneymaker Tour has been in the poker world thus far, we have every reason to believe that under the continued stewardship of Moneymaker and Burns, the trajectory will keep on heading in the right direction.