Poker. A card game that comes in a variety of different forms from Texas Hold'em to Three Card Brag. You'll find people playing these games all over the world from London to Las Vegas, and probably even Timbuktu. It is incredibly popular, and interest in it has been continuously growing over the past decade. It has even gotten to the point where developers are now making Poker video games such as Poker Club, which is available on both game consoles and PC.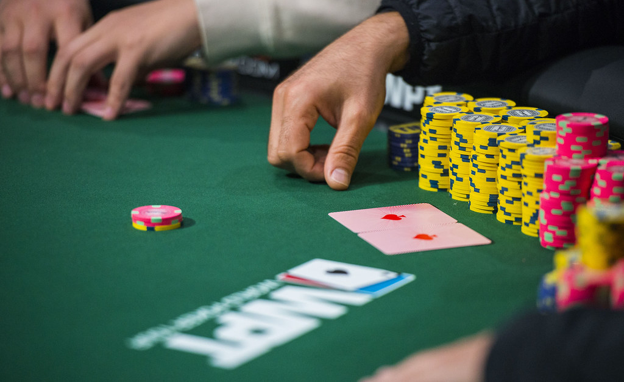 Of all of the varieties, it is Texas Hold'em that is the most popular, and one that many people try to make a career out of playing. It may sound strange that some people try to make a career from 'gambling' but the truth is, poker is more than a game of luck, in fact, there is a lot of skill involved.
Not only do players have to monitor their opponents for any 'tells' they may show to give away what cards they hold, and also try to keep a poker face and refrain from making any expression that would give away their own hand. Players also have to use math to work out the chances of their hand winning, the odds of what cards could come out in the middle of the table, and what other players may have in their possession.
So whilst yes, luck does play a huge part, skill also plays a major part, too. You could have one of the worst hands in the game, but if you've played smartly so far, and are able to bluff your opponents, you could take a handsome prize pot home against the odds. But what are the biggest of the prize pots available in poker? How much would a professional player realistically walk away from a tournament with?
Well, we're going to try to answer those questions for you. As it stands, there are some major tournaments you may have heard of already, where top poker stars come together in order to compete for the biggest prizes. But there are also more and more popping up every day, especially with the legalisation of online gambling in the US. Online poker rooms in New Jersey are legal, as they are in Michigan, Pennsylvania, Delaware, and Nevada. It's likely that more states will follow suit down the line.
Here are some of the biggest wins poker players have walked away with:
Jamie Gold – $12,000,000
The World Series of Poker is THE biggest organiser of poker tournaments around the world, usually organised annually at the Rio All-Suite Hotel and Casino, Las Vegas, Nevada, US. The main tournament is a No-Limit Texas Hold'em game which attracts thousands of players, and tournaments can often last up to two weeks from the initial opening rounds to the final table.
One tournament that really put the World Series of Poker on to the global stage was the 2006 tournament won by Jamie Gold, which to this day still holds the title for having the biggest prize pool, and one of the biggest first place wins of all-time. Gold, who had never previously won any championship bracelets (a prize handed out to the winners of WSOP tournaments) or ever placed in a cash position, took away $12,000,000 of an $82,512,162 total prize pool.
This just goes to show that anyone can win big at poker, even those who are beginners or that have had no luck previously. But it is a balance of luck and skill that is needed in order to make it to that top position. However, even if you didn't win that tournament, just cashing and making a very deep run could still net you some serious cash, as it did for Mitch Schock who finished in 29th place in 2006, bagging an impressive $329,865.
Aaron Zang – $16,775,820
Chinese businessman Aaron Zang also had an incredible year in 2019, as he won the Triton Super High Roller Series – Triton Million. The tournament w held many records besides offering one of the biggest payouts in poker history, it also had a record poker entry fee for the Triton Million, which stood at £1,050,000.
However, despite winning the series, Zang wasn't actually the biggest winner in terms of money earned. That's because before the final series, there was a prize splitting deal between himself and American Bryn Kenney, who despite finishing second, actually took home $20,563,324. If they hadn't struck the deal beforehand, then Zang would've held the record for the biggest ever win at $23,100,000, which was the original payout for 1st place.
Still, that solitary win for Zang would be enough to make up 95% of his career earnings as a poker player. Once again showing that, despite some people winning tournaments on a regular basis, many of the top earners have been one-hit wonders who win big, and never really do it ever again.
Final Words
As you can see, there are many top prizes available, and even people who finish lower down in tournaments can win a lot of money. However, as mentioned with the Triton Million, sometimes the buy-in to a tournament can be just as insanely high as some of the prizes up for grabs. There is no doubt as well, with more places opening up for both physical and online poker tournaments, we're going to see more players emerge, and prize pools ever increasing.