Since the early 2000s, online poker has become a mainstay of card-playing pop culture.
Regardless of whether you're signing-in from a live poker hub like Las Vegas or connecting from a remote locale, there's always real money action to be had at the world's most popular poker sites.
On top of that, account registration and real money deposit options have become relatively convenient processes compared to what may have been possible decades ago.
In this article, we'll take a look at some of the basic aspects of virtual poker games, how they differ from live cardroom venues, and how easy it is to learn how to play poker online.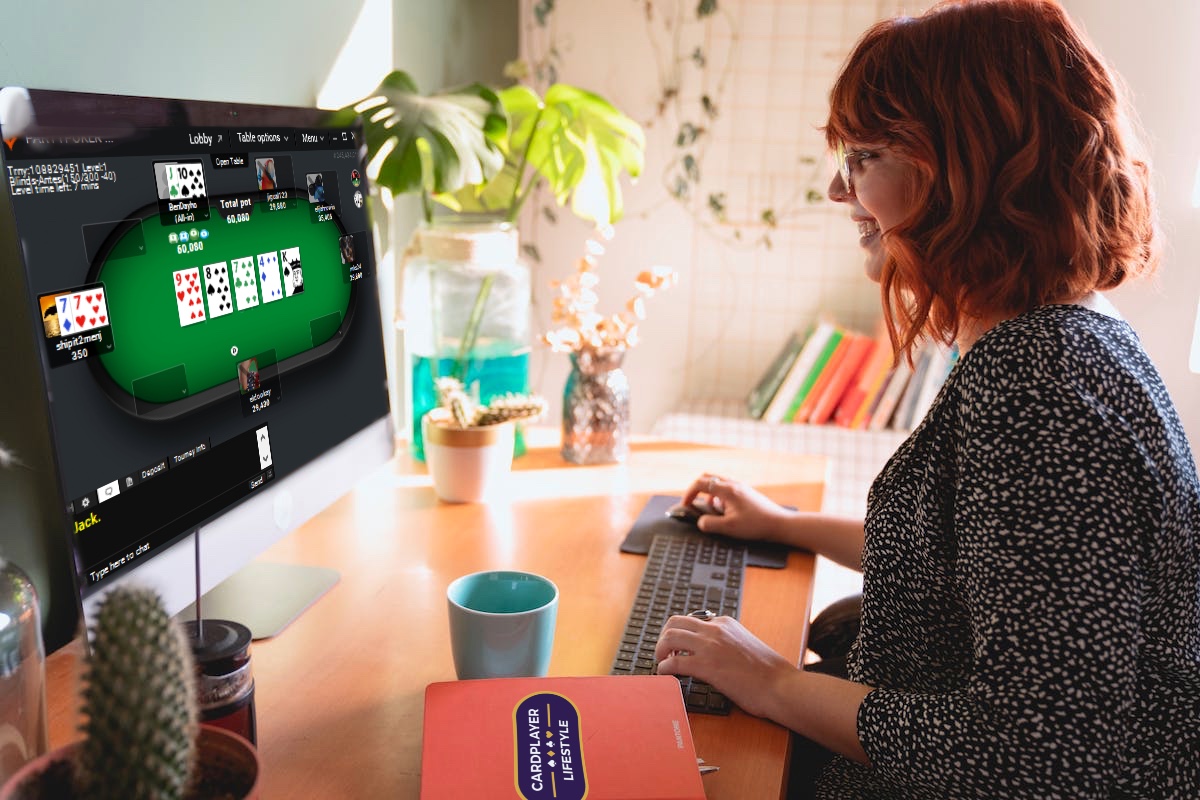 How to Play Poker Online for Real Money
There are a few steps that individuals will need to take in order to play online poker for actual monetary currency..
Will need to be at least 21+ (or 18+ depending on jurisdiction)
Must have a way to prove personal identity, and in some cases, geolocation
Will be required to provide the poker site with personal information
Must have the means to make a real money deposit via one of the poker site's authorized methods
Will need to provide online banking info to the poker site in order to perform withdrawals or cashouts
There are a number of high profile poker sites that operate in most countries around the world. Each will have their own step-by-step process explaining how to play poker online for money.
If you happen to be in one of the "blocked" jurisdictions, you might want to try a social casino that offers poker games. While you won't be able to technically wager "real money" with a social casino, you WILL be able to exchange the company's proprietary token back into gift cards or cash prizes.
How to Play Poker Online with Friends
Certain major poker sites, like PokerStars, have a proprietary "Home Games" model which allows friends to virtually meet at the same table and compete against each other for real money.
These private games generally include toggles for the individual administrator(s) to set the stakes, time, duration, format, and game type of any event.
Keep in mind that these games, when played for real money, carry the exact same monetary risk to players when it comes to winning or losing actual currency.
Once you have your own private group, you can set up the parameters of your very own online home game and then meet at the virtual felts in one of many game types or formats.
Learn How to Play Poker Online
Each major poker site should have a dedicated section that explains, in detail, the rules of each game variant that the company spreads.
There are also a near-infinite amount of How to Play Poker guides that likewise lay out how the game of poker is played in its different forms.
For poker online, there are a few things that might vary when compared to live poker:
Time banks are typically displayed and managed automatically. Once your time runs out, your hand is folded.
Chip calculations, button placements, and card dealing are all handled virtually.
To rebuy or reload, you will usually be provided with a digital cashier prompt that links directly to your personal poker site account.
Most poker sites are "mobile friendly," meaning you can use your smart device to access the platform and compete online for real money. A personal computer can also be used in most cases.
If you prefer to play a certain poker variant or specific stakes (or even a specific format like cash games or tournaments), you can toggle this option in a poker site's lobby so that those preferred games are displayed.
Playing Poker Online Exclusively – How Far Can You Go?
This is a big topic among recreational poker players who may be unfamiliar with the online realm. It's also something that current online poker players ponder as far as "moving up in stakes" or "turning a profit" is concerned.
The fact is that – you can go VERY far by only playing poker online exclusively. However, your own personal definition of "far" is what's key.
Are you looking to "go far" by gaining a lot of experience through actual poker play? If so, then you can definitely go "far" even if you only play poker virtually. In fact, online poker players can easily play more hands in any given time frame than they otherwise could if playing at a live cardroom venue.
An individual's overall ability to play more hands online (compared to live) is a widely accepted, provable action; one that can be (and is) recreated at any given time. Though multi-tabling, the "experience" of seeing more actual poker hands is increased compared to any live setting that requires physical props to play.
Will My Bankroll "Last Longer" If I Only Play Poker Online?
It most certainly "can." Whether it "will" or not depends on a number of factors – including the monetary real money amount of one's poker bankroll.
Particularly if you're working with a "micro" bankroll (like $10-$25, possibly more), you can easily manipulate the probabilities that you won't go "busto" by playing micro-stakes poker online as opposed to a live game.
Online, you will find poker tournaments that have a real money buy-in as low as $0.01. You can also find micro-stakes cash games online starting at $0.01/$0.02 stakes that have a maximum buy-in of two dollars per table.
If you're looking to play live poker on the other hand, you'll almost certainly be required to enter with a buy-in that exceeds $10-$25. Of course, there ARE casino-style poker games available at live venues, and these games will often allow players to gamble $10-$25 on a per-hand basis. However, a PvP live game (in which players compete against one another for a cash game pot or tournament prize) will require a larger buy-in.
Can I Win a Lot of Money Playing Online Poker Exclusively?
Yes, you can!
Depending on your own poker skills and luck, a player can significantly grow a modest poker bankroll.
If you're looking for a one-off, lottery-style game, then some major poker sites have "Hyper Turbo" single table tournaments that can award 1,000 times the original buy-in if a player is lucky enough to be seated at a "jackpot" table.
If you have a significant skill edge over other players in the games you are playing (significant enough that your statistical advantage is large enough to turn a profit even after rake expenses), then you can increase your bankroll through your own superior play.
Note that the larger the skill gap that exists between you and your opponents, the more probable it will be that you will actually make money during a particular time frame or number of hands.
Do Online Poker Sites Host Major Tournaments?
Yes. Most poker sites host online tournaments that have a pre-designated buy-in amount and award incrementally larger cash prizes for top placements.
You can achieve a big win by outlasting your opponents in a multi-table tournament (MTT) in which hundreds or even thousands of players have entered.
Thanks to the existence of satellite and "qualifier" events, players who have a modest bankroll can enter sub-tournaments that award a seat into higher buy-in online tournaments for the top finisher(s).
But if you're seeking to play online exclusively, then you'll want to keep an eye out and make sure you avoid satellite events that require you to subsequently travel and play live at a casino venue if you win.
Can You Have Fun By Only Playing Poker Online?
Playing online poker can be one of the most fun experiences regardless of one's skill level.
While casual players generally seek out quick games like lottery-style tournaments, there's nothing quite like the feeling of reaching a final table in an MTT that offers large cash prizes for the top finishers.
There are also online poker communities that can be accessed through forums or social media platforms that can add to one's experience and offer plenty of opportunities for interaction even away from the virtual tables.
Many of the popular poker players you see on television or live streams today cut their teeth on virtual poker games while simultaneously engaging with the poker playing community online.
Can I Play for High Stakes if I Only Play Poker Online?
This depends on your definition of "high stakes."
Are you looking to enter a $1,000,000 buy-in tournament like the Big One for One Drop events? Chances are you'll need to play tournaments that require a $1 million entry in a live venue.
But if you're seeking to play poker online for thousands of dollars, most poker sites do indeed offer "high stakes" cash games in which all players at the table have at least four-figures in their digital stacks.
High stakes online tournaments are also available on the major poker sites, although you may not be able to find these events on poker sites that have less player traffic, or a geographically restricted player pool.
Can I Make a Living Playing Poker Online?
The present-day era of online poker is quite a bit different from decades ago, and the "dream" of turning a $50 deposit into thousands (or more) by playing online poker as a pro is not as heavily advertised by poker players as it used to be.
If you're just getting into the game and want to play online poker exclusively for a living, you are encouraged to consult the numerous public resources that are available for this topic. Poker game variants, stakes, game availability, time on machine, personal bankroll, skill level relative to opponents, and game formats all factor into the "going pro online" equation.
There are also a number of poker training sites and poker coaching services that provide their services and learning material to players for a fee.
It can be especially helpful to a would-be online pro if they team up with a site or individual who is currently beating the games that the client is attempting to turn a profit in.
Of course, if you're solely seeking to turn a profit in real money online poker games without regard to the actual stakes, the micro-stakes games are a great place to gain experience with (relatively) minimal monetary risk.
This is what's so great about online poker when it comes to playing on a budget. A small deposit of $25 can get a new player going in extremely small stakes games where the competition may not be nearly as competent as one would find at higher stakes.
You can even gain an enormous amount of card-playing experience on the larger sites (relative to live games) thanks to multi-tabling and how quickly hands are dealt. And if you arrive at a point in which you are (or believe you are) "printing money" in the penny games, you can choose to compete for higher prizes as your bankroll allows.
READ MORE: 5 Tips for Managing Your Poker Bankroll
Summary: Poker Online for Hobbyists and Pros
Playing poker online is a unique card-playing experience that can differ quite a bit compared to its live counterpart.
If you're a poker hobbyist who enjoys playing regardless of your long-term expectation, then poker sites have a lot to offer including top-notch software, customer service, depositing options, game types, stakes, and formats.
If you're a pro (or attempting to turn "pro") through online poker play exclusively, then you might want to spend significantly more time improving your poker knowledge than poker leisure.