One of my favorite jokes goes something like this:
Question: What was there to do in Cleveland before the Rock N' Roll Hall of Fame was built?
Answer: Um… wait for the Rock N' Roll Hall of Fame to be built…?
Well, aside from that fantastic tourist attraction, as of 2 days ago there's something else really fun to do if you're in Cleveland: gamble!
The State's First Casino
Ohio has just become the nation's 23rd state with a commercial casino. Almost 100,000 square feet of gaming floor await casino patrons 24/7. Located right in the heart of downtown's Public Square and built at a cost of about $350 million, the Horseshoe Cleveland is minority-owned by Caesars Entertainment and majority-owned by Rock Gaming's Dan Gilbert, who also owns the NBA's Cleveland Cavaliers.
Horseshoe Cleveland Poker Room
With upwards of 2,100 slot machines and over 5 dozen table games, the new casino sure doesn't disappoint, but what really interests us at Cardplayer Lifestyle is poker, and the Horseshoe Cleveland delivers! A 30-table World Series of Poker-branded poker room has begun catering to masses of visitors.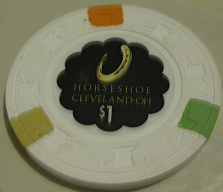 We spoke to Chris, one of the poker room's very friendly floor managers, who provided us with some additional details:
Since the room opened, all 30 tables have been packed to the gills at almost all hours of the day. Aside from Texas Hold'em, the dealers have spread Omaha Eight or Better and Pot Limit Omaha. Stud games and Razz are also available, if there's enough interest.
The poker room's staff is working on creating a tournament schedule, which they estimate will become available in the next month or two. Furthermore, there are plans to have a satellite to the WSOP Main Event sometime next month. Proudly sporting the World Series of Poker brand name, the Horseshoe Casino Cleveland is a very likely spot to host a WSOP Circuit Event tournament series next year. (Ed. Update July 25th 2012: It has just been announced that the Horseshoe Cleveland will host a WSOP Circuit Event Series from March 14-25, 2013) Who knows? Perhaps this place will be my next poker vacation destination…
To reach the Horseshoe Casino Cleveland poker room directly, call: 216-297-4545.