Disclaimer: This episode was far more notable for being "laugh out loud" hilarious, rather than for its poker play. We'll try to get some poker commentary in here, but it's impossible to write about what happened without focusing on some of the episode's funnier moments. Also want to shout out to Gabe Kaplan – Mr. Kotter, you're freaking hilarious!!! I hope you stay on this show forever!
The first notable hand is Daniel Negreanu vs. Doyle Brunson. Negreanu manages to win with a pair of 2s. The laughs begin when Doyle says: "nice play Doyle" while turning over the losing cards. Although many people just sort of assume producers "have to let Doyle play" in all the big TV events just because he's old, the fact is he still got some game. Texas Dolly has made millions of dollars over the years and is really the only "old time" survivor out there still mixing it up on a regular basis with poker's new blood. The fact that he not only holds his own but also still wins money (as Gabe Kaplan says – he's won 16 straight times on televised cash games) is amazing. Maybe he's just secretly mastered all the poker statistics?
Later on there was a great hand between Eli Elezra and Daniel Negreanu. Daniel flops top pair and Eli catches up hitting the nut straight on the turn. When Daniel bets into him on the turn, Eli had a performance worthy of Hollywood's finest – rechecking his cards (as though he wasn't sure what he had) and calling as if on a draw. This performance earns him another bet from Negreanu on the river, $16,600 for a few seconds of acting work. I wonder how that pay rate compares to the Hollywood A-listers'…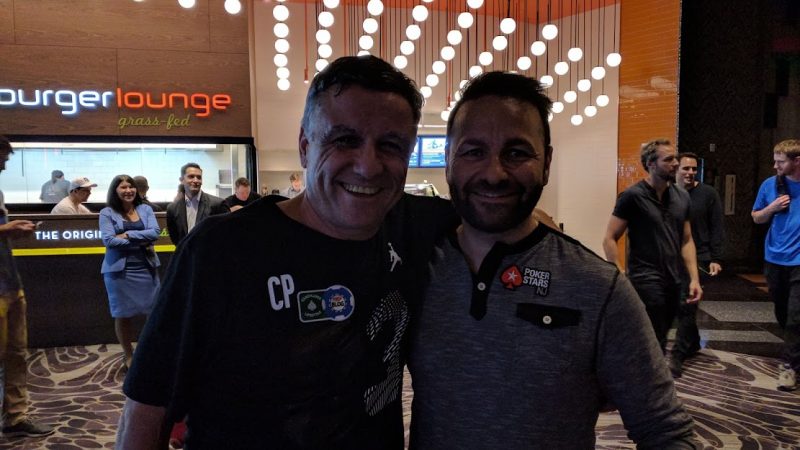 On to the best hand of the episode: 3-way action between Doyle, David Benyamine and Negreanu. When the Q of spades hits the turn, it gives Doyle 3 queens, and both David and Daniel flushes, with Daniel's being higher. Pretty amazing that there's "just" $37,000 in the pot at that point and they all check to see a "free" river (especially considering how these guys are easily capable of putting 10 times that amount into a particular pot). Negreanu finally pulls the trigger, firing out a bet of $26,000, which seems to be reluctantly called by Doyle, only for the bet to be raised by a lurking David Benyamine all the way up to over $100k! Benyamine explained his amazing re-raise to Kara Scott after the hand: he literally had THE perfect read on Daniel (putting him on a mid-range flush) and knew he somehow HAD to isolate Doyle. Surely the sheer size and surprise nature of the raise worked perfectly to befuddle Daniel. Perhaps had he taken just a bit longer to think about it, he might've made the call. Unfortunately for him, he folded, only to see Doyle make yet another crying call, and lose.
Later on, Doyle makes a hilarious imitation of Phil Ivey's Full Tilt poker commercial "They tell me I'm intimidating… we're all just playing the same game"… but we're all folding, ROFL! Gabe Kaplan put it best – Doyle's finest moment in High Stakes Poker, bar none!
Later on, in a pot between Daniel and Eli, Daniel decided to stick to a small ball poker strategy with his pocket Jacks (by just letting Eli do all the betting). Unfortunately for him, even with a 93% chance to win the pot on the turn, Eli luckily hit his out on the river and ended up taking down the pot of over $100k. Indeed, as Gabe put correctly, had Daniel raised at any point, he probably would've taken down the pot – these are the pitfalls of small ball laid out for the world to see (but often it does work 🙂 ).
What about the Other High Stakes Poker Players?
We haven't mentioned Mike "The Mouth" Matusow or ElkY (Bertrand Grospellier) yet – because there's just nothing to say. ElkY played just one hand, losing money to Phil Ivey, and Mike didn't play even once (at least in the hands they decided to broadcast). Looking for more action from these 2 in episodes that follow…
To end off with a laugh, Ivey was just hilarious when he said "I used to eat sushi 5 days a week – now I eat vegetables". LOL! Anything for a million dollars, eh?
Great action is promised next episode, along with the arrival of Phil "OMGClayAiken" Galfond.