The long awaited Phil Hellmuth vs. Daniel Negreanu heads-up match is almost here!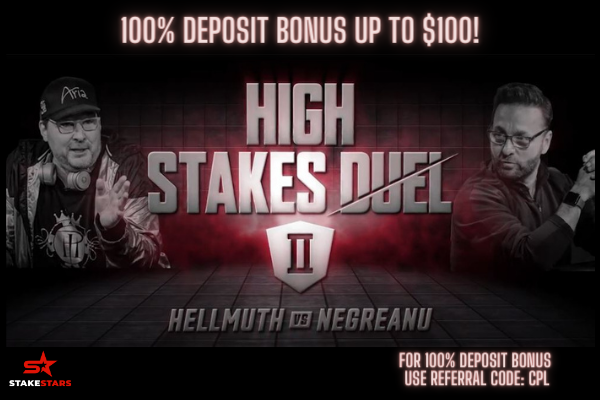 The poker world — at least from what I've been seeing on Facebook and Twitter — is all worked up in a frenzy. It's the topic on everyone's lips, and numerous industry podcasts can't stop talking about the legendary matchup either.
So yes, it is happening! Poker titans Phil Hellmuth and Daniel Negreanu will be locking horns in what's sure to become an instant classic confrontation, on PokerGO's High Stakes Duel II. The match is slated to begin on Tuesday, March 31st, at 8 pm Eastern/5 pm Pacific.
Let's get hyped, shall we…
I, for one, am ready, and so are the two combatants, each of whom is coming off other recent heads-up matches. Hellmuth defeated Antonio Esfandiari in the (original) High Stakes Duel matchup, while Negreanu lost to Doug Polk in their 25,000-hand online poker battle.
The rules of the High Stakes Duel II are as follows:
Place Your Bets on StakeStars
Ok, so now you've read the rules, you've seen the hype video, you've read the back and forth on Twitter, and you've heard the smack talk on every poker podcast out there. Now it's time to pick a side!
Based on Daniel having been in the lab for the past several months for his match with Doug Polk, while Phil is banking on what brought him to the dance as defending High Stakes Duel champ, conventional wisdom says that Negreanu is the solid betting favorite.
However, that's not the case at StakeStars. They've placed Hellmuth as the favorite in the match!
So, if you're on Team DNegs and looking for some great value on a wager, StakeStars is where you want to go to place your bet on the match.
Negreanu recently joined Jeff Gross to discuss the match, and was informed of the StakeStars line…
.@JeffGrossPoker & @RealKidPoker discuss the "crazy" line where https://t.co/me6o55jNh2 has @phil_hellmuth favored vs DNegs. If you like DNegs in this match you will not find a better line – check it out below!

Direct link to bet: https://t.co/99DpIBuq1Nhttps://t.co/p7OR631u3l

— StakeStars (@StakeStars) March 9, 2021
Well, as of this writing, that line is not sold out, and it is still available on StakeStars!
As mentioned in the clip, the maximum bet is $500, which would currently net you a $725 profit on a Negreanu bet if he wins the match. A $500 bet on Hellmuth would net you a profit of $305 based on the -164 line as the favorite. Of course all of these calculations are correct as of publication time, but should the line move the payouts on all subsequently placed bets would as well.
While $500 is the maximum allowed bet, you can of course wager any lower amount, so if you just want to put a fiver or a tenner on your favorite of the two Poker Hall of Famers and have a small sweat, you can place that bet, too, and have a rooting interest in the match.
So, you in? Here's where to go to get in on the action!

We're less than a week away form this battle of two absolute legends. It's one of the most anticipated events in recent poker history, and StakeStars is giving you the opportunity to join the action.
Once again, the opening bell rings for Round 1 of High Stakes Duel II at 8 pm Eastern / 5 pm Pacific on March 31st on PokerGO. Don't forget to grab the popcorn!