There are certain things you can count on at this time of year. Indeed, the holiday season always arrives with waves of happiness, warmth, and good tidings. For many underprivileged families, however, these days can actually be some of the most challenging. In particular, families affected by homelessness know the struggle to keep their heads above water all too well, so much so that extras like holiday gifts either become an afterthought or are, sadly, not even a thought at all. That's where people's goodwill and generosity come in to fill the void. Special people with beautiful souls make it a point to give their time, effort, and resources to help brighten the holidays of those less fortunate. People like Bernard Lee.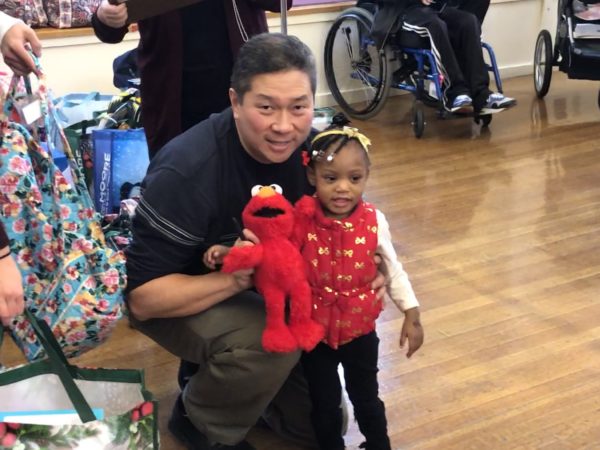 A History of Winning and Giving
Bernard has over $2.3 million in career tournament winnings, including having captured two WSOP Circuit rings and, of course, a memorable deep run to 13th place in the 2005 WSOP Main Event. He is equally as well known for his decade plus of work on the media side of the poker industry, having authored a pair of well-regarded books, been a longtime ESPN columnist, and hosting one of — if not the — longest-running poker podcasts (the Bernard Lee Poker Show). Over the past eight years, Bernard has made it his annual mission to spread holiday cheer within his local Boston-area community.
This year, once again in partnership with FamilyAid Boston and sponsored by the One Step Closer Foundation, Bernard helped put together customized gift packages for 41 needy families — among them 67 children — in his locale. Dedicating dozens of hours to personally gathering goods from all over the city, Bernard makes it a point to try and fulfill as many special requests from the families' kids as possible. Helping to supply the children with toys, clothing items, and school and sports supplies, his generosity doesn't end there, as Bernard also goes the extra mile to provide winter coats and personalized duffel bags to their parents.
In addition to "standard" supplies such as the aforementioned and customized gifts, Bernard also included some extra special additional goodies in this year's charity packages, including celebrity-autographed sports paraphernalia. "My family and I always look forward to this event, and we love seeing the kids' faces when they open their gifts," said Lee. One can only imagine the pure joy felt by these children, to quite literally have their holiday wishes come true.
Last year, I wrote an article focusing on how beautiful it is to see Bernard involve his own children, Noah and Maya, in this annual charitable tradition. The Lee children once again joined their father this year in distributing the gift packages, illustrating how Bernard's beautiful trait of generosity has not only been passed on to, but also firmly established in the next generation.
About The One Step Closer Foundation
The One Step Closer Foundation is a non-profit, charitable organization whose main goal is to ease, as much as possible, the lives of those who suffer from Cerebral Palsy. Founded in 2007, The One Step Closer Foundation (OSCF) is a non-profit, charitable organization whose main goal is to impact the lives of those who suffer from cerebral palsy. The OSCF will, through various fundraising efforts, support existing groups, individuals, and research. For those already coping with cerebral palsy (CP), the OSCF strives to promote awareness and understanding of the disease through education programs, support groups and access to previously unknown research.  The OSCF will also direct funds to researchers seeking for medical advancements in treating and diagnosing CP. For more information, please visit 1scf.org.
About FamilyAid Boston
FamilyAid Boston is the leading provider of solutions to family homelessness in Greater Boston, empowering parents and caregivers facing homelessness to secure and sustain housing and build strong foundations for their children's futures. They serve over 1,500 parents and children each year through their homelessness prevention, emergency shelter, and housing support programs. The agency's compassionate and resourceful staff work in partnership with parents to develop realistic, effective solutions that build on their families' individual strengths and address their unique challenges. For more information, please visit www.familyaidboston.org