Having recently launched a social play poker platform, Faded Spade Virtual Poker has partnered with the Breast Cancer Alliance (BCA) to host the inaugural Charity Poker Tournament on Thursday, June 25, 2020 at 8 p.m. ET.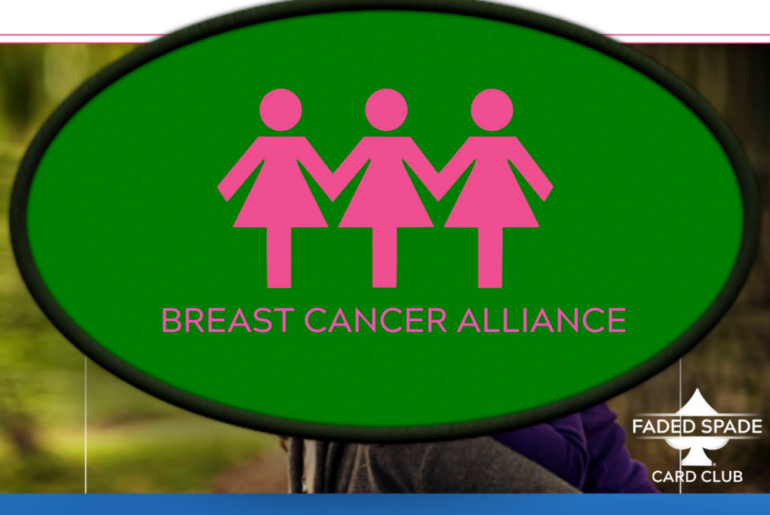 The poker community has had a long standing of initiatives in order to give back, whether within local communities or on a global scale, and the BCA Charity Poker Tournament is another example of people coming together for a bigger and better cause. The event will be broadcast live on Faded Spade's Twitch Channel, with the stream being hosted by poker player/commentator Jamie Kerstetter and Faded Spade's CEO Tom Wheaton.
The partnership between Faded Spade and the BCA was a natural match: "Nearly everyone has had someone they care touched by this horrible and widespread disease," said Kerstetter of her involvement. Wheaton can relate, stating that his wife's family has a history of breast cancer as well. When the BCA reached out about hosting a virtual tournament to help raise funds, both parties agreed that Faded Spade provided the perfect platform to bring people together.
LISTEN: Interview with Jamie Kerstetter Part 1 | Part 2
Yonni Wattenmaker, Executive Director of the BCA, was also kind enough to add her remarks:
"Breast Cancer Alliance works to improve survival rates and quality of life for those impacted by breast cancer. We promote these goals, we invest in innovative research, breast surgery fellowships, and essential breast health support for the underserved. During the pandemic, breast cancer patients faced newer challenges and research was often met with delays. BCA is working with Faded Spade to raise critical funds to support the advancement of the field and is grateful to Faded Spade Virtual Poker for supporting our mission and being a true partner in this inaugural event."
With the added opportunity to stream the tournament, visibility for all parties involved is increased. Bringing Kerstetter into the picture was also a solid option. Missing being in the booth, Kerstetter was elated at the opportunity to commentate for an event with such a good cause, adding that she was "happy to do [her] part to support breast cancer research" when Wheaton asked if she would be interested in commentating on and promoting the event.
As mentioned, Kerstetter will be accompanying Faded Spade's own Wheaton in hosting the event.
I'm hosting the @BCAllianceCT online charity event this Thursday! Please consider playing or donating for a great cause 💖

Details:https://t.co/NzWTvN0GXl pic.twitter.com/7JC9YLt9Oc

— Jamie Kerstetter (@JamieKerstetter) June 22, 2020
Wheaton's commitment to charity social programs is becoming a part of the overall Faded Spade mission: "I think that poker as a philanthropic activity is one of the purest forms of our game," he said. Faded Spade Virtual Poker is still in its relative infancy, and Wheaton feels that the opportunity to utilize the platform for the greater good gives him a higher sense of purpose.
The BCA event is only the tip of the iceberg, with Wheaton suggesting more purposeful programs in the works with organizations such as the Make-A-Wish Foundation and Boys & Girls Clubs of America in addition to numerous other celebrity, sport, and for-profit foundations also looking to be in the mix in the future.
Interested in playing and contributing to the cause? Check out the Breast Cancer Alliance website for more information or click here to be taken directly to the buy-in form.