At almost 61 years old, Eli Elezra is the exceptionally rare member of the "old guard" in poker who still not only grinds just as hard as in decades past, but also consistently continues to put up stellar results. Cash games are Eli's bread and butter, and while he now plays for somewhat lower stakes than back 10-15 years ago when he was a High Stakes Poker mainstay on our TV screens, he's recorded net profits every single year playing up to $500/$1,000 in the Vegas mixed games.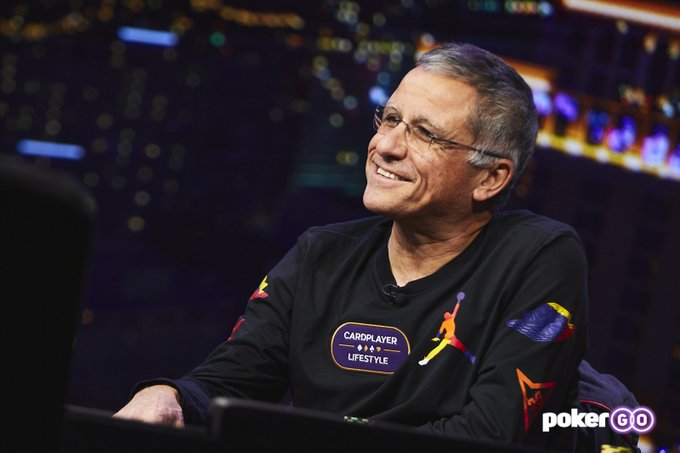 To point, Eli is still a fixture in Bobby's Room at the Bellagio, as well as in the high-limit areas of the Aria and more recently the newly-opened Resorts World poker rooms. Moreover, on the tournament front, you'd be hard pressed to find ANY player who's performed as well as Eli has in his age class. His first bracelet came when he was 46 in 2007, but all three of his other ones came after turning 50. He rarely plays tournaments outside of the WSOP, but there, too, he's seen success, as recently as this past summer having won the $10K 8-game mix at the U.S. Poker Open.
Mazel tov, @elielezra1!

Winner of the U.S. Poker Open $10K 8-Game.

60 years young; still master of the mix! 🏆🇮🇱❤️

Thanks @PokerGO for broadcasting mixed games!

Worth staying up till 4am 😀 pic.twitter.com/DP2UwAg4Fz

— Robbie Strazynski (@cardplayerlife) June 10, 2021
A perennial Poker Hall of Fame nominee, Eli Elezra is not a candidate who, when you see his name listed, you ask "well, what's he done lately?" His resume doesn't have time to get dusty because he keeps on adding to it year after year. Eli has continued to "show up", and his time to enter the pantheon of all-time poker greats will come, likely sooner than later.
Having already made two WSOP final tables this year prior to the $50K Poker Player's Championship (4th place in the $3K HORSE and 6th place in the $10K PLO 8-handed), Eli's had a World Series of Poker that would be the envy of most of us. As solid in the black as this fall has been for him, however, what so obviously matters more to him is the dream of claiming bracelet #5.
A Chip and… a Doyle
Beyond the obvious prestige of winning such a marquee event like the $50K at the WSOP, Eli also has a special OTHER reason he wants to emerge victorious, that being the chance to etch his name on the Chip Reese trophy. Eli began competing in high stakes cash games in Las Vegas in 1987 and within a few years he was regularly playing the nosebleeds with two of poker's GOATs; the best of the best – Doyle Brunson and Chip Reese. Incredibly, in three-handed play, Eli consistently beat those legends… a feather in his cap that eventually helped Eli become a poker legend in his own right.
But beyond being competitors at the felt, over the years Eli also became fierce friends with Doyle and Chip. He and Doyle remain super close to this very day, while Chip's passing in 2007 is something Eli still mourns. Eli wants to be there and show up in the winner's circle, for his late friend Chip.
2021 is an odd (numbered) year…
Many poker players tend to be a little superstitious, so it's not out-of-place to mention that for some reason Eli tends to thrive at the WSOP in odd-numbered years (2007, 2013, 2015, 2019). He now sits as chip leader, gunning for #5 to start Day 5 of the $50K Poker Players Championship. Incredibly, this marks Eli's first ever cash in the event, despite having played it almost every year since its inception in 2006.
Perhaps something truly special is about to happen? Perhaps Eli's 2021 WSOP will be capped off by the performance of a lifetime; something that would surely be the crown jewel of his 35+-year-long poker career?
Who knows?!
But this is quite simply a can't-miss moment.
That's where I come in… literally. I'm here. In Las Vegas.
Less than 24 hours ago I was sitting in my living room in Israel bemoaning the fact that yet again I'd be missing out on the chance to sit on Eli's rail…
As if my #WSOP FOMO wasn't bad enough, lol…

With a Friday afternoon Vegas restart, now I'll have to wait until the end of Shabbat here in Israel to see who wins, and be the last to find out. 🤷‍♂️

Rooting with all of 🇮🇱 for our champ to take it down!

Go @elielezra1!!! pic.twitter.com/tBRB7HQpnd

— Robbie Strazynski (@cardplayerlife) November 4, 2021
Eli and I have become very close over the last few years, specifically ever since I came onboard to translate his autobiography, Pulling The Trigger, from Hebrew into English. And just as Eli's initial "business relationship" at the felt with Chip and Doyle quickly turned into a lifelong friendship, so too did my own initial business relationship with Eli quickly blossom into a deep friendship that will undoubtedly last a lifetime.
Years ago, before I dove headfirst into the poker industry, I was "just another fanboy" of Israel's poker champion, whose professional exploits I got to watch on TV. Now, I have the privilege of being Eli's friend, and I have the honor of knowing him as the LIFE champion he is.
The first time I attended the WSOP, in 2016, I'll never forget how my jaw dropped as Eli walked over to me to give me a big hug, saying "welcome to the poker family." I didn't even realize that he knew who I was!
Over the last 5+ years we've shared so many more hugs… of course in Las Vegas, but also in Florida, and in the Bahamas, and in Eli's birthplace of Jerusalem. But it hasn't stopped there.
On the heels of playing in a $200/$400 mixed game at the WSOPE in Rozvadov, Eli flew to Israel to visit family in 2017… and he carved out time to drive 1.5 hours each way from Jerusalem to come play in a $30 buy-in charity poker tournament I organized in Ra'anana at my Dad's office.
On a subsequent trip of his to Israel in 2019, Eli again drove 1.5 hours each way from Jerusalem, this time to visit me in my home for a barbecue dinner.
Eli has been there to help make so many of my poker dreams come true, the most recent of which I chronicled just a couple weeks ago, as I competed in my second ever WSOP bracelet event.
The man just shows up. For me and for my family. Every single time.
How could I not show up for him now?
Obstacles be damned
So yeah… less than 24 hours ago I made the craziest, most insane, spontaneous decision of my life. I pulled the trigger!
With my Dad's encouragement and my wife's blessing — Miriam, Dad… I love you more than you could ever know… you are the wind beneath my wings — I found a last-minute flight to get me to Las Vegas on time (thank you one-day final table delay!).
I found a place to get a last-minute rapid PCR test, so I could board the plane in the first place. I made last-minute arrangements so I could have a place to stay and food (thank you Mike Burgher!) for shabbat, which begins less than six hours after I land in Vegas.
I just traveled 7,500 miles across the world to not just be there for my friend, but to be HERE for my friend!
What If He Doesn't Win?
To Chris Brewer, Ryan Leng, Paul Volpe, and the "Jungleman" Dan Cates, please accept my apologies. I obviously know that there's no foregone conclusion to today's final table of the $50K Poker Players Championship event. You're all crushers, and you have your own great stories to write. I do very sincerely wish you all the best of luck today, and I hope your skills shine bright on center stage. Five incredible poker players desperately want to be in that winner's photo.
Of course I want Eli to win today, but whether he does so or whether he finishes in second, third, fourth, or fifth place, I couldn't let this special moment – quite possibly a once-in-a-lifetime opportunity – pass me by. I had to be here to witness another chapter of Eli's storied life unfold.
Oh… and I kept all of this as a surprise.
Eli didn't know. 😊
I wrote this tribute on the plane and clicked Publish just a few minutes before walking into the Amazon Room to take my seat on Eli's rail.
But not before giving him one more big hug, for good luck.
I can't wait to see the look on his face.
Go get 'em, champ!