Today the first sit-n-go session of Season 12 of Poker After Dark – which has until now featured cash games – is set to air on PokerGO. The two-episode sit-n-go is entitled Lesson Learned and will see Jonathan Little hosting a $5,000 buy-in affair and competing against Faraz Jaka, Matt Affleck, James Romero, Justin Saliba, and poker vlogger Brad Owen for a winner-take-all prize of $30,000.
Little has a World Poker Tour title to his credit along with over $7 million in career tournament earnings. He is also the founder of Pokercoaching.com, while Jaka, Affleck and Romero are three of the coaches who also proudly represent that poker training site, and Saliba works for the company behind the scenes.
With Owen primarily being a cash game player, it'll be interesting as a viewer to see how his game matches up against a murderer's row of tournament professionals.
Anyone who has watched the previous two episodes of Poker After Dark Season 12 (entitled One Bourbon, One Shot, and No Fear) has already seen Little grace their screens in a 6-handed $20,000 buy-in hybrid cash/tournament session (with one re-buy allowed) competing against Alex Ding, Sam Soverol, Justin Young, Chris Johnson, and Jake Daniels.
Spoiler alert: Little was the first one eliminated from the proceedings, so we'll see if he can "redeem himself" with a better showing in the sit-n-go.
How Would YOU Like to Appear on Poker After Dark?
As regular Poker After Dark viewers surely know from previously-aired episodes, PokerCoaching.com is giving one lucky viewer the chance to win a seat to play in a $5,000 sit-n-go with Jonathan Little, to be contested in Season 13.
If you haven't already done so, you can enter the giveaway (quite literally, all you need to do is submit your name and email address). There's plenty of time to send in your entry, with submissions closing on July 31, 2021.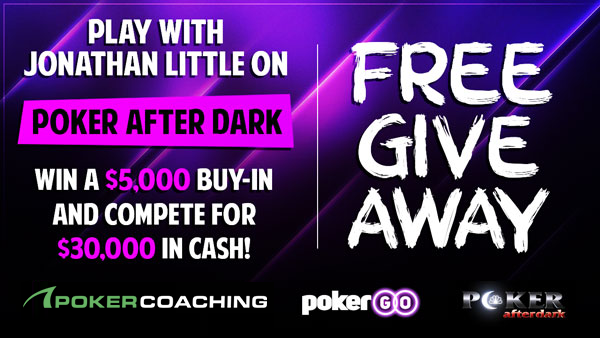 A drawing will then take place to name the winner, who will have the opportunity to compete for a $30,000 prize in the sit-n-go.
More Info on Pokercoaching.com
Avid Cardplayer Lifestyle readers already know that for years now we've been quite proud to promote Pokercoaching.com as one of the industry's top poker training sites. Beyond the aforementioned players, there are half a dozen more well-regarded expert coaches on the company's roster who offer a bevy of lessons that will help you boost your own poker game.
Moreover, our own Mike Patrick has reviewed numerous Pokercoaching.com courses and other training materials, including:
We've received universally positive feedback on Mike's reviews, which indicates that players clearly know they're getting the goods when signing up to learn from Pokercoaching.com's training materials. You might want to consider checking some of them out yourselves, if you haven't already. After all, if you end up being the lucky winner of Jonathan Little's Poker After Dark giveaway, you'll certainly have your work cut out for you, and the skills you'll pick up will undoubtedly prove useful at the felt to give you a better shot at claiming the $30,000 in prize money.

The second episode of the Poker After Dark Lesson Learned sit-n-go will air next week on Monday, March 15.