Poker is considered a game of skill rather than a game of chance, and in that sense is unique among other methods of gambling.  Poker players are very strategic with their gameplay, and utilize both skill and experience to read their opponents.  Skilled players identify what their opponents will do with their cards, and use that knowledge to calculate whether to bet high, bet low, or fold.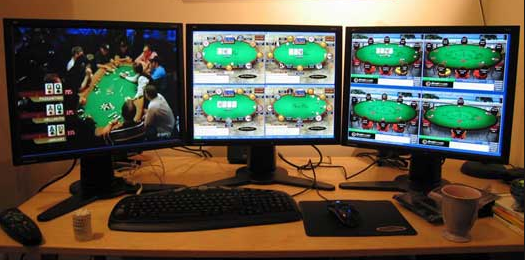 That said, poker players must practice how to play the game effectively.  Over the last decade, one of the most popular ways to practice poker has been via online poker rooms and betting sites.  Many of the world's most recognized poker players achieved celebrity status specifically by winning online poker tournaments.  The victors were invited to participate in televised championship tournaments, which in turn helped expand the popularity of poker throughout the world.
Online Poker Around the World: USA, Canada, and Elsewhere
Poker became very trendy in North America when these TV championship tournaments were broadcast, and online poker sites later targeted North America to capitalize on the game's popularity.  The UIGEA was passed in 2006, banning all online poker sites from servicing the American market, but online casinos in Canada still allow Canadian poker players to compete among the rest of the international poker community.
Online casinos and poker sites allow players from all over the globe to compete in one gaming hub.  This is important for the game itself because poker is a game of skill and there are many different ways to develop those skills when competing against players from different countries around the world.  As a result, players incorporate new skills into their own gaming style and develop unique ways to play the game.
Online poker remains one of the most popular pastimes throughout the world, and new players are always registering accounts to compete on the virtual tables.  Practice does make perfect, and there's no easier way to practice than playing online – register an account today, and see what poker skills you can learn.
*Cardplayer Lifestyle would like to thank the Guest Writer for this post.