So yesterday I played in one of the Sunday majors for the first time (Sunday 1/4 Million at PokerStars). It took me about 4 hours until I busted (I made the money) and then I started wondering how much longer it would've taken to finish the tournament, if somehow I got lucky enough to make the final table. That inspired me to do some research about PokerStars' biggest tournament, the Sunday Million. Here's what I came up with.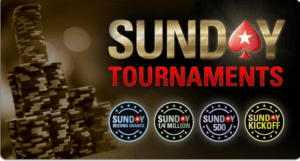 The average number of entrants in PokerStars' Sunday Million is 7,070. If this were a live tournament, it would be the 3rd largest behind the 2006 and 2010 WSOP Main Events (8,773 and 7,319 players, respectively). Also, if you're fortunate enough to make it to the final table, it'll probably take you about 12-13 hours (on average). Not a short amount of time by any means, but still a lot easier than grinding for 8-9 days to the WSOP Main Event final table.
The largest ever field in the PokerStars Sunday Million was 36,169 players, creating a prize pool of $7,233,800. Just think if that were a live tournament?! That would probably require 12 starting days and take a full month to complete! That's a whole lotta mouths to feed, quintuple the work for the ESPN production crew, and if at all possible, just TOO much poker! Just to put that number of people in perspective, imagine your typical NBA arena packed to the gills, then double that number of people, and imagine every single one of them seated around tables playing poker. That's 3,620 dealers! 7,240 decks of cards! I've been to the world's largest poker room at Commerce Casino, where they have over 240 tables. It's literally a sea of poker 24/7. I can't even begin to fathom the square footage that 15x as many people and tables would take up.
Anyhow, if and when the day comes that this poker blogger makes a final table of any Sunday major, I'll be sure to blog all about it for you guys :-)!