Housed in a facility that would rival any of the great Las Vegas poker rooms, the 29-table room at Choctaw Casino Durant is an absolute gem. While I've spent a good amount of time in the tournament area (the Grand Theater in the casino's Spa Tower) during my visit here, I've also spent a good amount of time in the permanent poker room, which is located in the newer Sky Tower.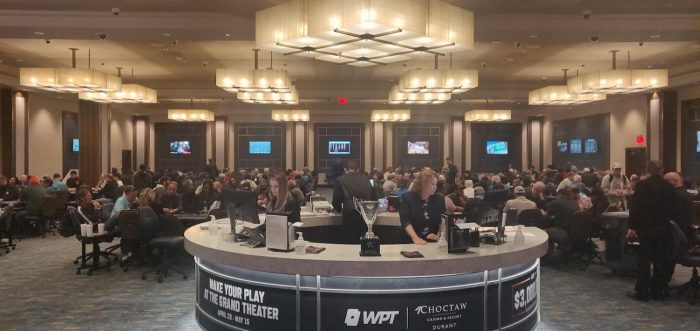 My first experience was as a railbird, watching the meet-up game (MUG) hosted by new World Poker Tour ambassador Brad Owen, and my second experience was as a player for a few hours playing first in a $1/2 NL Hold'em game, but thereafter primarily in a $10/20 mixed game. On both occasions I was very impressed with the room's operations. The ceilings are high, the lighting is phenomenal, the chips are brand new, the clientele is pleasant, the staff is extremely hospitable, the action runs 24/7, and the chairs are among the most comfortable I've ever sat in.
Quite a lot of thought was put into designing it, according to Choctaw Casino Table Games Manager Bob Barnes. This is the third or fourth iteration of the poker room since Choctaw Durant began offering poker back in 2006. Everyone I spoke to who had played in the older versions of the property's poker room universally agreed that the upgrades are absolutely top notch.
The rake is a fair 5% of the pot up to $5 with an additional $1 drop going towards the room's numerous promotions. These include a bad beat jackpot (currently hovering at around $125,000), high hands of the hour, and other seasonal and regular offerings.
Naturally, foot traffic is higher when the WPT is in town, and over weekends, but according to Barnes, the room also benefits from now being on the ground floor of the property. "We get 'residual players,' passersby who are like 'oh, you've got a poker room. It's always good to be off the second floor – we were kind of hidden beforehand," he said.
Barnes, who has been working at Choctaw Casino Durant since 2001, is exceptionally proud of his room. "It's a beautiful room, non-smoking. Everything is new; we didn't put anything from our old room into the new room," he said. "I like more of the open concept, where you can see everything and it's a lot brighter – as opposed to the old room which was darker and sort of had a left side and a right side," he continued.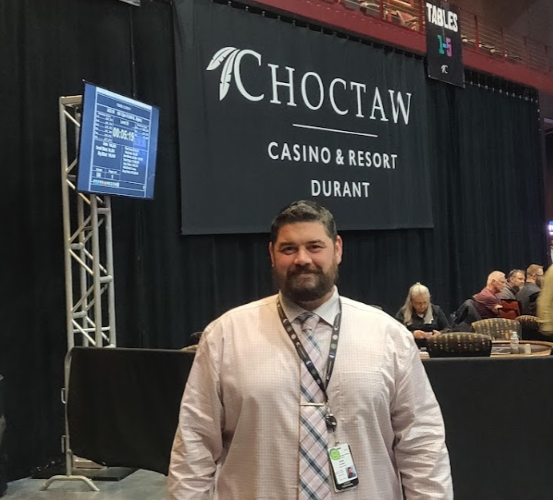 Well into the wee hours of the Saturday night that I spent in the room, there were still close to 10 full tables running. Barnes noted that "We added a couple game codes: $1/2 $500 max buy-in and $2/5 $1,000 max buy-in, and that really has increased the amount of action we've seen. Instituting these newer max buy-ins, provides a stepping stone for people wanting to play a little higher but not yet ready to take a shot at $5/10."
While, like the overwhelming majority of poker rooms around the world, this one's bread and butter is NL Hold'em with the occasional PLO sprinkled in, I was pleased to see that the room was happy to cater to our group's desire to play a $10/20 mixed game. If they weren't familiar with one of the games a player caller, the dealers were all very happy and eager to learn from us. Moreover, they were proactive about reducing the rake when we got short-handed; we didn't even need to ask! You don't really see that too often, so that made an exceptionally good impression on this writer.
In an age when numbers and the bottom line understandably tend to be a business' focus, it was truly refreshing to hear Bob's answer when I asked him how he measured success in his poker room. "It all boils down to guest service – as long as the players are happy, they'll come. Give them a comfortable environment where they like where they're playing, and they'll come. As long as they like the staff, the dealers are nice, they'll come."
Full marks from this very happy visitor! I hope to come visit once again.