The Children's Cardiomyopathy Foundation (CCF) will be hosting their 13th Annual Night for a Cure Charity Poker Tournament on February 10, 2021 at 7 p.m. ET. The virtual event will be held on the Faded Spade Virtual Poker, marking the first time the poker event will be played online.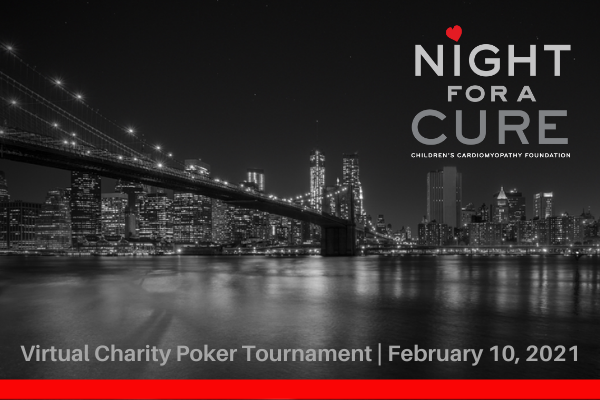 Players who take part in this event will have the dual benefit of supporting children with cardiomyopathy and competing for the grand prize of a $10,000 buy-in to the World Series of Poker (WSOP) Main Event in Las Vegas. Additional final table prizes include $2,000 and $1,000 Apple Store gift cards as well as gift certificates to Saks Fifth Avenue, Nike Store, and Sherry Lehman.
The charity event will be live streamed on Faded Spade's Twitch Channel, where Faded Spade's CEO Tom Wheaton will serve as the tournament event director. He will be joined by two mainstays in the poker world, Jamie Kerstetter and Matt Berkey, who will serve as co-hosts for the event.
Kerstetter, who is a co-host for the Run It Once podcast "The Rake" has also provided commentary for poker tours such as WPT, Run it Up, Poker Go and the WSOP Main Event on ESPN with Lon McEachern and Norman Chad. Berkey is no stranger to the professional poker world either. He is the Founder of the Solve for Why Academy that provides poker training, creator of the Poker Out Loud show, host of Solve for Why Vlogcast, and star of the Dead Money miniseries on PokerGO. Both Kerstetter and Berkey have been in the booth before with Wheaton for other charity events, and they were both happy to volunteer for the Children's Cardiomyopathy Foundation.
More information on Wheaton, Kerstetter, and Berkey can be found here.
About the Event
The Children's Cardiomyopathy Foundation (CCF) charity poker tournament has been a mainstay on the charity's event calendar for over a decade. Last year, the event drew 240 guests and raised $240,000. The Foundation is glad that they can continue this year with a virtual poker tournament.
"We're excited about this new playing format. We didn't want COVID to cancel one of our most popular events," stated CCF Founder and Executive Director Lisa Yue.

Yue also mentioned another benefit of taking the tournament online: "This year, we are able to expand our event beyond the Metro-NYC/Tri-State area to include more people and educate them about cardiomyopathy.
CCF's is currently signing up players of all levels. Advanced registration is recommended due to the popularity of the event. An individual buy-in with $5,000 in chips starts at $400, and sponsorship packages including rebuys range from $600 for a Kings of Hearts Sponsor on up to a Royal Flush Sponsor of $5,000 for 10 players with rebuys.
For more details on the event and to sign-up, please visit CCF's Event Page. If you are unable to play and still wish to donate to the Children's Cardiomyopathy Foundation, you may do so by clicking here.
About the Charity
CCF is a national non-profit organization focused on pediatric cardiomyopathy, a chronic and potentially life-threatening heart disease. It is the leading causes of both heart transplants and sudden cardiac arrest in children. Despite this, not much is known about the disease.
Since 2002, CCF has been actively involved in providing information on the disease, funding research studies, developing educational materials, and offering support to affected families. CCF envisions a future where more lives are saved and children affected by cardiomyopathy are able to experience a better quality of life.
To learn more about pediatric cardiomyopathy and CCF's programs and services, please visit CCF's website. The Foundation welcomes donations and volunteers to help further their cause.