While Wilmington, Delaware isn't exactly bursting at the seams with Vegas-style megaresorts, the Casino at Delaware Park has definitely put the city on poker players' maps. The casino is looking to make an even bigger name for itself by attempting to break the Guinness World Record for Longest Continuous Poker Tournament ever held this Saturday.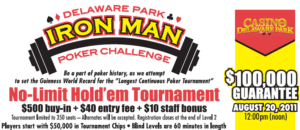 The casino's poker room will be staging the "Ironman Poker Challenge", which is expected to run continuously for at least 36 hours. To that end, there are no scheduled breaks at all for this tournament! Play is even slated to continue straight through the coloring up of chips, which will be done one table at a time while cards will still be being dealt at other tables. While players are allowed to step away from their tables for as long as they want at any time, even taking a bathroom break will be costly, as stacks will remain in play and blinds and antes will be posted as necessary. Perhaps they'd be wise to take some tips from continuous poker play record holder Phil Laak.
The tournament features a $550 buy-in, a $100,000 prize pool guarantee, and is limited to the first 350 players who sign up, who will all be gunning for first place money of at least $24,000. If the buy-in is a bit steep for your bankroll, the poker will also be hosting a series of Ironman Poker Challenge super satellites starting tomorrow with a buy-in of $65. More information can be obtained by calling the poker room directly at (302) 355-1050.
If you won't be in the Delaware area this weekend but still want to catch the action, the Ironman Poker Challenge will be broadcast live online. And if you'd prefer to actually play poker from the comfort of your own home, then by all means, fire up your favorite gambling website and ante up!