Poker table toppers can instantly transform an ordinary dining or conversational surface into hours of fun. Placed over any flat surface that is normally used for a different purpose, poker table toppers can easily provide an overlay that is both comfortable and theme-oriented for a planned or impromptu game night.
In this article, we'll take a look at some of the more popular poker table top products, how they function, and how they can be conveniently stored when not in use.
What Are Poker Table Toppers?
Also referred to as simply a poker table top (depending on the geographical region), a poker table topper is a separate piece of hardware that can be used to cover flat surfaces and transform them into a gaming area for card playing or other activities.
One of the most important considerations when shopping for a poker table top is the dimensions of your would-be playing surface. Is your table round? Square? Oblong?
Purchasing an expensive poker table topper only to discover that it doesn't fit on your desired playing surface will be a waste of time, so you'll want to use a tape measure to figure out just how large your playing surface is before buying.
Another thing of note is that – if you're making a quick purchase due to an impromptu, unplanned poker game – you'll want to consider buying a very simple, foldable poker table or foldable poker mat/felt that can function immediately.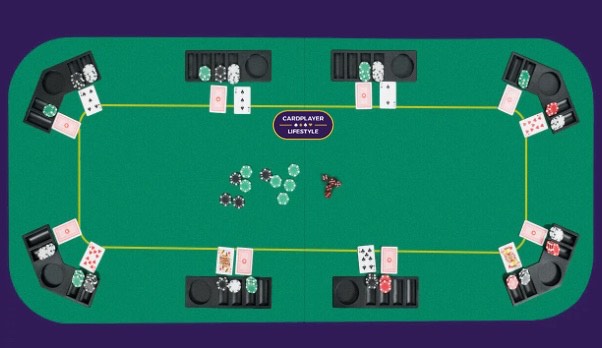 Card Playing Surfaces and Angle Measurements
As a general rule, playing surfaces possess the following angles:
Triangle = 60° (three sides)
Square or Rectangle = 90° (four sides)
Trapezoid = 360° total, angles vary per shape (four sides)
Pentagon = 108° (five sides)
Hexagon = 120° (six sides)
Heptagon = 128.57° (seven sides)
Octagon = 135° (eight sides)
Nonagon = 140° (nine sides)
Decagon = 144° (ten sides)
Round or Oval = (no angles)
This information will help you quite a bit when shopping around for a poker table top.
After you have recorded the distinct shape of your flat playing surface, the next step is to determine its total area.
As you might suspect, smaller playing surfaces make for "tighter" poker games ("tighter" defined as a smaller, more limited/restricted physical space per player) and can accommodate fewer participants comfortably when compared to a larger playing surface.
Also, oval shapes make for the best poker games if there are more than 3-4 players participating at one time. An oval shape can also contain a dedicated space for a separate dealer position in cases where players don't want to have to rotate the deal each time a hand begins (this is entirely separate from the dealer "button" position).
Folding Poker Table Topper Options
A folding poker table topper will almost always have hinges in the middle of the product that fold inward, leaving two sides of the actual playing surface exposed when folded.
Hexagon (six sides) and octagon (eight sides) are the most common shapes for foldable card playing surfaces, although you will also find options for 90° angle squares or rectangles when shopping online.
The best thing about a foldable poker table top is that it can be easily stowed away in a closet or other space when not in use. This will protect the actual playing surface from weathering, and some of the more expensive products come with a case that will cover the playing surface when stored.
A poker table topper that folds in two separate places can be of lesser quality in general – even if it takes up a proportionately smaller physical space when not in use.
The most common dimension sizes for foldable poker table toppers are 48 inches (four feet) and 60 inches (five feet). If your game will have more than three players, it's almost always recommended to use the larger, 60" option so that participants can have a larger physical space with which to perform card playing prompts such as betting chips or discarding hands.
60-Inch Round Poker Table Topper
A round poker table topper that is 60 inches in circumference (five feet – with a 30 inch radius) can typically accommodate up to six players if there is not a separate dealer position designated on the table.
For anything more than six players, it is HIGHLY recommended that you use an "oval" shaped surface with dedicated positions for a dealer, chip well, and/or automatic card shuffler.
A quick search on Amazon will yield dozens of options for a poker table top, with plenty of dimensions to fit your playing surface.
Why Are Many Personal Poker Tables Hexagons?
Home bar room tables and playing surfaces for gaming that are sold tend to be built with six sides; in the shape of a hexagon. This is because many table games aside from poker are more easily accessible due to the lack of a dedicated "dealer" seat.
One of the most popular card games in the world, rummy, can contain a maximum of six players – and it is not uncommon for other four player card games like bridge and hearts to use a hexagon shaped table. The same goes for "tile" games like dominoes.
If only four players are participating, a hexagon shape will still leave plenty of room for refreshments, snacks, point tally tablets, and discarded hands as long as the total area of the playing surface is large enough to accommodate this.
It is also worth noting that home gaming tables can often serve as a conversational prop among friends in settings such as home bars or casual spaces.
If you are looking for a hexagon-shaped poker table topper, then Amazon probably has more than a dozen options for you at any given time. Prices on these products typically range from about $30 up to several hundred dollars for the more luxurious and detailed poker playing surfaces.
The Amazon platform also contains a thorough review section for the most popular products so you can gauge the pros and cons of each topper before committing to a purchase.
Poker Table Topper Designs
A poker table top design can be a simple playing surface with minimal imprinted overlays or an intricate, specialized aesthetic marvel that contains dedicated spaces for community cards, dealer props, and player refreshments.
For more formal games, you'll almost definitely want to splurge on one of the more complex designs that is specifically printed with poker playing in mind. But for a very informal, impromptu game, minimal overlay printing is needed.
Poker is quite different from other table games, or casino style "pit" games in that printed graphics aren't mandatory. If you're planning on playing a game of dice, backgammon, or roulette on your gaming surface, you'll obviously want to ensure that the product you purchase comes with the corresponding design printing on the table topper itself.
Pool Table Poker Topper
If you have a pool table in your game room, then there are plenty of poker table topper options for you to choose from.
By definition, a billiards table will have a rectangle shape, so you'll want to take this into consideration when purchasing a product that can be placed over your pool table.
Normally, "bar" tables (meaning the smaller pool tables) can provide enough space for four poker players to participate comfortably in a game, while the larger professional size tables can easily fit six players.
One word of caution though… you'll want to carefully consider seating if you plan on playing poker around a billiards table. Some tables can be relatively "low" or "high" off the ground, and will require chairs of equal height for your poker players.
If the playing surface is too low off the ground in relation to your poker chairs, then players will feel uncomfortable by having to "tip over" each time it is their turn to act. If the chair seats themselves are too close to the ground surface, then players will be required to "sit up" just to see the action that is taking place on your poker felt.
Chairs are such an important element to playing poker on a pool table because they are not needed (and not in use) during a billiards game. If you purchased your chairs with the pool table itself, chances are that the chair seats will be "high" off the ground.
And while this makes for a great prop to observe your opponent's shots on a pool table, the chair seats will probably be too tall for a comfortable poker game around a billiards table.
You also don't want any liquids or grease touching a pool table playing surface, as this can greatly reduce the quality of pool games after the fact. For this reason, make sure that your rectangle poker table topper covers every inch of the pool table before placing refreshments or snacks on the surface. You'll also want separate cloth covers to protect the six "pockets" of your game room billiards table.
Poker Table Toppers for Outdoor Use
Even during "clement" weather, a card playing surface can suffer from conditions such as humidity and slight temperature changes or different barometric pressures.
If your playing surface is located in an outdoor backyard or patio area, it's probably recommended that you purchase a cheap poker table top that is durable, easily washable, and can be replaced by another purchase once it begins to show wear.
You'll quickly discover that delicate cloth materials associated with high end poker table felts and playing surfaces do NOT withstand outdoor weather conditions at all.
No matter how much stain-resistant sprays or other products you use to protect a delicate card playing surface material, it will very quickly warp, tear, or erode in quality if placed outside (or even stored outdoors within a protective case.
If you absolutely must play a card game outdoors and want to use a poker table topper over a dining or conversational surface, then opt for a cheap poker mat that's made out of rubber, leather, or plastic. While these materials aren't very high quality, they will be more durable and much cheaper to replace once they absorb too much atmospheric moisture or are exposed to different temperatures.
What's the Best Poker Table Topper for You?
The answer to this question depends almost exclusively on the surface area and geometric shape of the surface you plan to play poker on.
If your table is round, don't buy a square or rectangular-shaped poker table topper. It won't fit; and vice-versa for a playing surface that isn't round.
Make sure to measure the dimensions of your playing surface ahead of time and then match those measurements to a product that is available for purchase. By doing this, you'll ensure a much more comfortable poker game while possessing a poker table topper that can be used on the same surface multiple times.
Don't buy a poker table topper that is too large or too small for the surface that you will be using. Be exact with your measurements and give your poker home game participants something to brag and tell their friends about when playing in a poker game that you're hosting.
Plan ahead so that your poker table topper doesn't "slide" from its position on top of your playing surface and store it in a safe, dry space away from temperature changes when not in use.
By using the tips above, you can increase your chances of finding the best poker table topper for your home game and use it repeatedly during social occasions such as parties, get togethers, and reunions among friends.
Make your poker game night an occasion of envy with a quality poker table topper!