This longtime poker media outlet will be hosting a four-day live event festival, sponsored by PokerStars, at the Westgate Las Vegas Hotel and Casino, with a Platinum Pass to the PokerStars Players Championship to be awarded.
For the first time in almost 12 years of operations, Cardplayer Lifestyle will be hosting its very own branded live event festival. The cash game/tournament hybrid will feature three days of low-stakes Dealer's Choice cash games culminating in a $200 buy-in H.O.R.S.E. tournament on the fourth day.
We believe that there's a niche segment of the poker-loving public that's just a bit underserved. Too often, low-stakes mixed games simply don't run in brick and mortar casinos because it's impossible for enough interested players to spontaneously and simultaneously assemble. With plenty of advanced notice, however, we're ready to make some massive mixed game magic happen!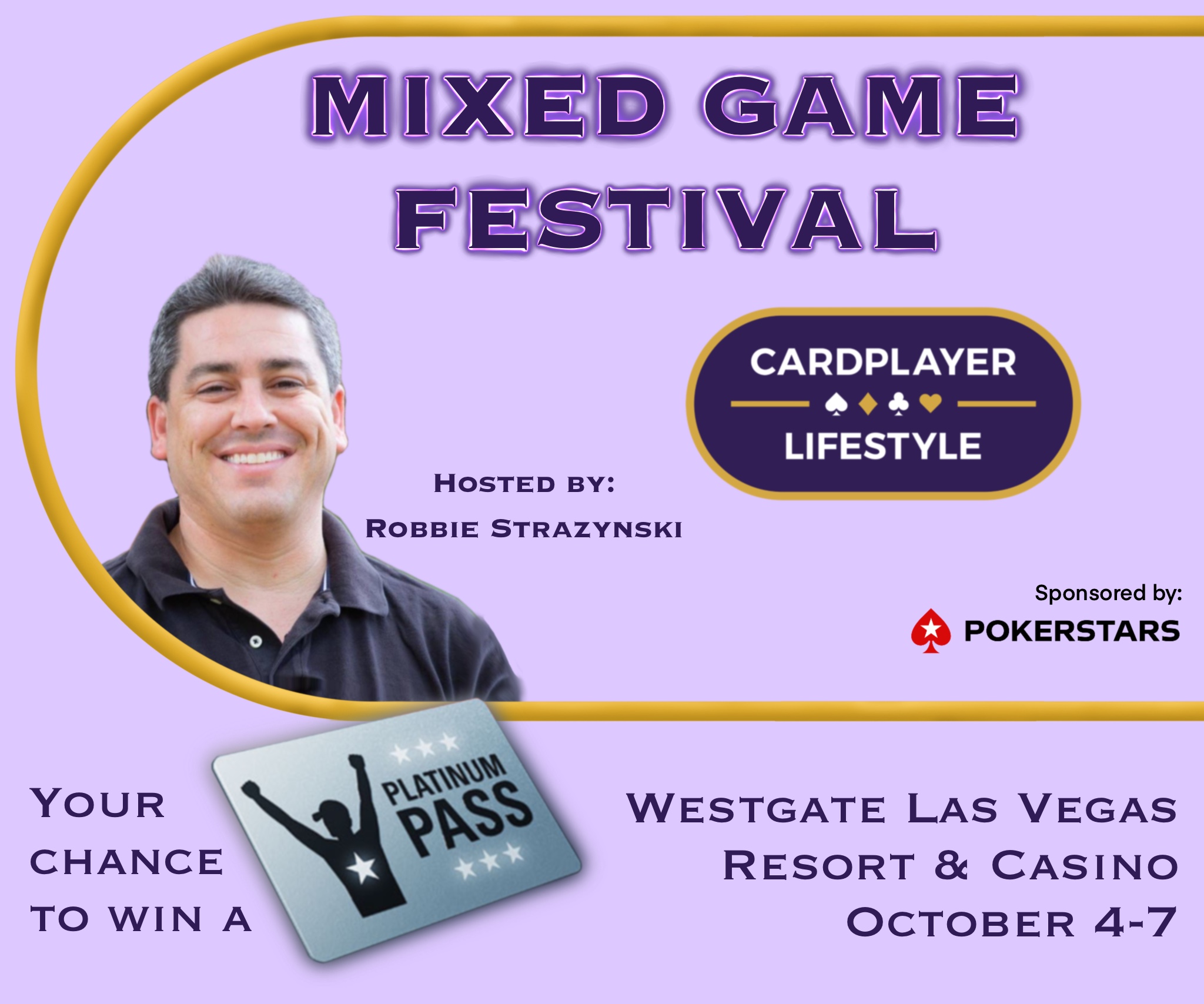 The cash game portion of the festival will run from Monday October 4 until Wednesday October 6. A direct buy-in $200 H.O.R.S.E. tournament will then take place beginning at 12PM on Thursday October 7 that will see the winner take home a coveted Platinum Pass to the PokerStars Players Championship next year (date TBD).
For every five hours of Dealer's Choice cash game play logged during the first three days of the festival, players will earn extra starting chips for the final day's H.O.R.S.E. tournament, up to a maximum of 25 hours play for double the starting stack.
Due to space considerations, players interested in attending the festival are encouraged to register in advance on the bespoke daily interest lists via the Poker Atlas app.
FREEBIES AND GIVEAWAYS GALORE
In addition to the added value the Platinum Pass brings to the proceedings, all players will enjoy a number of other festival features including:
FREE salad bar and fruit/vegetable platters throughout cash game play
Multiple daily merchandise giveaways courtesy of PokerStars as well as other premium poker industry brands
$7 time rake per dealer down
… with more to come in future announcements.
**Update: We've just made that "future announcement" here!
CHARITY COMPONENT
There will also be a nod to charity throughout the Cardplayer Lifestyle Mixed Game Festival, with the non-profit Westgate Resorts Foundation set to benefit (with perhaps an additional organization, to be determined).
"Tip jars" will be set up on site where players can choose to donate chips towards charity, with the total amount collected each day to be matched both by PokerStars and Westgate Casino.
HOSPITALITY DISCOUNT
Players who stay at the Westgate Las Vegas Resort and Casino during the Cardplayer Lifestyle Mixed Game Festival will be eligible for a special promotional rate of $50 per night from October 3-6 and $80 on October 7 (those are final prices; no additional taxes or fees). Just mention the code ZCLPO21 when calling the hotel to book your room at (888) 999-3836 or (702) 732-5151.
I'm absolutely thrilled to have great partners in PokerStars and the Westgate Las Vegas Poker Room with whom to host our inaugural Mixed Game Festival. We've been working hard to put this special event together, and we're all dedicated to making this a truly memorable experience.
Having the opportunity to award a Platinum Pass to our tournament winner brings unprecedented value to a promotion targeting live low-stakes players during peak poker season. This will be an unforgettable festival where every participant will feel like a winner, including charitable foundation(s). It's a mixed game player's dream come true.
See you all in Las Vegas!
About Cardplayer Lifestyle
Founded in 2009, Cardplayerlifestyle.com is dedicated to bringing fans the latest news, interviews, op-eds, and strategy and lifestyle pieces from the world of poker. Our digital poker media outlet publishes some of the most interesting stories the world of poker has to offer, including exclusive features on top poker personalities. We also provide our readers with a plethora of unique strategy pieces and the most up-to-date, comprehensive reviews of popular poker training courses.
Got questions about our Mixed Game Festival? Please contact: [email protected]