Canadian poker personality Parker Talbot, otherwise known as 'Tonkaaa' or 'TonkaP', has carved out a niche in the game like few others could lay claim to. Having previously been sponsored by other poker sites, the online poker streamer has a hugely loyal legion of fans and will forever be 'Team Never Lucky'. Making his own fortune has become a happy habit for the enigmatic poker pro from Toronto, whose live winnings of over $1 million are dwarfed by his online achievements. Now a key member of Team PokerStars Pro, Talbot can be heard across the cardroom before you see him, and when you see him, you can't help but smile from ear to ear. He was kind enough to spend some time chatting with us at the 2023 PokerStars Players Championship.
Robbie: Let's start by asking how much you think you've won at previous PCA events prior to this year?
Parker: Negative hundreds of thousands.
Robbie: Well, the public records show it to be $29,530.
Parker: That's what I would have cashed for; that's not what I won.
Robbie: LOL, okay point made. Well, in the 2019 PSPC you finished 177th, and also there was a $2,200 side event that you played. What was it like that first time, back in 2019, to be a part of the PSPC? How has it changed over the years since you've now become a PokerStars Pro and now that you're here for a second time?
Parker: Yeah, definitely a different vibe being a part of the team here. But both events have very similar vibes. Everyone is just very excited to be here. Just a great place to be, the Bahamas. I prefer this venue, and everyone's having a good time. It's hard not to have a good time when a third of the field is here on a Platinum Pass and we're here playing a $25,000 buy-in tournament. You know, it's difficult to be too upset.
Robbie: For sure. Ok, let's rewind. Back in 2020, you were one of the last players to cash in a live ranking event before COVID closed all the doors. You finished 15th in the WPT Fallsview event at Niagara Falls. What are your memories of that event and what was daily life like in Toronto for you at the time?
Parker: Daily life would have been normal I think. That was a little bit pre-COVID I think. But I do have a funny story from that tournament. Seventeen players left. We have 15 minutes left in Day 3, I guess. It must have been Day 3. An old fellow on my left, must be about 70-75 years old. With 15 minutes left in the day, he's got about 18 blinds. And he just turns to me and goes "I'm too tired, I've got to go to bed." And I was like "Yeah. Fair enough. I mean there's only like 15 minutes left." And he didn't understand, I guess, that it was an option that he could just leave. So he sat there and went all in until he busted.
Robbie: Wow!
Parker: And he just blasted it off. He busted in like 16th or 17th place, right away.
Robbie: So that's something you aspire to when you're 70? Same thing?
Parker: [laughs] Listen, I do aspire to become a recreational player. That should be everyone's aspiration. If you can become recreational, you know. Then you don't have to be one of these sharks, licking their chops, playing. You can just sit there and play and have a great time. But I would probably never do this. I would probably just get up and leave. And hope to come back with 8 big blinds the following day or something.
Robbie: Ok. Well, you really pushed yourself in the 2020 WSOP online series, cashing eight times. It was a unique experience in general, the fact that all poker was online exclusively for a long time. Do you think that that period of time that we all went through and yourself as primarily an online player helps us all appreciate the live poker experience more?
Parker: I think so. I feel like live poker is booming at the moment. I feel like everywhere we go it's decent fields. Especially in America. There's a lot popping off in America right now. But in Europe we had massive fields in EPT Prague in December; record breaking. There's a lot of people looking to play live poker right now. And I feel COVID has to have a hand in that. People must have been so fired up to play after two years of not playing.
Robbie: Yeah.
Parker: I know a lot more private games, underground games, started during COVID. People couldn't play at the casinos, live cash games, like that. I feel like people are so excited just to get back in the casinos and that.
Robbie: Well, that's other people. How about you? I specifically ask about you, again, because you made your name primarily online. Obviously, you're doing a lot more live poker now. But how do you feel about it now, having gone through that period where it just wasn't possible?
Parker: Yeah, I'm a lot more interested in live poker these days, to be honest. I'll be playing all the EPTs this year. I'll be going to Vegas to play the World Series, probably just to play the Main Event, maybe a couple of other tournaments. I'm definitely a lot more interested in live. I was just saying, it's been 13 years of live poker and I have never won. I've never even gotten second, actually.
That's my only real goal in poker right now, to win a live poker trophy. To get a nice winner's photo and a win in a tournament. I see a lot of people win a lot of live poker tournaments. I see a lot of players win multiple – even back-to-back sometimes. I see they may be a decent player, but I know that I've put in the work. I know that I am definitely better than some of these individuals. And some of these players just rip through a bunch of titles.
I'm just like "I could do that! Surely that's going to happen at some point." I just want to win a trophy. I'd love to win a spade at an EPT or something. I've been out here trying. I've been grinding a lot. I've played a lot of tournaments here. I've played lots of side events. But still no luck. But yeah. I'm definitely loving live poker big time. I've definitely enjoyed playing live poker a little bit more than online. I love the atmosphere. I love the game. I love the live poker game at the moment. I'll be definitely playing a lot this year. Really looking for that trophy.
Robbie: Well, since you brought it up, at the end of the day, poker is a game where you try to "score the most points" and win the most money. Simultaneously, we're not supposed to be results-oriented – even recreationals – we're supposed to be process-oriented.
Parker: It's tough not to be at some point.
Robbie: That's exactly my question. Given that, why is it that the trophy is so important to you? If you can just keep winning money, being a winning player, and being profitable at the game?
Parker: Well, in a live poker setting, I'm feeling like I'm not winning money. I mean I guess I am winning recently, a little bit. I just got a score in Prague where I got fifth place. My biggest score ever, actually, $270k or so. It's obviously a much more profitable venture if you do win. And I'm not being results-oriented in that I'm saying that I think that I'm a bad player or that I've really screwed it up. Listen, I've definitely screwed up some deep runs. You know, I've had a lot of sweats. I've had a lot of 10-20th place finishes in $10k high rollers and stuff like that. A couple of Main Event final tables, a couple of Main Event final table bubbles, lots of side event nonsense, you know.
I think it'll just come. It's just frustrating because it's 13 years, you know. That's a long time. I guess only really seven or eight years of actually playing a lot of live poker and taking it seriously. The first four or five years of playing poker and going to live events, I really just treated it like a vacation. Because I really didn't like live poker too much. So I'd win a package to an EPT, come to an EPT, play the main event, and then go out drinking for a week and a half. That was what we did when I was 23 at live stops.
Robbie: You only live once.
Parker: Yeah. These days I only play live tournaments. So it's a little bit different.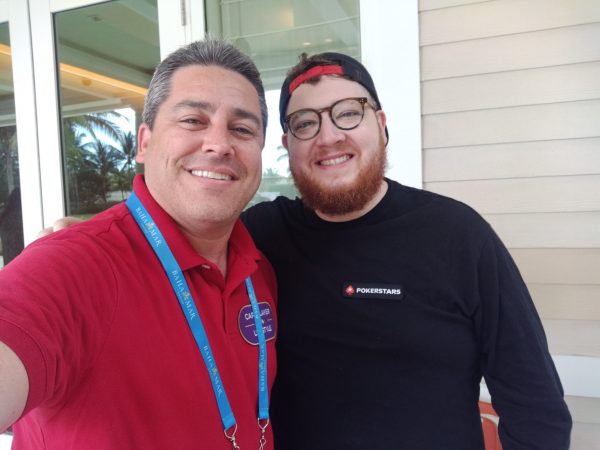 Robbie: Gotcha. Well I do have to ask, do you think that you're due for a ridiculous months-long sun run? Or is it that you generally feel that there's more you need to be getting into the lab to do to take your game to the next level, and that's when the big scores and wins will happen for you?
Parker: No, I think I just need to get a lucky streak of cards and just absolutely tear through it. I don't know, the whole "due" stuff. I feel like I want to think that I'm due and I'll have some sun run. But no one's owed anything in poker. And especially in live poker where even if you're a grinder, even if I go to eight live stops this year and spend a big portion of my year playing live poker, I'm still playing literally a handful of tournaments that I could play online in like a week. That's the crazy thing about live poker. It is just a variance shit-show. Obviously, the elite players have a little bit of a step up on the other players. But at the end of the day it really is a shit-show. Sometimes even a recreational player will go on a heater, win three out of five tournaments, and everyone thinks they're a god now.
That's really how it goes in poker. It's pretty wild how, especially in America. I'm just looking to be that lucky donk. A donk for a couple of months. I just want to be that lucky donk.
Robbie: Well you mentioned Prague. Obviously, that's got to be one of your favorite experiences, making the final table at EPT Prague Main Event.
Parker: Twice!
Robbie: Twice! Tell us about that journey, and what that meant, being in that spot, just a couple of months ago.
Parker: Yeah, in December. It was an incredible experience. It's so much fun running deep in live poker tournaments. It's one of the reasons that you love it so much, you know. Especially because I play quite aggressively. Often when I do I manage to have a big stack. There's nothing better than having a big chip stack deep in a big live poker tournament.
Robbie: To play your game.
Parker: Yeah. That was a really enjoyable experience. It was an incredible, incredible time. Yeah, it was fun.
Robbie: Ok. Well obviously you do a lot of co-commentary yourself. That final table that you made was commented on the stream by your fellow PokerStars ambassador Sam Grafton. What do you make of his thoughts on your play? Or have you not watched it?
Parker: I haven't watched it back yet, actually. But I hope he said nice things. Sam's a very high-level elite player. I think I feel okay about how I played on the final table. There are a couple of spots where I messed up a couple of sizes a little bit. But I don't think I made any tremendous blunders or anything. I was quite pleased with that. I don't know why I haven't watched it back yet. To be honest, I don't really like to watch myself.
Robbie: Really? You don't find it instructive to watch for live tells? Or how you would have done things differently?
Parker: You know, live tells is just a myth in my opinion. I don't really believe in it. I believe there are maybe three to five people in the world who can actually live-read players at the table. And I believe that everyone else who thinks they can are just bullshitting themselves.
Robbie: Interesting.
Parker: I think it's just important to not give off live tells.
Robbie: That's fair.
Parker: As long as you do the same thing in every hand, and you don't do anything weird or foolish, I think you should be good. But in terms of being able to pin down reads on people at the table, I think it's just a guessing game that people do and people convince themselves they've got something on their opponents when they don't.
Robbie: Playing poker in a location like the Bahamas is pretty amazing. Does it make it harder to focus at the felt? Here, specifically, as opposed to other live stops? Knowing that the beaches, the sand, the pool, the other distractions are there, and that it's almost a shame that you don't necessarily leave the building too much.
Parker: Definitely, for sure. And I would say that 6-10 years ago not so much for me. But these days I'm definitely getting older and now I would just like to go to the beach today and just lounge. Whereas 23-year-old me would have been like "Nah. I'm not going to the beach. We're going to gamble, we're going to drink, we're going to go out, and do something." But these days I'm much more like "Yeah, I would like to sit on the beach and have a little dip in the ocean." So, yeah, more than ever now. And I would assume for other people, for sure. More than myself. Because usually I'm really into the cards and whatnot. I mean, I don't really find it hard to stay away from it to be honest, personally. Even though we're heading in that direction a little bit. I'm still fired up and ready to get in that $2k side event.
Robbie: You're hugely popular. You're a known name, a known personality for all the stuff you've done over 13 years. You've also been an ambassador for other online poker companies, previously. How does being a PokerStars Team Pro differ and is being a sponsored PokerStars Pro all that you might have thought it would be prior to signing your deal?
Parker: Oh definitely. I think maybe it's a little bit – when I was 18 looking up to PokerStars Pros, I was like "That's cool. I bet that would be cool." And it is cool, but it's such a different world once you're in it you know. I'd say Stars' team is incredible. It's so nice to work at Stars, because all my friends work at Stars. Like Spraggy (Benjamin Spragg) and Lex Veldhuis, and Fintan Hand. I've been good friends with the three of those idiots for so many years. It's honestly incredible. Spragg and I are going to make a ton of content this year. We're going to make some stuff with Fintan. We're going to do a lot of YouTube stuff, we're going to do a whole bunch of stuff this year. I'm really looking forward to doing all that this year. But just in general it's great to work with Stars. It's great to work with your buddies.
Robbie: Awesome. Funny you mentioned Mr. Spragg. That is our last question, actually. You can either give up poker for a whole year or you have to spend one straight month rooming with Spraggy, playing every day on stream. Which do you choose and why?
Parker: Ha! I mean, it would be really good content. And really good for me to trip my ass just to stream for a whole month. So I'll take the streaming with Spragg for sure. Although we're going to beat each other up.
Robbie: And that's your final answer, you're locking it in?
Parker: Final answer. Get me in the mix with Spragg.
Robbie: Awesome. Thanks so much for your time.