Do you collect poker swag? Perhaps you've spent just a bit too much time playing at live and online casinos and have amassed just too large of a poker swag collection? Some of you may be "poker hoarders" and not realize it. Recently, I began going through my office and realized that I am indeed suffering from a poker hoarding affliction. No, I am not about to become the next featured home A&E's Hoarders, but it was clearly time to get rid of some stuff.
So, how do you know if you're a poker hoarder? Come with me and take a journey through some of my former poker junk. Here are some signs that you may be a poker hoarder.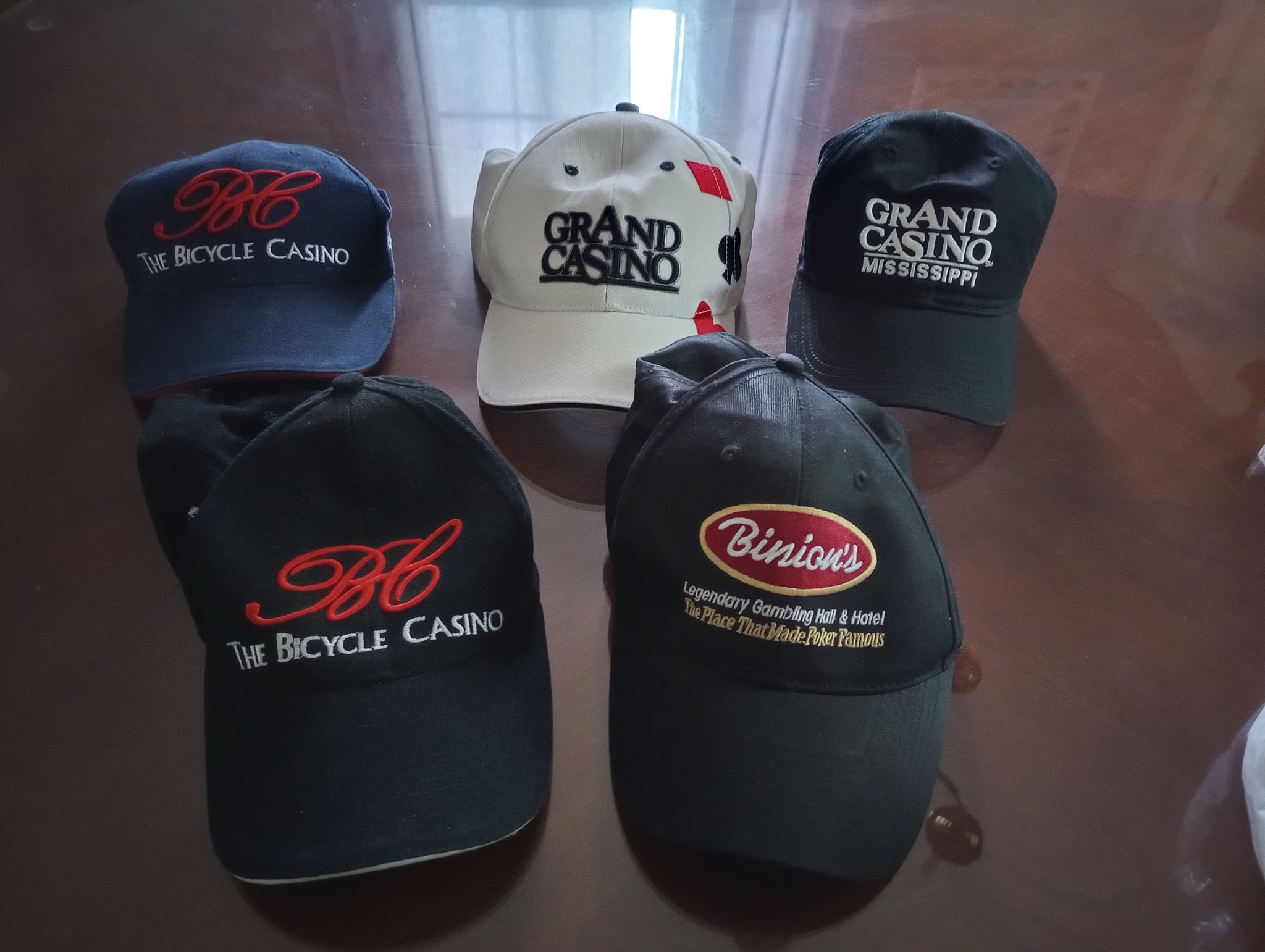 You Have Swag from Defunct Online Poker Rooms
Who doesn't love free stuff? If you play enough poker in live poker rooms, odds are you have picked up SWAG (Stuff We All Get) from various online poker rooms. The first bit of poker swag I ever received was an installation disk from the late, great John Bonetti for UltimateBet. Little did I know that it would start a mini collection of poker swag.
I came across a couple of boxes (yes, I said boxes) of swag from various poker trips. The majority of the items were from now-defunct online poker rooms. Here is a sampling of some of the things I found:
Small portfolio folder from Full Tilt Poker
Notepad and pen with retractable poker hand cheat sheet from Doyle's Room
Customized embroidered T-shirt from UltimateBet
Deck of cards from Absolute Poker
Installation disk from Planet Poker
Autographed CD for UltimateBet from Annie Duke
Photograph with Team Full Tilt (The one they superimposed your image)
And that's not including the ball hats, beanies, poker chips, and items from poker rooms still in operation! For a while, I had a wardrobe of poker shirts that I wore. Going through the recent finds was a trip down poker memory lane. In some cases, it is a sad reminder of what we've lost in the United States in terms of online poker. You can still play poker online in the United States, of course, but you can't make a wardrobe out of poker swag from those sites.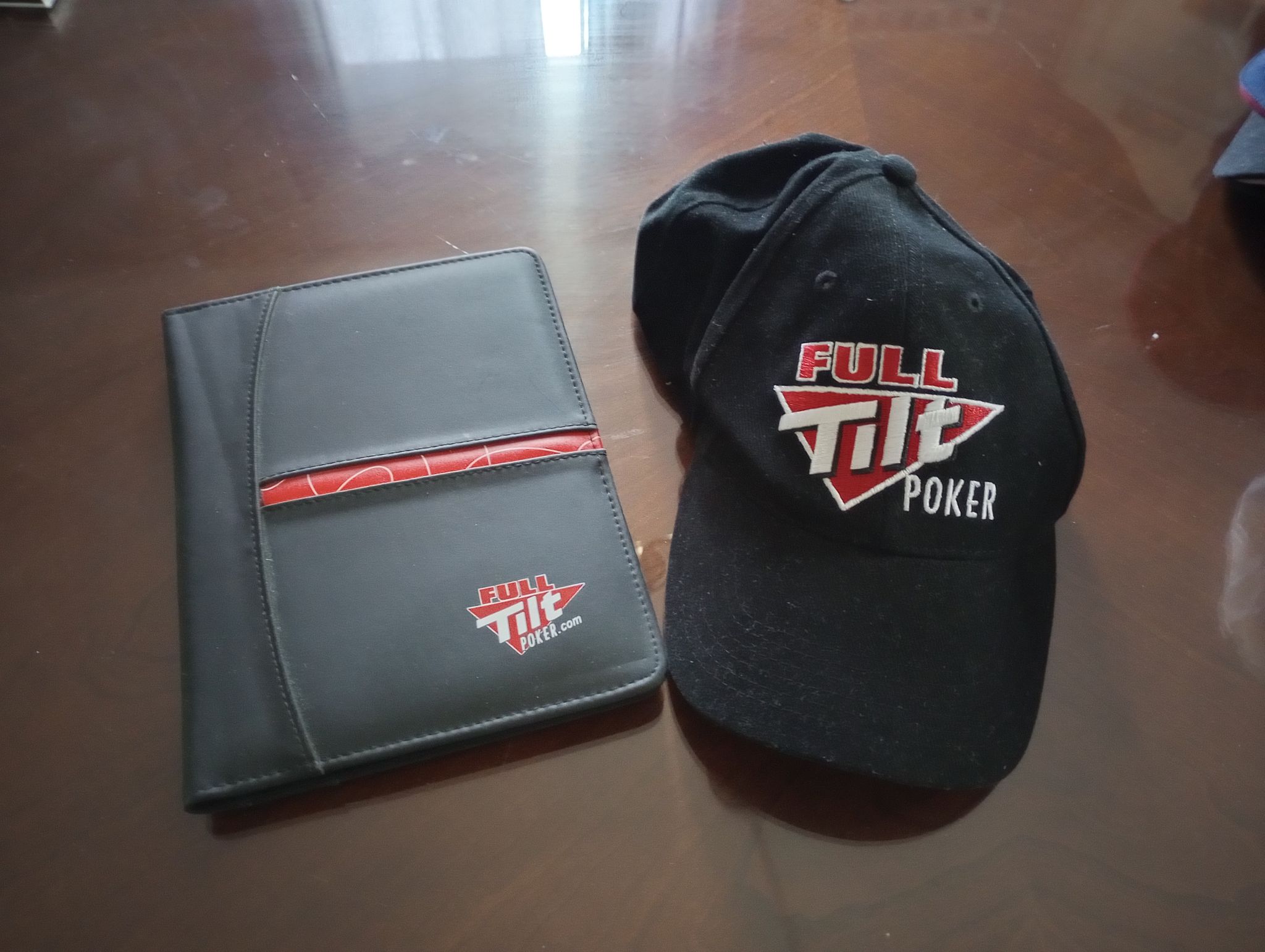 You Have a "Library" of Card Player Magazines
It's safe to say that most poker players and fans have a small library of poker books. That's not uncommon. However, how many of you also have a library of poker magazines? Whenever I went to a casino, I generally picked up a copy of whatever poker publications were available for free.
I had countless copies of Card Player Magazine, Poker Player Newspaper, Bluff Magazine, and All-In Magazine. Not only did I pick up the magazines at the casino, but I also had a subscription for quite a while to Card Player Magazine. At one point, I had three or four banker's boxes full of them. I purged those magazines a couple of years ago, thinking I had cleared out my "library."
Nope. During my recent cleanout, I still found another box full of them, many of which go back to 2008-2010. If you've got magazines that go back to before the rise of the Seiborg, it's time to let them go.
You Have Dozens of Unused Decks of Cards and Poker Chips
How many of you have multiple sets of poker chips of varying quality just in case you need one for a poker game? You've probably got the "good set" of chips for serious games, the "OK" set for games with your buddies, and then a few cheesy sets you use to play with kids or when you don't want to mess up the better quality sets.
Some of you probably have dozens of decks of cards, most of which are from various casinos and poker rooms. That's not including the dozen decks of cards you picked up at Walmart or a random dollar store.
We don't really need all those decks of cards and poker sets. It's time to go through and cull that excess. Donate some of those sets to a fellow player in need, or give them to some kids to play with.
You Have Phil Ivey's Napkin
I covered the 2008 World Series of Poker for PokerNews and was covering the last day of the $10k Stud World Championship. Phil Ivey was on the last two tables, and there was a small group of people railing from a distance.
Ivey busted in 9th place. Directly after leaving the table, the floor person took a couple of napkins from the cup holder and put them on top of a speaker. A guy went over to the speaker and had the following conversation with me:
Railbird: Hey buddy, is this Ivey's napkin?
Me: It was?
Railbird: Will I get in trouble if I take it?
Me: Ummm… what?
Railbird: Will I get in trouble if I take the napkin?
Me: Ummm, no. It's trash.
Railbird: Nah, man, this is Phil Ivey's napkin. I'm gonna put it in my scrapbook.
He then took the napkin and carefully folded it up before putting it into his pocket. That interaction made me feel much better about keeping the base from a bracelet holder for a WSOP bracelet. At least it wasn't a napkin.
Your Poker Collection is Only Rivaled by Your Casino Collection
I was one of those people that had to buy at least one thing from every casino I played at. That's in addition to keeping at least a $1 chip. I still have many of the chips in a display holder, but recently, I discovered I still had a lot of items purchased or received as poker swag from casinos.
If you're like me, you probably have everything from playing cards to poker chips and shot glasses to baseball caps. I like to wear caps, so my collection of casino hats at one point was impressive. However, recently, I found several hats that are unused. A couple came from the now-defunct Grand Casino Tunica (Robinsonville, MS). There were hats from Los Angeles, Atlantic City, Mississippi, and Minnesota. If I choose to keep them, I should have enough hats to last me 20 years.
You Have Spiderman's Autograph
Back in the mid to late Naughties, Parth Data, a.k.a., Spiderman, was considered one of the better players in the Los Angeles region. He was once considered one of the bright up-and-coming players of the area. However, like many promising players from that time, he never quite panned out.
I remember quite a few people who collected autographs from players like Spiderman and other promising players in hopes that one day they would be famous. Are you one of those people? Do you have dozens and dozens of autographs from popular and lesser-known players? While I didn't have any Spiderman autographs, I did find a random autograph from Robert Williamson III, which, of course does not have the same significance today as it did in 2006 when I got it.
Autographs are a fun hobby, but for the poker world, most of them are random scraps of paper that will never be worth anything. I'm not saying get rid of your Daniel Negreanu or Phil Hellmuth autographs. However, the Spidermans of the world can hit the rubbish bin.
So… Many…. Receipts
Are you the type of person who likes to hold onto a receipt or a ticket from an event as a memory? Unless you're a scrapbooker, what ultimately happens to these receipts is that they get stuck in a box (or random boxes) and just take up space.
Here are some random receipts and tickets that I recently came across
A $3.56 receipt for a steak and eggs dinner from the Orleans
Dozens of tournament buy-in receipts from casinos around the country
Several $10 comp coupons from the World Series of Poker (I know. Allen Kessler will be ashamed of me.)
Random airplane ticket receipts, mainly from Delta.
Baggage tags (I told you I hoarded things)
The autograph from a random prostitute from the Kit Kat Ranch (But I don't remember going to Mound Hill outside of Virginia City in Nevada in December of 2007. Wait….)
If you're a scrapbooker, please put your memories in a book. Otherwise, do as I did and dump the boxes in the trash, especially if you're married or dating and have brothel receipts. You don't want to have THAT conversation.
You Have Every Poker Video Game Known to Man
How do you know you're obsessed with poker? When you play poker video games. No, I am not talking about playing online poker. I mean you bought World Championship Poker 2 for Playstion, Pure Hold'em for Xbox One, or World Series of Poker for the PC. Heck, you probably have Reel Deal Poker for the PC. Robbie probably has an autographed copy of Stacked with Daniel Negreanu.
While poker video games seem like a no-brainer, the reality is that most games are predictable and easily beaten. They can still be fun but often don't help you improve your game. However, many of the games on your shelf are probably outdated and may not even be playable. If you have games that ran on Windows 95 or 98, odds are they won't run correctly on Windows 10 or 11.
You don't necessarily have to throw these games out. Check to see if they have any resale value. If so, list them on Ebay or other selling platforms. You can also donate them to a fellow poker junkie. Whatever you do, it's time to clear some shelf space.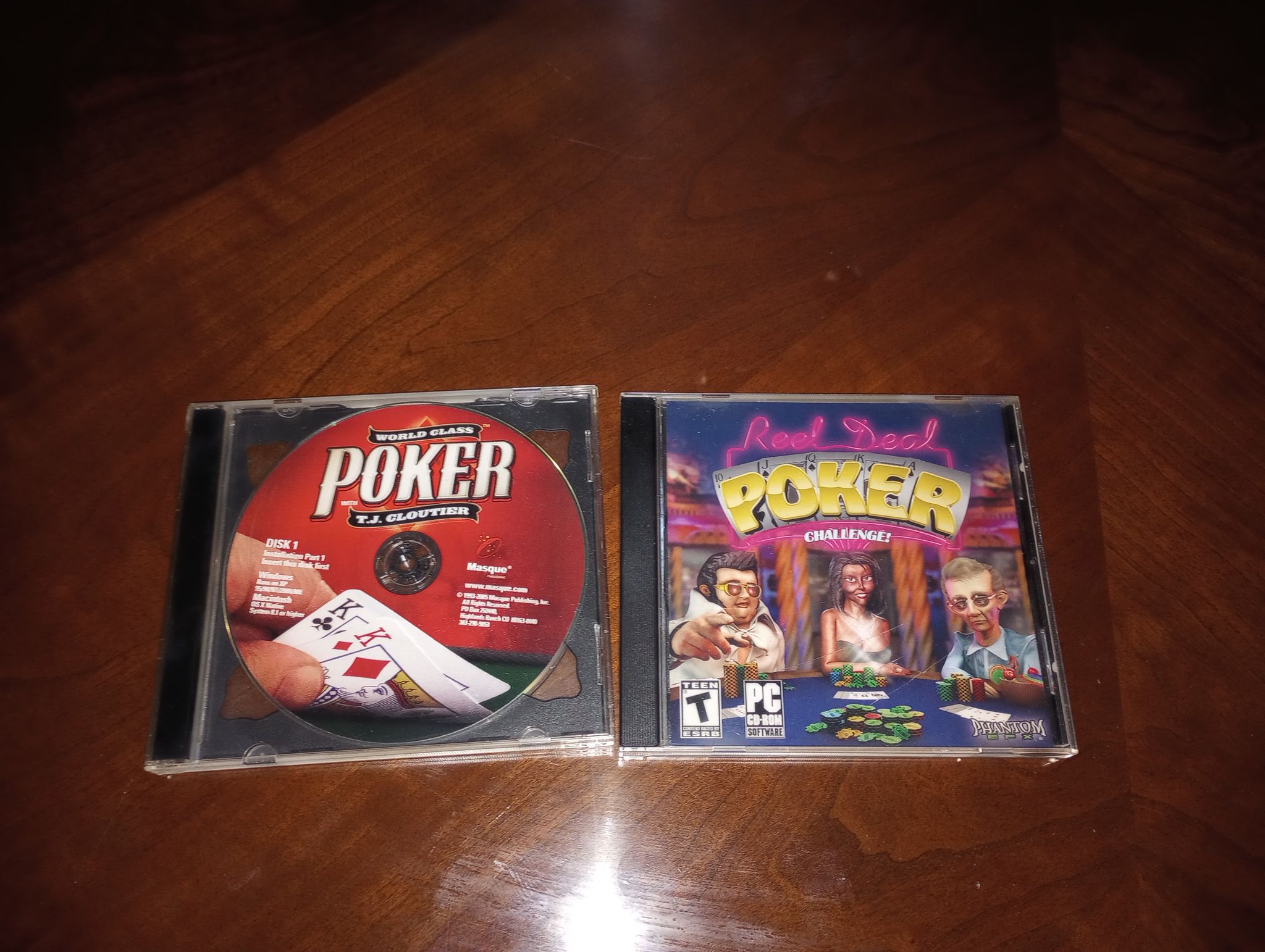 If It Does Not Bring You Joy – You Probably Got One Outted on the River
Let's skip the cliché reasons that you should declutter. Ultimately, if the stuff is just taking up space and will never be useful, it's time to get rid of it. There's nothing wrong with keeping a few trophies, posters, or even a couple of autographs. However, once it starts becoming boxes of stuff you haven't touched since 2006, it is time to get rid of it.
Taking a final stroll through poker memory lane has been fun for me the last few days, but most of the stuff I went through is now out of the house. Now, I can use the space for its intended purpose — the mountains of other junk I sell on Ebay.