Want to improve at video poker? First thing's first – you need to internalize the basics. If you're truly serious about optimizing your playing, you need to build real knowledge and real skill. The rules of video poker are simple, but it's important not to allow their simplicity to encourage laziness. If you want to play the game well, and with real skill, that means putting in the mental work necessary to lay the foundations.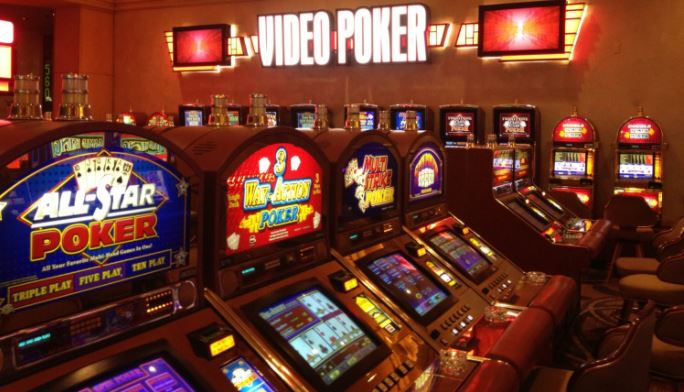 Most video poker games utilize a standard 52-card deck. (Side note: the variants that allow the use of Jokers as wild cards will, of course, include one or two Jokers in the deck. It seems like a small difference, but don't forget that improving play is all about mathematics, and changing the number of cards affects the number of possible hands significantly.) Below, you'll find the basic rules of 5-card draw video poker:
The player selects a bet amount ranging from one to five coins.
The player is dealt five cards and selects the cards he/she would like to keep, with the option to discard any number of cards.
The player is dealt cards randomly to replace those that have been discarded, if any.
If he/she possesses a winning hand, the player is paid out according to the pay table.
Bet max coins
The most easily implemented step of upping your game is to place the maximum bet each hand. Video poker paytables all follow the same chart structure. The column all the way on the left shows the winning hands, which include traditional hands like royal flush, straight flush, four of a kind, etc. It will also include winning hands specific to that variant; for example, in Jacks or Better, the list contains a pair of Jacks. The payouts for each hand are then displayed in the columns that follow, according to the bet amount increasing from left to right and starting with a one-credit bet to the maximum five-credit bet.
When comparing the pay tables for different variants, as one might predict, one similarity is that the higher the bet amount, the higher the payout. This is true of most gambling games, and the logic is straightforward. The more you wager, the more you win. When you place less than the maximum bet, your payouts will be cut by a significant percentage. However, do not, under any circumstances, ignore your bankroll. If you're serious about winning, you need to find a way to budget wisely and play well at the same time. If you can't afford to lose, don't play.
Lost a couple hundred at the @Joeingram1 PLO game… decided to play $15 worth of video poker. Wise decision ? #lifeisgood pic.twitter.com/n7gjJ47nsJ

— Robbie Strazynski (@cardplayerlife) June 8, 2017
Analyze paytables
Some video poker machines have better odds than others, so do your research and learn to recognize the most player-friendly paytables. The fact that you get a neat list of paying combinations corresponding with the payout amounts is key. The casino is being perfectly transparent, so use that information to your advantage. Although paytables are readily available, the payback percentages aren't usually included. One simple guideline for choosing a machine is to look at the number used to indicate the odds when you place the maximum bet. For example 9/6 Jacks or Better indicates that the payout for a full house is 9 times the bet and 6 times for a flush. This is called "full pay," which means that it's the highest-paying variant of that game. There are many websites that publish payback percentages for the different variants.
The short explanation: do your research and look for full pay games.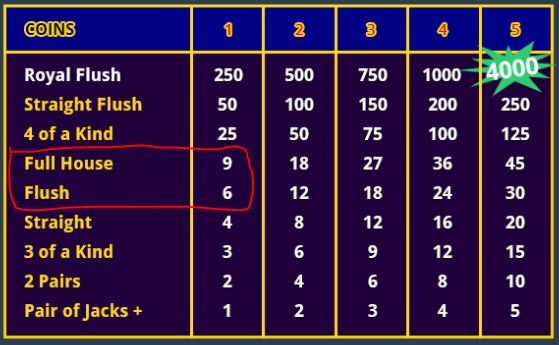 Use casino bonuses
There's a lot of free stuff out there in the gambling world – take advantage of it! Knowing the different versions of video poker in and out? Definitely important. Getting familiar with details that exist outside of the game itself? Equally as important. You'll also want to think about where you're playing – whether that's at a brick and mortar establishment, or an online casino website (or both).
Playing well isn't the only way to win. It's well known that when you enroll in a brick and mortar casino's membership program (also called player's club), you'll start accruing comp dollars and be eligible for valuable freebies, including anything from complimentary breakfast buffets to discounted or free rooms, show tickets, and more, depending on your play volume. Online casinos come with their own respective perks, including seasonal promotions and bonuses, incentive programs, and more. Keep an eye out for these extra benefits and choose the best online casino bonus.
Don't underestimate the power of repetition
You know what they say: practice makes perfect. This applies to video poker just as much as any other activity requiring some level of skill. You probably know that you have the option to play video poker for free at most online casinos. Don't ignore this opportunity to get comfortable in a low-stakes environment. It gives you plenty of space to analyze how you're playing, to make mistakes, and to take note of the most common errors in order to get better.
If you move on to playing with real money too soon, you may find yourself quickly discouraged when you make amateur mistakes. That can both damage your mentality and slow down your continued learning. While chance dictates which cards you end up with, there are still dependable techniques when it comes to deciding the best odds. You need to practice being dealt hands and identifying the best probabilities for winning outcomes. The accumulation of experience will serve you well once you're ready to start playing with and winning real money.
Best of all, as your edge increases, you can train yourself to play more video poker hands more quickly. Probability-wise, that means you'll be able to increase your winnings at a quicker clip.
Here's a documentation of the known fastest #VideoPoker players to date:https://t.co/ki5A76fTWr

— The Wizard (@Wizard0fOdds) November 3, 2017
Take advantage of the free resources available online
Don't just stop at the Free Play option when it comes to practicing at video poker. There are ways to be even more proactive. It's a good idea to mix in free play practice with a more targeted approach. Research specific strategies to figure out what cards to hold for different variants of the game and use online tools for guidance. If you're not fully confident in your own ability to figure out the right plays, you don't have to puzzle things out on your own.
Where to find such free resources? As the saying goes: "Google is your friend" 🙂
Explore possibilities outside of your comfort zone
Our final suggestion is about taking things a step further and challenging yourself once you feel you've exhausted the more conventional ways to improve. So you've practiced and pored over specific video poker winning strategies and practiced some more – how to choose a pay table, how to bet, and when to hold and draw, all in pursuit of the best odds. You've essentially gotten your game play to near perfection, but these tips have been for the most common type of video poker – single-hand. Why not try something else? Challenge yourself with multi-hand video poker.
Multi Hand video poker is a relatively new variation on traditional video poker games. pic.twitter.com/Beb1vllTOH

— CasinoOrg (@Casino_Org) June 14, 2017
If you don't know what it is, it's simple – the game is exactly what it sounds like and allows you to play multiple games at once. The most popular versions are 3-play, 5-play, 10-play, 50-play, and 100-play. The original deal is duplicated for each play, and the second deal for each hand is done randomly and separately, which is essentially the same as playing the game with separate decks of cards. It makes the game that much more engaging and exciting, with a handful of new techniques to master. Take a look at the multi-hand options available at your favorite casino to dive into a new sphere of opportunities to win big.