You are probably used to the fact that playing cards feature spades, hearts, clubs and diamonds, often in black or red. However, just because this is the norm doesn't mean you should settle for boring playing cards next time you are hosting a charity poker night or a regular home game. There are some amazing cards out there that will take your card games to a new level. Here are five of the most unique ones you'll probably ever encounter:
1. The Goonies
Who doesn't love the Goonies? The 1980s family adventure film inspired children everywhere to go in search of treasure and have real adventures. Now the loveable, and not so loveable, Goonies characters have been immortalised on playing cards beautifully illustrated by renowned internet artist, Nat Iwata.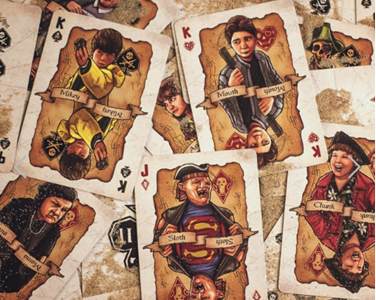 2. The Oldest Deck
Sold in 1983 to The Metropolitan Museum of Art, a 52-card deck of South Netherlandish playing cards is believed to be the oldest known full deck of playing cards.
The deck, which is in excellent condition for its age, is believed to have been produced between 1465 and 1480. It was originally bought by an Austrian antiques dealer for $2,800 in the 1970s, and it was he who determined the age of the cards based on the painting style and the style of clothing.
After the deck's age was established, the antiques dealer made off with a fortune, as the Metropolitan Museum of Art purchased the cards off of him for $143,000 – probably more than he'd ever profit from playing poker 🙂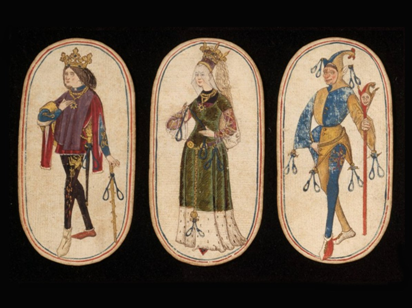 3. Hello Kitty – Gold
Japan's character goods maker Sanrio, in Tokyo, created pure gold playing cards with one of Japan's favorite characters, Hello Kitty.
The laminated playing cards, produced by Mitsubishi Material, contain 0.73g pure gold per card. With a price of approximately $4,930 (567,000 yen) we can't imagine that too many people will be rushing out to buy them.
On the reverse side of the playing cards it shows Hello Kitty against a the Union Jack and apples, this is a reference to the fact that Hello Kitty was actually 'born' in London and is said to be 3 apples heavy and 5 apples tall. Kawaii!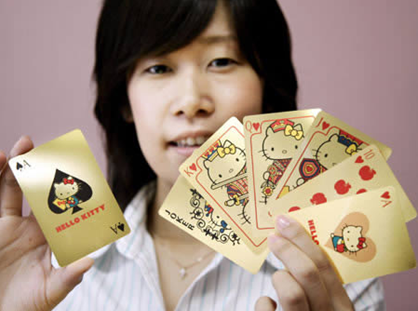 4. Glow-in-the-Dark Cards
Have the lights ever gone out in the middle of your poker game? It's actually happened to me a few times, as out in my neck of the woods we get frequent "brown-outs". Rather than break out the flashlights, emergency generators, or candles, there's always another option: glow-in-the-dark cards!
The futuristic style and the fact they glow in the dark make these cards look like they arrived during an alien invasion. Although not a lot of serious card games are played in the dark I can imagine these come in quite handy during camping trips (or when the power just won't come back on!).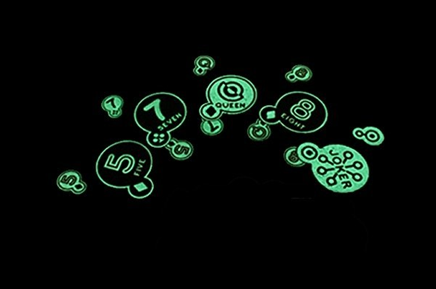 5. Classic Bicycles
While Bicycle cards aren't exactly "unique" like the other types of decks listed in this piece, poker cards don't get any more classic than this brand.
Bicycle playing cards were first produced all the way back in 1885. Popular all over the word, but in the United States in particular, they gained notoriety during World War II and the Vietnam War.
During WWII, special decks of Bicycle cards were given to American prisoners of war. These cards, when peeled apart and put back together in a particular way, would reveal a map which would assist the POWs in escaping their captors. True story!
During the Vietnam War, crates of Ace of Spades cards were shipped by the company to U.S. soldiers, as it was believed that the Viet Cong were superstitious of the card and would flee battle at the sight of the card resting on one of their dead soldiers. This was later confirmed to be a myth.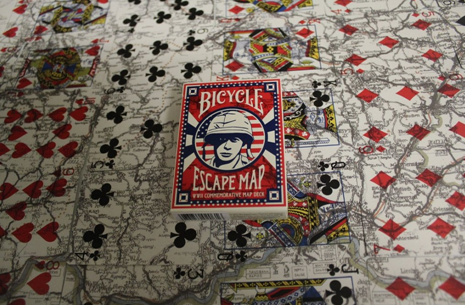 Conclusion
The five types of unique poker decks listed above are just a handful of the amazing types of playing cards there are out there. Obviously, if you prefer playing cards at an online casino website or online poker room, you won't have any actual need for physical cards. But, if you're like me and enjoy live poker, home games, and the like, why not spice things up a little and lighten the mood with a special, unique deck while playing poker.