Poker = Texas Hold 'Em, right? At least that's what the World Series of Poker and all the big marquee live events series around the world would have you believe. Yes, it's hands down the most popular variant of poker on the market today, but that of course doesn't mean it's the only one.
There are plenty of poker variants out there with niche audiences, and a specific one that doesn't really get too much fanfare or media coverage, but it's one I think you should be checking out: 2-7 Triple Draw Poker. It's a fantastic alternative to the big hitters, and I'll give you five compelling reasons why in this article.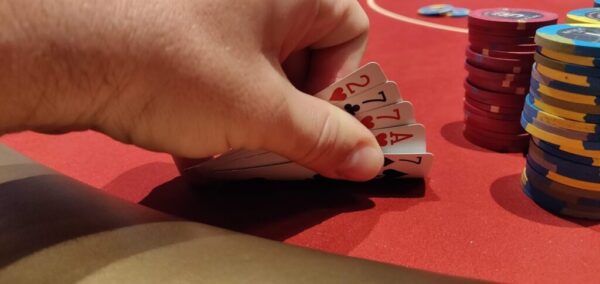 There's More to Poker Than Just Texas Hold 'Em
I talked about this a little in the intro: poker is more than just Texas Hold 'em. It's more than Omaha or Seven-Card Stud. But people tend to stick to that trifecta (or at least the first two), whether you're in gambling hubs like the UK or the United States, or growing/developing markets.
South Africa, for example, has seen a rapid rise in online gambling the past decade, with poker accounting for a huge chunk of market share. Online poker in South Africa, however, is still dominated by the 'Big Three' like in the case of affiliates like casinos.co.za, where Hold'em, Omaha, and Seven-Card stud are pretty much the only variants promoted. 2-7 Triple Draw Poker is available at many casinos, but the game rarely gets a mention on the front pages.
But that doesn't mean you can't try 2-7 Triple Draw Poker. It may not be the headline act when it comes to poker, but it's certainly a worthy game to play. Many who play it even tend to prefer it over the other variants. Seriously, give it a shot. I think that once you get the hang of it, 2-7 Triple Draw will join your standard table game mix.
It's Time to Spread Your Poker Wings
I get it, change can be scary. You're used to Texas Hold 'Em. You know how things work, that virtual seat at the table feels like part of your living room furniture, and you're pretty good at it.
Being a noob all over again isn't exactly fun. Or is it? 2-7 Triple Draw Poker works in a different way than what you're used to, sure, but the learning curve is actually an enjoyable process. Especially if you're used to playing big bet games (NLHE and PLO are played no-limit and pot limit, of course), the fixed betting limits of 2-7 Triple Draw may appeal to you as a nice change of pace.
Being a beginner is not a bad thing. It'll actually add another layer to your skill level, as your brain will need to process information in a slightly different way, you'll learn to be more alert during games, and your overall poker skills will reach yet another level.
It's a Different Experience
There's something unique about 2-7 Triple Draw Poker. It's a young game, relatively speaking, but it has an old school feel. Aside from my own home games, when I think of 2-7 Triple Draw it goes hand-in-hand with thoughts of the mix in Bobby's Game at the Bellagio in Las Vegas, with legends like Doyle Brunson, Eli Elezra, and Phil Ivey sitting around the table.
It also has a different aim from the variants, with the goal being to get the lowest possible hand without it being a straight. In this game aces are high, therefore, your best possible combination would be 2, 3, 4, 5, 7. It feels counterintuitive and even confusing at the beginning, but that's what makes it an intriguing and different experience. Bluffing takes on a whole new meaning, as you can decide to "snow", not exchange any cards even though you don't necessarily have a great hand, in the hopes that your projected strength will encourage your opponents to fold.
And it's that slight difference that makes trying this game a worthy pursuit. Don't get me wrong, I absolutely love Omaha and Texas Hold 'em, but sometimes I want to mix things up a little bit and try something new. It keeps things fresh and exciting.
There's a Solid Community
One of the things I love about playing poker is the social element. I like talking to other players, the trash talking, the miscellaneous stuff you share; it's fair to say I've made friends for life along the way.
The 2-7 Triple Draw community is small, it's niche, but it's tightly knit. If you check out the Reddit Poker community, for example, you will find some good threads on strategies and just general conversation. I suggest becoming more than just a lurker and to join in on the conversation. It's fun and it'll make you a better player.
You Can Win Big Money
I'm going to leave you with the one that may ultimately convince you: with 2-7 Triple Draw Poker, you can win big money. Perhaps not nearly as big as in Hold'em or Omaha, but certainly some sizeable amounts! And you don't even have to be a seasoned pro to get a decent chunk of cash. Take Nicholas Seiken, for example. A real estate broker by day, hewon $287,987 on his very first tournament. Not too shabby.
Nicholas Seiken never entered a triple draw tournament before Thursday.

Three days later, the Texas native is taking down the most prestigious triple draw tournament on the planet, winning his first bracelet in the $10K 2-7 triple draw. https://t.co/289qCJSmHX pic.twitter.com/tksE3XwElQ

— WSOP (@WSOP) June 24, 2018
I'm not saying you're going to walk away with a six-figure sum. That would be downright dishonest and misleading. But it's certainly possible. If you're a decent card player, it's a shot worth taking.