Inductees into the Poker Hall of Fame continue to be disproportionately American despite outcries from poker fans around the world for the "club" to be more inclusive. We all know that someone who has only been to brick and mortar casinos in the U.S. can't definitively say that those offer the best games when they've never even played at online casinos in Switzerland or other European countries, for example. So, too, poker is not just an "American game," and there are deserving players and contributors around the world who are worthy of induction but who have nonetheless largely gotten overlooked.
Hall of Fame voters will not get another chance to vote for about eight months, so there's plenty of time for them to consider strong international candidates. Thus, today, we'll take a look at five international poker figures and contributors who are deserving of induction into the Poker Hall of Fame.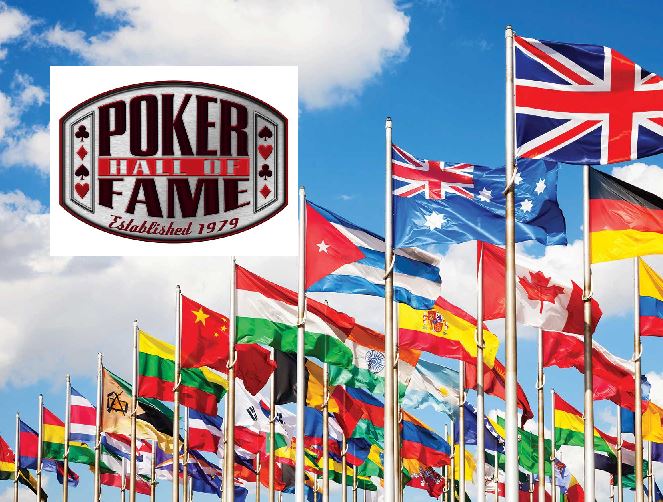 Chris Bjorin
Swedish-born player Chris Bjorin has been shortlisted as a finalist numerous times for the Poker Hall of Fame, and, surprisingly, hasn't been inducted yet.
Bjorin began his gambling career in Sweden but moved to London over two decades ago to support himself through gambling. He didn't start playing what he called "American games" until the late 1980s.
However, once he started playing, he started dominating and has been incredibly consistent over the years, winning six figures per annum in an era before High Roller events bloated the results of the tournament poker world.
Bjorin is also a two-time WSOP bracelet winner and annually makes deep runs in WSOP events. Fewer players have "stood the test of time" as Bjorin has. Perhaps 2020 is the year that voters finally give him the HOF slot he rightly deserves?
Joe Hachem
Is there a more prominent name in Australian poker than Joe Hachem? Hachem's win in the 2005 World Series of Poker Main Event caused a Poker Boom in Australia similar to what was seen in the United States after Chris Moneymaker's 2003 win.
Aspiring players started to cut their teeth at free money casinos in NZ and Australia before graduating to real money poker games. Hachem's win helped to inspire current star players such as Michael Addamo and Kahle Burns. Moneymaker was inducted into the Poker Hall of Fame in 2019 primarily due to his influence on the evolution of poker, so Hachem certainly qualifies for induction based on that criterion.
Also, Hachem's player qualifications make Moneymaker's pale by comparison. His $12.66 million in career earnings also includes a World Poker Tour title, plus he has four additional WSOP final table appearances, including a third place finish in the $10k Omaha 8 earlier this year.
Bruno Fitoussi
Bruno Fitioussi is another player who has been on the finalist shortlist multiple times and was the man who introduced Texas Hold'em to France. Back in 1995, he brought the game to the Aviation Club in Paris, and since that time, he has worked to grow the game.
Fitoussi has appeared as both a poker player and commentator in various poker programs and hundreds of poker tournaments in France. He is more than just your average commentator, as he has put together an impressive resume at the tables.
Fitoussi has live cashes dating back to 1991. He took down multiple events at the 2001 World Heads-Up Poker Championship in Vienna. Plus, he also has multiple runner-up finishes in WSOP events, including a second-place finish in the 2007 $50,000 HORSE World Championship. In 2018, Fitoussi made a pair of WSOP final tables, including a runner-up finish in the $1,500 PLO8 Event.
Fitoussi's influence on the game in France, coupled with his prowess at the table, has earned him a spot in Poker Hall of Fame. It's time for voters to vote him in.
Terry Rogers
Many newer poker players have never heard the name Terry Rogers, but he is certainly one of the game's trailblazers. Although primarily known as a bookmaker, he had a profound influence growth of Texas Hold'em in Ireland. After a trip to Las Vegas in 1979, he took the game home and soon devised what would be the longest-running poker tournament in Europe.
In 1980, Rogers founded the Irish Poker Open. He grew the event in the early years by convincing pros such as Doyle Brunson, Stu Ungar, and Chip Reese to come to the Emerald Isle to play. The event grew and has run every year except 1992. Rogers passed away in 1999, but the Irish Open continues as his legacy.
Rogers is largely known as the "Godfather of Poker" for Ireland and was very influential in the career of many players, including 1999 WSOP Main Event Champion Noel Furlong. While Rogers is no longer with us, his legacy is one that is deserving of enshrinement.
Eli Elezra
While he's a naturalized American citizen, having lived in the US for over 30 years, Eli Elezra is one of the greatest poker players to come from Israel. Born and raised in the Holy Land, Elezra moved to America in his 20s to pursue business opportunities, and ended up in Las Vegas in the late 1980s. His English-language autobiography Pulling the Trigger was released earlier this year.
His move to Vegas soon began his rise in the poker ranks. Over the past two decades, Elezra has become one of the most feared players in high stakes cash games, featured on High Stakes Poker, Poker After Dark, and various other poker TV shows. Having been a Bobby's Room regular for years, playing nosebleed stakes mixed games, Elezra also has $3.8 million in career earnings, including four WSOP bracelets and a World Poker Tour title.
For some Poker Hall of Famers such as Doyle Brunson, Elezra's career ticks all the boxes. Few players have the consistency or longevity as Elezra, which makes him a lock for an eventual Hall of Fame induction.