There are only a few days left until the start of the 2023 World Series of Poker, which will be played from May 30 through July 18 at the Horseshoe and Paris casinos in Las Vegas. It will be the 54th annual WSOP and the second in a row to take place on the Strip in the city that never sleeps.
If you have plans to play some tournaments or if you want to keep up with the results of all the events and the players doing deep runs, Twitter is the place to do it. For that reason, we put together a list of the 23 most important accounts that you should follow to be aware of all the action of the 2023 WSOP, including media outlets, top professional players, and even some other great accounts to fill you in on what else is going on in Las Vegas during what's almost guaranteed to be a record-breaking poker summer..
Without any further ado: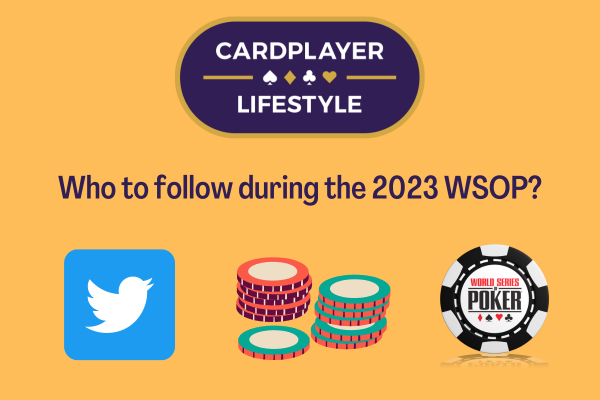 1) World Series of Poker @WSOP
The official WSOP account is the first one you should follow to stay up-to-date with news, results, and changes that may arise in the schedule. There you will also find the schedule for each day during the 2023 WSOP. If you want to see the 95 events that will be played, you can check them here.
Time to make @RealJamieGold history. Counting Down to 8774 @HorseshoeVegas @GGPoker @PokerGO #WSOP2023 pic.twitter.com/5qS7JYK8Y8

— WSOP – World Series of Poker (@WSOP) April 28, 2023
2) PokerGO @pokergo
PokerGO will broadcast the 2023 WSOP for 47 days in a row and there you will be able to see the live streams of each day. The action will kick off on Thursday, June 1 with the broadcast of two tournaments: Day 2 of Event #4 Tournament of Champions at 4 PM E.T. and Event #2 High Roller 25K at 8 PM E.T. The coverage of the Main Event will run from July 3-17.
3) Kevin Mathers @KevMath
Kev will be part of the WSOP staff and will be able to help you with any doubts and queries you may have. So don't forget to follow him, as he can be of great help if you have any problems during your stay in Las Vegas. If you @ mention him with a Tweet, he will surely respond to you in a friendly and fast way.
4) Daniel Negreanu @RealKidPoker
Daniel plans to play over 80 WSOP events and will likely be filming his traditional vlogs as he looks to win his seventh bracelet. By following him you will be able to live with him the adrenaline of the tournaments he participates in and watch his videos where he details his experiences in first person.
Monday I start training for the WSOP May 30th which is a 7 week grind where I go "all in"

Here is a detailed look at my training plan:

1. Weightlifting 6 days a week
2. Walk 15k Steps a day
3. Eat 1800 calories
4. No screens 30 min after wake up or 30 min before sleep
5. Daily…

— Daniel Negreanu (@RealKidPoker) April 9, 2023
5) Phil Hellmuth @phil_hellmuth
Arguably the greatest player in WSOP history, Hellmuth has 16 bracelets and this year he will be looking to increase his total once again. Will he be able to do it? If you follow him closely you will be able to find out before anyone else when he reaches a new final table.
6) Cardplayer Lifestyle @PokerLifeMedia
You seriously don't follow us on Twitter yet?! 🙂
All kidding aside, our account will continue tweeting out new original articles covering the goings-on at the WSOP, as well as interviews, and other great evergreen WSOP content we've published that you may have missed over the years. Plus, it's ground zero for full coverage of our Mixed Game Festival V, which will be played from July 2-6 at Resorts World in Las Vegas.
7) The Hendon Mob @TheHendonMob
On their website you can see all the festivals that will be played in the different casinos throughout the summer while the 2023 WSOP is going on. Also, the HendonMob website is THE place to investigate your rivals at the table to see their results on the poker circuit.
♣️ ☀️ We're back!!! Summer In Vegas .com is now live
♦️ All Vegas Summer Poker Tournaments – in one place!
♦️ It's gonna be a great summerhttps://t.co/5OxdkT7bJh#SummerInVegas pic.twitter.com/m2lfp8VoYe

— The Hendon Mob (@TheHendonMob) May 11, 2023
8) PokerNews @PokerNews
As the name suggests, by following them you will be able to find out about the main news about what happens at the 2023 WSOP. Their excellent tournament coverage includes up-to-the-minute live updates as well as daily recaps and feature stories.
9) PokerAtlas Las Vegas @PokerLasVegas
You will be able to find out all the tournaments that are played every day in Sin City. The account is so detailed that it uploads a Tweet for each tournament that is played with its start time and structure. Very informative!
10) Vital Vegas @VitalVegas
This is how they are defined: "Your essential source for Las Vegas news, casino industry chatter and WTF". It's a fun source of entertainment about everything that happens in the city.
11) T. J. Jurkiewicz @tj_jurk
T.J. is a certified nutrition coach who last year created a guide to healthy eating on the Las Vegas Strip, which he turned into a book that you can download for free. With his tips you will be able to eat healthier during the 2023 WSOP and avoid junk food. You can also check out our interview with him.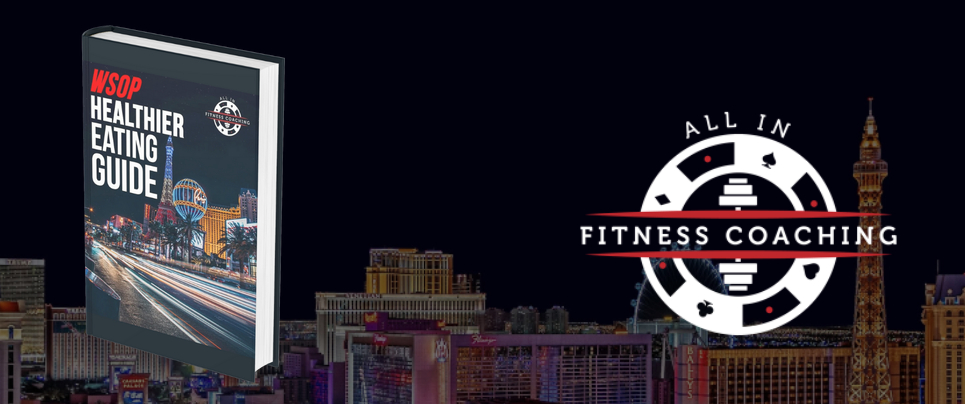 12) Jeff Platt @jeffplatt
The award-winning broadcaster and sideline reporter will be doing a lot of player interviews, commenting on live streams and also playing some tournaments in his spare time. He usually notifies followers who he is going to interview every day, giving you the opportunity to submit your questions, which he may ask in real time.
13) Ethan "Rampage" Yau @rampagepoker
The popular poker vlogger and "Dreamers" documentary protagonist is coming off the best year of his live poker career and will be looking to continue the hot streak at the 2023 WSOP. He is one of the most charismatic, easy-to-root-for players, which alone makes him a great follow.
14) Phil Galfond @PhilGalfond
The universally respected poker pro and Run It Once Training founder shares his valuable knowledge via threads on different topics that can help improve your game. Some highly recommended reading before signing up for any tournament. Phil will be looking to win his fourth bracelet this summer.
I used to recommend entering tournaments with the expectation of losing.

That's what happens most of the time, after all. I liked the emotional freeroll.

"All you can do is play your best. Variance will have the final say."

I no longer think this is the right approach. ⬇️…

— Phil Galfond (@PhilGalfond) May 8, 2023
15) Jamie Kerstetter @JamieKerstetter
The WPT Global ambassador will be commenting on a large number of events and will also be playing several live tournaments. She is considered one of the best commentators and has a great sense of humor.
16) PokerORG @pokerorg
This newer website stands out for its excellent staff of experienced poker media veterans and provides original and unique content, using a number of state-of-the-art audiovisual tools. This summer will mark their team's first WSOP, and their coverage will surely be excellent and engaging.
17) Las Vegas Locally @lasvegaslocally
This popular and active account shares and reports everything related to the city of Las Vegas. Informative, fun, interesting and colorful.
Good morning pic.twitter.com/oWmdZaTAFu

— Las Vegas Locally 🌴 (@LasVegasLocally) May 11, 2023
18) Shaun Deeb @shaundeeb
Shaun is a very interesting poker player to follow for several reasons: he has been fighting for the WSOP Player of the Year title for several years, he loves prop bets, and he is very active on Twitter. He's looking to win his sixth bracelet this summer.
19) Jonathan Little @JonathanLittle
The Pokercoaching.com founder is a renowned player, coach, and prolific writer. On his account he shares valuable tips for players and shows his progress in the different tournaments he plays. He's got a WPT title and will be looking to win his first WSOP bracelet this summer.
Hey everyone!

Today at 5 pm ET, I am hosting a FREE live webinar on how to run deep at the World Series Of Poker!💥

If you're considering making the trip this year, or any other year, you should certainly join! 📈

I hope you all learn a ton! ❤️https://t.co/n6uYJZmboZ pic.twitter.com/zwyWd2ByCg

— Jonathan Little (@JonathanLittle) May 9, 2023
20) Chad Holloway @ChadAHolloway
Chad is one of poker's longest-tenured and most experienced journalists and he will be covering the WSOP once again for PokerNews. He's often privy to scoops and the first on the scene to dig up interesting info and other stories, so he's a great follow especially around WSOP time.
21) Barny Boatman @barnyboatman
Barny, one of the original members of the Hendon Mob, has been playing in the WSOP since 2000 and has eight Main Event cashes. The veteran player will be back in Las Vegas and always shares his adventures with a lot of humor on his Twitter account.
I've reached the level of age and decrepitude where running ridiculously well in the WSOP Main Event would just be a massive wind up.
Still gonna play it though. Your memory and reasoning powers go at my age too.

— Barny Boatman (@barnyboatman) May 3, 2023
22) Global Poker Index @gpi
The GPI draws up the most important live poker rankings and they have delivered the Global Poker Awards for four years. Everything that happens during the "summer of Vegas" will add points to the GPI rankings and potential prize winners will emerge at the Global Poker Awards. So if you like captivating races, leaderboards, and all sorts of poker statistics about the game's top players, this account is a great follow.
23) Horseshoe Casino @Horseshoevegas
We close our list of recommendations with the official account of the 2023 WSOP venue. There you will be able to see announcements, videos and possible changes to the events.