Haven't blogged in a bit, so time to update y'all on what's been happening over the last week at the World Series of Poker. Here's a rundown of the newsmakers and headline grabbers: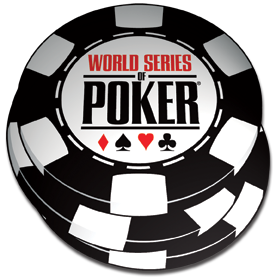 Phil Laak
Phil Laak set the Guiness World Record for the longest continuous poker session at exactly 115 hours. That's almost 5 full days without any sleep! He broke the previous record by over 37 hours! To top it off, he actually turned a profit of almost $7,000 playing; a pretty impressive achievement considering the mental effort and exhaustion he must've been feeling round the clock (and round the clock again)!
Tex Barch
Does the name ring a bell but you can't remember where you've heard it before? Well, truth be told, it's been a while – 5 years to be exact – since Barch made any sort of real poker-related news. He made the final table of the 2005 WSOP Main Event (won by Joe Hachem). Well, Barch finally broke through again, this time in the $1,500 Pot-Limit Omaha event, beating out 884 other poker players (a record field for pot-limit Omaha) to win his first World Series of Poker bracelet.
To be sure, Barch didn't beat a bunch of nobodies – Nenad Medic finished 2nd and Blair Rodman (author of "Kill Phil") also made the final table, finishing 7th.
David Baker
Well known for his online poker success, David Baker won his first WSOP bracelet in one of the year's premier events, the $10,000 No-Limit Deuce-to-Seven Draw Lowball Championship Attracts Record Field. This event is the oldest World Series event, having been played every year since 1973.
A true championship event, Baker had to make his way through a small, but elite, field, about half of whom were former WSOP gold bracelet winners. With 101 players contesting, just 14 players cashed, notably John Juanda (4th), Erik Seidel (6th), Daniel Negreanu (8th), and Andy Bloch (9th).
Though he collected about $300,000 for his victory, Baker, like many other poker pros, seemed to be happier about winning the bracelet. (I'd be happy with even 10% of his winnings, but I guess that's why he's the poker pro and I'm the poker blogger…)
Eric Buchman
Buchman's name might sound a bit more familiar. Coming off his 4th place showing in last year's World Series of Poker Main Event, Buchman is now the only other November Niner (from last year), besides Phil Ivey that can lay claim to a WSOP gold bracelet. Buchman didn't just win the $2,000 No Limit Hold'em event along with over $200,000; he also won respect for not being a "fluke" Main Event final tableist.
John Juanda and Vladimir Shchemelev
Though nobody would ever think that Juanda had something poker-related in common with some unknown amateur player, he and Shchemelev both have the distinction of having made 3 final table appearances (thus far) at this year's WSOP. Needless to say, they're both making strong runs at possibly becoming WSOP Player of the Year. With over half of the WSOP still to come, we'll see if either poker player is able to continue their great run.