The live tournament circuit is slowly getting back to normal after the pandemic, with new event dates being announced every month all over the world.
For its part, the World Poker Tour has just announced that it will be paying a visit to Australia for three different tournament series: two from the WPTDeepStacks tour as well as their inaugural Main Tour stop in the country.
Opening the action will be the WPTDeepStacks Sydney on it's first visit to the beautiful city. "Poker players in Australia have always been passionate about the game and the partnership with The Star Entertainment Group allows us to expand our presence there" said WPT CEO Adam Pliska.
He added: "Hosting the first WPT event at The Star Sydney puts us front and center in the largest poker market in Australia, one of the most iconic cities of the world, adding another element to our 20th anniversary celebration".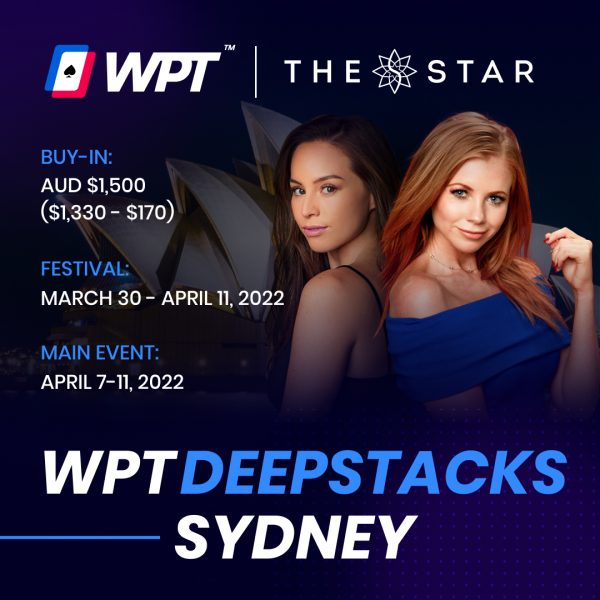 WPTDeepStacks Sydney
The tournament series will run from March 30 to April 11 and will feature 12 events across the 13-day period. The buy-ins start at just AUD $175, with the Main Event featuring a buy-in of  AUD $1,500 with three starting flight and unlimited re-entry.
Key events:
Opening Event: AUD $750
Main Event (April 7 – 11): AUD $1,500
Two day event: AUD $2,000
The 5K Challenge: AUD $5,000
The complete schedule will be released very soon.
Lynn Gilmartin predicts record event
Australian Poker Hall of Famer Lynn Gilmartin, the famous WPT anchor, will be present in Sydney for the tournament. She told us: "I expect to see every poker player in Australia at The Star Sydney during this festival and setting a new Asia Pacific record for the $1k-$1.5k buy-in range. We had a $1.5M prize pool on the Gold Coast, so this $1,500 buy-in WPTDeepStacks Sydney Main Event is set to be huge".
She added: "Sydney is a fantastic city and Star Poker is a favourite for Aussie poker players. Our experience at The Star Gold Coast over the past few years has been outstanding, so I'm really excited to now expand the World Poker Tour to Australia's grandest city".
A Stellar Poker Venue: The Star Sydney
The venue offers luxurious five-star accommodation, Sydney's finest restaurants, a selection of high-end bars, a world-class spa, and unrivalled entertainment.
Chief Operating Officer Damian Quayle expressed his excitement: "The Star has hosted some of the biggest names in sport, music and entertainment, and we look forward to welcoming the world's best poker players".
He added: "The Star is the home of poker in Australia, and we are thrilled with our partnership with WPT to host this globally-recognised tournament for the first time ever in Sydney".
"With the WPT celebrating its 20th anniversary in 2022, this event will be the first time that WPT sets a footprint in Sydney. This looks set to be the biggest ever staged in Asia Pacific and with the world's best players here to compete, Sydney and The Star will be showcased as one of the best vacation playgrounds in the world" Damian commented.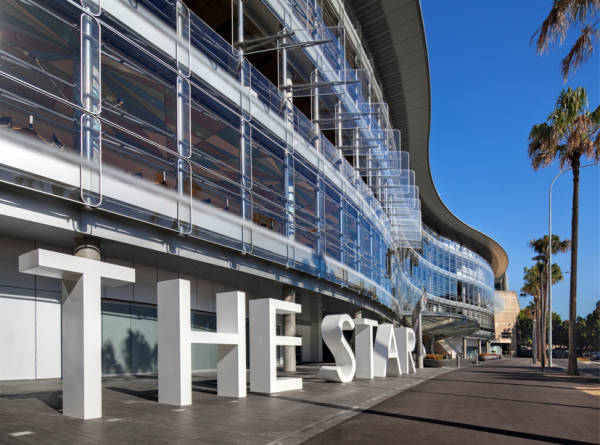 Gary Benson is in!
When we reached out to another Australian Poker Hall of Famer, Gary Benson, for his thoughts on the auspicious occasion, he said "I'm expecting a professionally, well run tournament. Most Australians have been starved of good poker tournaments over the last two years so many people will be eager to play for that reason."
"It's just great to see such a prestigious tournament coming to Sydney and I would like to see it successful so that it remains as a permanent fixture", Benson added.
In May 2021, WPTDeepStacks visited the Gold Coast in Australia and Gary finished 18th in the Main Event, which had 1,113 entries. Benson is optimistic that we can expect an even bigger turnout in this time around, saying "There are probably more regular players based in Sydney as opposed to the Gold Coast so for that reason I would expect a slight increase in the numbers, probably around 1,200-1,300".
Beyond that, he continued to sing the city and venue's praises: "Sydney is one of the most beautiful cities in the world with its amazing harbour, wonderful beaches, great shopping and sight seeing. The casino also offers luxurious accommodation and a great range of 5 Star restaurants to eat at".
Next Australian stops
The next two Australian stops will be held at The Star Gold Coast, host of the aforementioned record-breaking WPTDeepStacks event in 2021. That tournament had a massive prize pool of AUD $1,502,550 ($1,163,595), with the eventual winner, William Davies, taking down a first prize of AUD $252,731 ($195,718).
"I could not be more excited to be bringing a Main Tour stop to my home country," said Angelica Hael, WPT VP of Global Tour Management. "I look forward to greeting every single one of my fellow Aussies at the event and welcoming the world to an amazing host property, The Star".
Full details on these events, which include one Main Tour stop, will be announced once regulatory approval has been received.  Each event will be livestreamed and broadcast globally on WPT.com and the WPT YouTube and Twitch channels.
WPTDeepStacks Schedule
Next stops:
| | | | |
| --- | --- | --- | --- |
| Tournament | Venue | Dates | Main Event |
| WPT DeepStacks Amsterdam | Holland Casino | Mar. 25 – Ap. 2 | €1,100 |
| WPT DeepStacks Sydney | The Star | Mar. 30 – Ap. 11 | AUD $1,500 |
| WPT DS Thunder Valley | Thunder Valley | Ap. 19 – May 1 | $1,500 |
So, if you've always wanted to take that trip Down Under, the WPTDeepStacks Sydney presents an awesome opportunity to combine poker and pleasure.