Conventions are starting to come back to life in Las Vegas, and one of the first events that you can attend this summer is the 28th Annual Casino Chips and Collectibles Show at South Point Hotel & Casino. The "World's Largest Casino Chip and Collectibles Show" runs from Wednesday June 16th until Saturday the 19th, and will feature four free educational seminars as well as the opportunity to meet and greet poker legends Linda Johnson and Jan Fisher.
The annual convention is organized by the Casino Collectibles Association, a not-for-profit group that has gathered each year to host the show since 1993. After missing 2020 because of COVID-19, the club is back with a sprawling convention agenda that will be sure make up for lost time with something that every casino enthusiast can enjoy.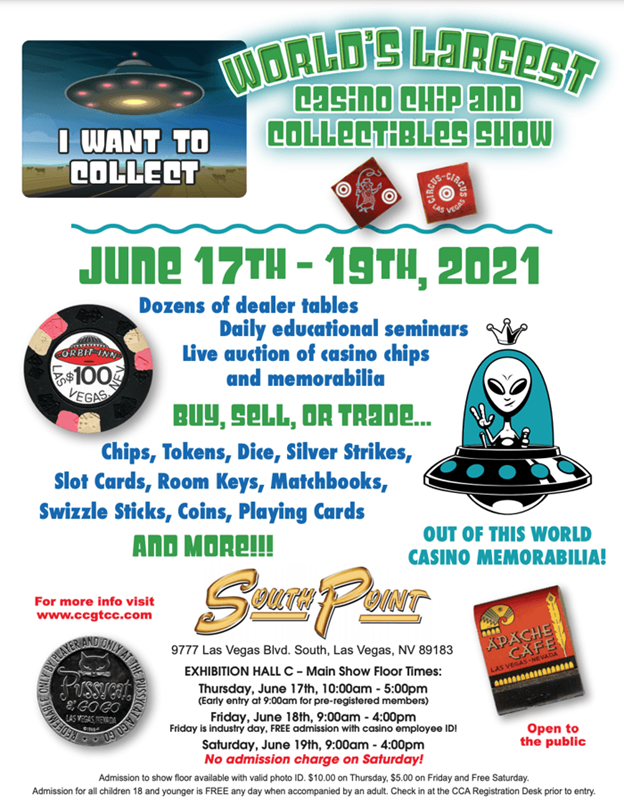 The show kicks off on Wednesday June 16th with meetings and trade sessions for members, an Early Bird banquet, and a Blackjack tournament that is open to walk-ins.
Wednesday's member trade sessions require a convention badge for entry and take place from 9am until 4pm, and again in the evening from 8pm to 11pm. A ticketed Cocktail Hour starts at 6pm, and an Early Bird banquet will feature guest speaker Ryan Growney, the General Manager of South Point Hotel & Casino. Members and walk-ins can also enjoy a Blackjack tournament at 9pm in the pit adjacent to the Catalina Island Bar.
Thursday June 17th
The convention officially kicks off with the opening of the exhibition hall, auctions, and two educational seminars that are free to attend. Registration and admission to the show floor on Thursday is $10.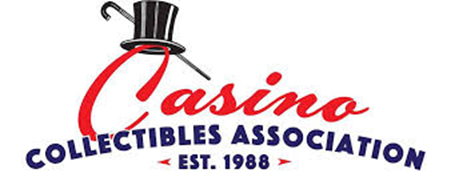 At 8am in the Joshua Room, Robert Baker will speak about Slot Card collecting, the first of four free educational seminars that will be offered throughout the show. Baker has the largest collection of slot cards in the world, and he will share his insight from years of collecting casino memorabilia. At 3pm, Geoff Schumacher, the Vice President of Exhibitions and Programs for The Mob Museum, will share stories about the Mob in Las Vegas and what The Mob Museum is doing to preserve Las Vegas history.
Thursday's exhibition hall kicks off at 9am with a ribbon-cutting ceremony, and pre-registered members can enjoy early access to the floor until 10am when it will open for all general admission attendees. Eventgoers can buy, sell, and trade chips, tokens, postcards, playing cards, ash trays, matchbooks, and a lot more on the convention floor all weekend. Bidding for the CCA Silent Auction will run throughout Thursday and the Bruce Landau Memorial Auction begins at 7pm in the Joshua Room.
Friday June 18th
The second day of the convention features two more educational seminars, a members-only poker tournament, and an appearance by two bone fide poker legends. Entrance to the convention costs only $5 on Friday and the two educational seminars are free.
Linda Johnson and Jan Fisher will host a meet and greet with registered attendees where they will sign autographs and take pictures from 1pm to 3pm.
Johnson is a WSOP bracelet winner, co-founder of the World Poker Tour (WPT) and Tournament Director's Association (TDA), and former publisher of Card Player Magazine. "The First Lady of Poker" was elected to the Poker Hall of Fame in 2011 and she is currently a partner in Card Player Cruises.
Fisher is a 2009 inductee into the Women in Poker Hall of Fame after a career spent dealing the game in Las Vegas before becoming a host and tournament director. She, too, is a co-founder of the TDA and a partner in CardPlayer Cruises. Fisher gives poker seminars all over the country and hosts the semi-annual Eureka Open poker tournament in Mesquite, Nevada.
Johnson and Fisher will also be on hand that evening to play in a members-only poker tournament. They'll be offering autographed books as bounties and playing against club members at 7pm in the South Point Poker Room.
There are other activities on schedule that day as well. At 8am on Friday in the Joshua Room Jim Follis, the Exhibits and Events director of the Casino Collectibles Association, will give a seminar on the Museum of Gaming History's Milestone Marker program, an educational project that has installed kiosks with gaming memorabilia at casinos and museums all over Las Vegas.
At 3pm Charles Kaplan, Chairman of the MoGH, will speak about the history of organized crime and gambling in post-WW2 Cuba. Kaplan also runs the ChipGuide, a database of over 260,000 casino chips and tokens collected from around the world. All of the educational seminars at the convention are free to attend and run concurrently with the Casino Chips and Collectibles Show.
The show floor will be open on Friday from 9am until 4pm.
This week is the Casino Collectibles Association show at the South Point Hotel and Casino @southpointlv . Come out and see us in Las Vegas. Read about it at the link: https://t.co/K4yhY8RtWp pic.twitter.com/ZERrqY9lD5

— Spinettis Gaming (@Spinettis) June 17, 2019
Saturday June 19th
Saturday will be the final day of the show, and entrance is free for all attendees. The show floor will be open from 9am until 4pm and several awards will be given out on in Exhibition Hall C, starting at 2pm. Saturday is your last chance to see the largest collection of casino chips and memorabilia in the world until 2022.
I'll be on-site during the convention, representing Cardplayer Lifestyle, so be sure to stop and say hi if you see me!
To become a member of the Casino Collectibles Association and take advantage of their exclusive events, visit the club's webpage.