As part of our ongoing collaboration with Run It Once Training, we are pleased to share with you this comprehensive quarterly recap of their activities, new offerings, and latest promotions for Winter 2021. As always, there's been plenty going on over at Run It Once Training headquarters. We hope you enjoy the latest quarterly update, and welcome your feedback on their latest developments.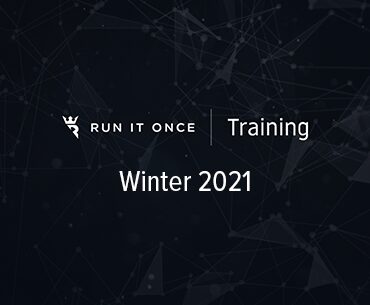 Free Video Offer for Cardplayer Lifestyle Readers
For the next seven days, exclusively for Cardplayer Lifestyle readers, you can access a brand new Essential video from coach Tariq Haji. His main game is NL200 on Ignition which makes his content specifically interesting for all Americans or players who compete at anonymous tables like Run It Once Poker. One of Tariq's biggest strengths as a coach are his outstanding exploit skills which will teach you important lessons even if you play much lower stakes. 
In the free video, Tariq battles at two $1/$2 Zone tables while teaching you how to hand read and recognize suspicious bet sizes to outplay weaker players. Check out the video now!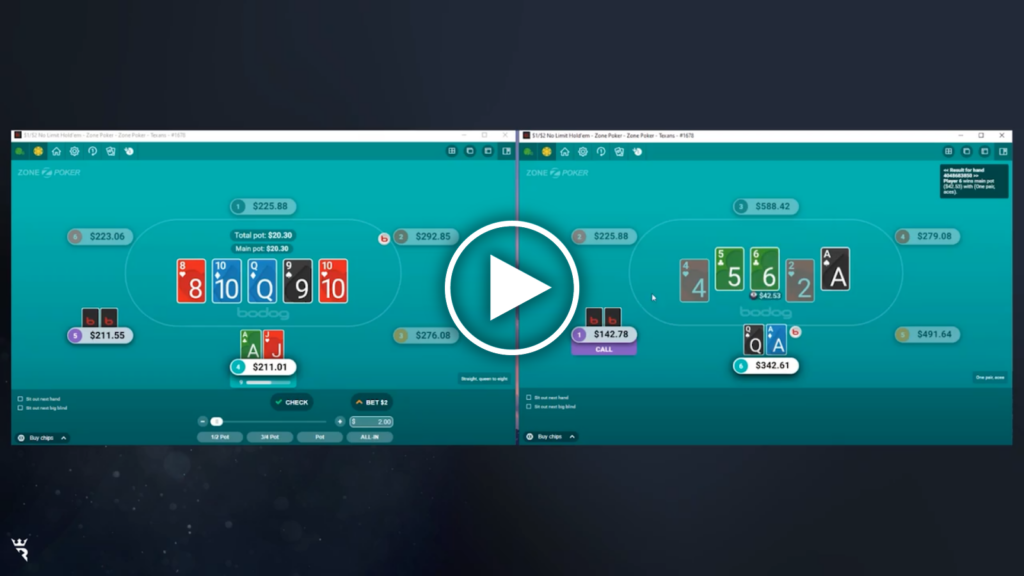 From the Ground Up: PLO & SNG Editions Available Now!
Over the last few weeks Run It Once Training launched TWO brand new additions to their From The the Ground Up library. In addition to the ultimate NLHE cash game beginner guide and the all-in-one tournament guide, you can now accelerate your learning curve with the PLO and the Sit & Go editions!
The PLO Edition is the perfect on-ramp into the fascinating world of 4-card poker. Regardless of whether you're still fairly new to poker or have been playing No Limit Hold'em for some time, in PLO it often takes a little longer for players to feel comfortable at the table. This course offers the solution by teaching you everything you need to know to play and win in this great action-packed game.

The Preflop Mastery section alone consists of 13 videos teaching solid preflop ranges to equip you for all the potential upcoming spots. Opening ranges, 3-betting ranges and what to do when facing 4-bets are all covered in this module. From there, you'll dive into flop, turn & river play incorporating advanced concepts that will make your opponents fear your skills. 
This course is also great for players with more PLO experience who are looking to shore up their fundamentals. For more visual learners, the 50 pages PDF handbook accompanying the course will make sure that you don't lose sight of the most important lessons that you've learned throughout the course.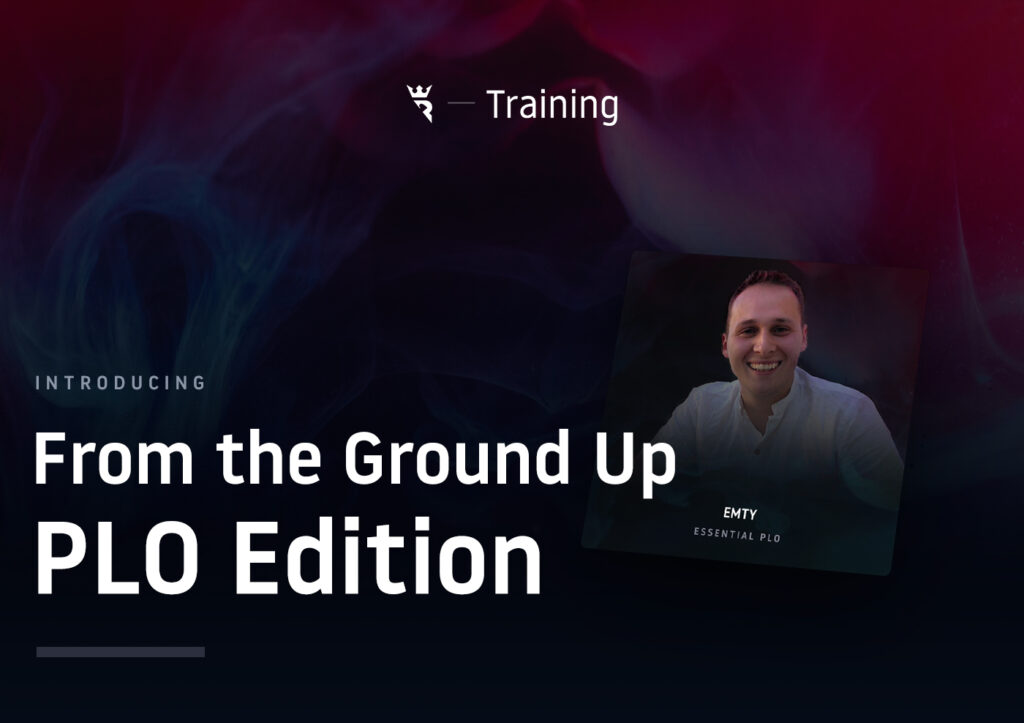 Run It Once Training hasn't always been the obvious option to learn about SNG play. This has now changed: with the SNG Edition of From the Ground Up you're offered THE place to start your SNG career on the right foot or to revise potential strategy leaks in your current game. Longtime Run It Once Training Pro Ryan Martin shepherds you through everything you need to know to start crushing at this form of poker. Having focused most of his career on Sit & Gos, Ryan knows all the challenges and opportunities that come with this game type.

You'll learn why the old wisdom of 'tight is right' at the early stages has long been overhauled and why it's still more than possible to earn a fortune in the world of this fast-paced poker format. Across five modules, Ryan teaches you how to master all the different stages of a Sit & Go whether it's preflop ranges, adjusting your post-flop strategy facing huge ICM pressure or most effectively leveraging a big stack. As with the PLO Edition you'll get a comprehensive PDF that serves as a cheat sheet and compiles all of the most important lessons, links and charts utilized in each installment.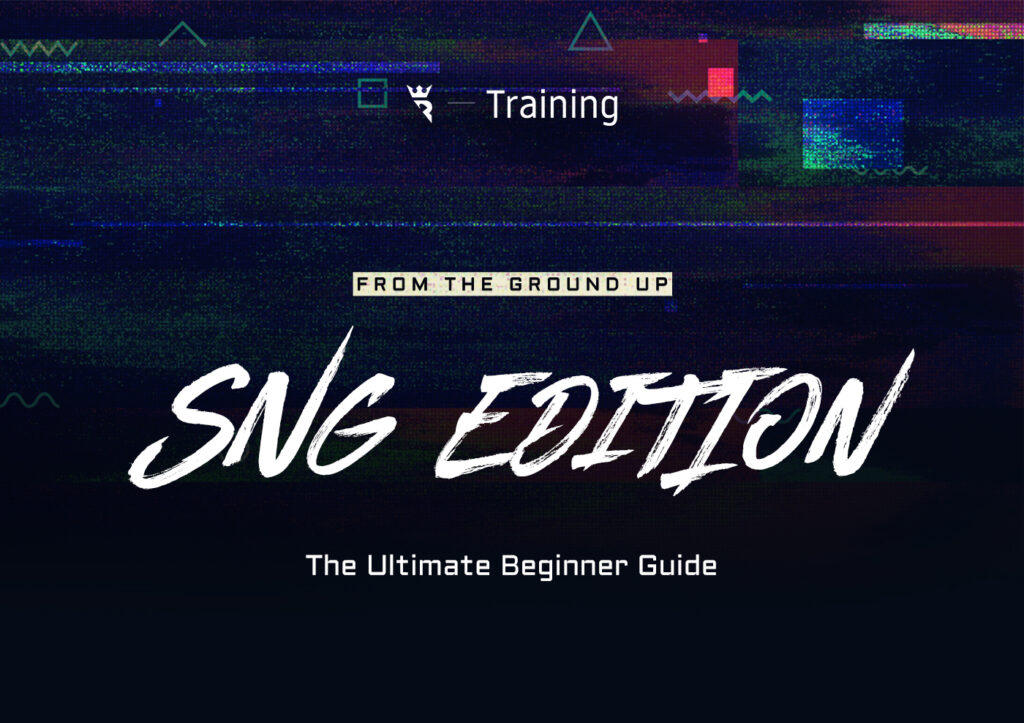 For all of the From the Ground Up courses you can check out the first two videos for free. So if you're still unsure, get ready to see which From the Ground Up is for you : NLHE, MTT, PLO or SNGs.
Run It Once Poker's Biggest Welcome Offer: Earn & Learn
But wait there's more! 🙂 If you like the idea of getting one of the From the Ground Up Courses AND want to put your newfound knowledge to use, you'll want to take advantage of Run It Once Poker's  generous Earn & Learn promo.

To take part, all you need to do is head to runitonce.eu, download the poker client and make your first deposit and you'll automatically unlock this incredible list of welcome bonuses:
Your choice of lifetime access to one of the From The Ground Up courses: NLHE, PLO or SNG

Boosted Legends rewards for 8 weeks

Up to 3 months of the Run It Once Training Essential membership

Up to €100 in SNG tickets

Up to €600 Welcome Deposit Bonus with no time limit to unlock!
If you want to learn more about this great offer simply check out the promotion page here.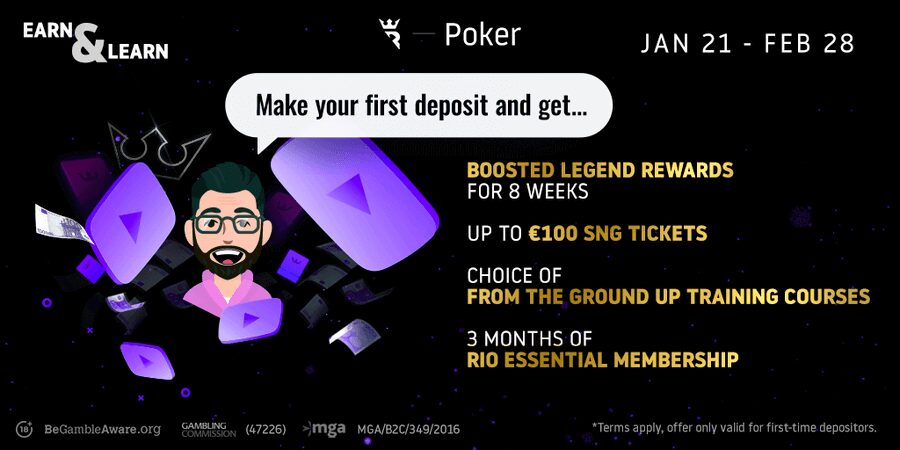 PADS on PADS: Patrick "pads1161" Leonard Joins the Team
Run It Once Training has announced an exciting addition to the Run It Once Training family with MTT legend Patrick 'pads1161' Leonard. Pads is well known from many high stakes appearances in televised events but had even more success in the online world of MTTs.
Delighted to announce that I'm partnering with @RunItOnce training for the course

– 100+ immediate videos Feb 8th
– HU in MTTs with @KRabichow
– PSKOs with Pwndidi
– Monthly current trends updates
– HH review with big winners from each site

More info https://t.co/gzz90KTffu pic.twitter.com/XzRCHvtVfR

— Patrick Leonard (@padspoker) January 21, 2021
Patrick's brand new course PADS on PADS will be available in just a few weeks and it will teach you the secrets to Perfecting Analysis, Decisions & Strategy that has led Patrick to crush MTTs for over $14 million lifetime.
If you want to be one of the first to find out what makes this course so special, you can sign up for a pre-launch mailing list that will share early looks at the content, giveaways and even access to an exclusive Q&A session with Patrick.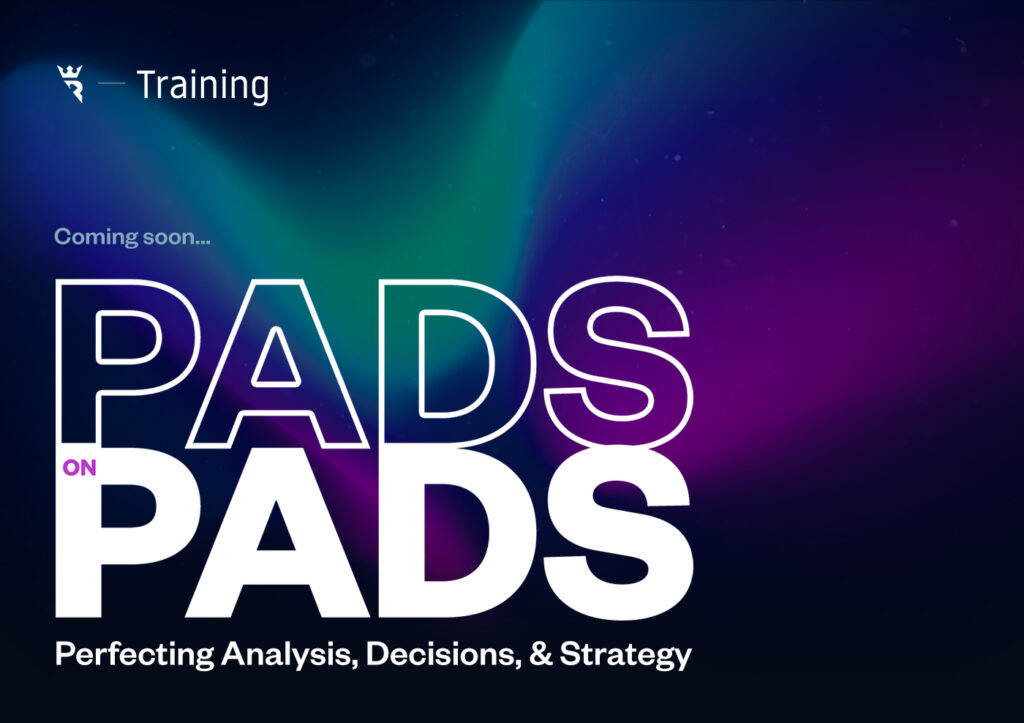 Galfond Challenge: Phil Goes 3-0 Forcing Kornuth to Surrender
In our last quarterly update Phil Galfond found himself being down a considerable amount and people were starting to wonder if Chance Kornuth would be the first of the challengers to break the PLO GOAT. Well think again. Once again Phil was able to overcome a deficit of -$344,000 and grinded back over $1 million to reach a massive lead of +$726,500 after roughly 25k hands played. With Kornuth approaching his loss limit, he decided to respectfully throw in the towel mid-session on January 23, making Phil the winner. With the win, Phil also scooped the $250,000 side bet, making this challenge's profit roughly $1 million.
Chance displayed great sportsmanship and showed just how great of a guy he is by immediately jumping into a live interview with Phil, his wife Farah and commentators Nick Steiner and Henry Kilbane.
The matchup with Chance was one of the most dynamic battles so far as both players embraced exploitative adjustments on a daily basis leading to frequent changes in the match's meta-game. Phil maintains his perfect record and brings his total winnings for the Galfond Challenge to $1,433,081. Don't forget that you can also learn from Phil by getting access to hundreds of his training videos on the Run It Once Training plans.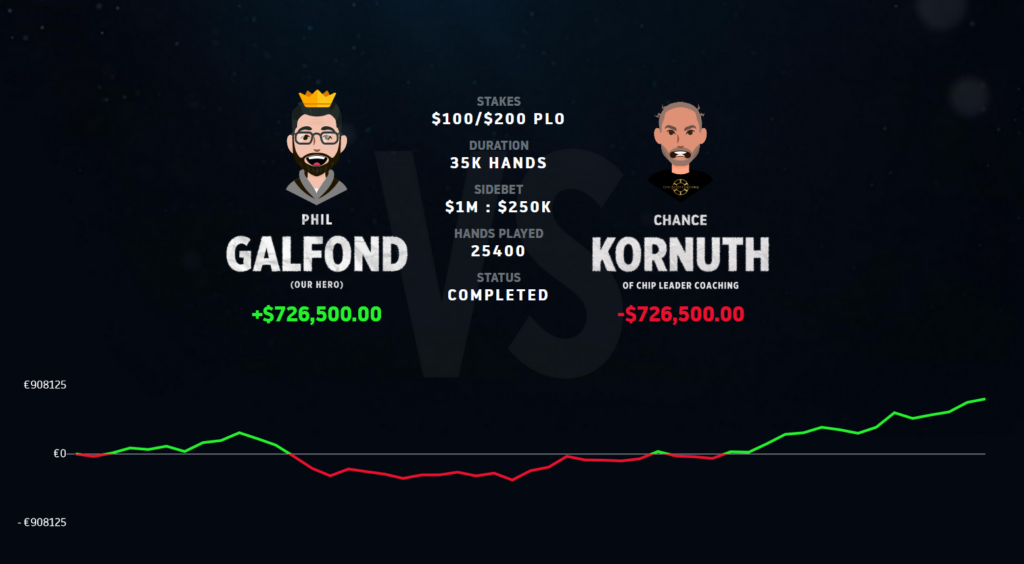 Vision Streak: The Community Battle is On! 
Would you enjoy leveling up your PLO skills against Phil Galfond WITHOUT putting millions of dollars on the line? Well there might be something just for you. In our previous update on Run It Once Training we talked about the addition of Streak to the Vision GTO Trainer software, which makes the study experience much more engaging and efficient. Since the last update, Run It Once Training members have been battling for trophies in the monthly and all-time Vision Leaderboards to compete for the top spots and to find out who deserves the crown for best PLO student on the site!
And of course Phil Galfond has shown some interest in getting into this leaderboard challenge himself. For the next seven days you can watch him fight for his spot on the community leaderboards in his Elite video: Streak Leaderboard Chase for free.
You can even try the new Vision Streak feature for free by logging into your Run It Once Training account (the free Basic plan suffices for this) and head to the Vision Demo page.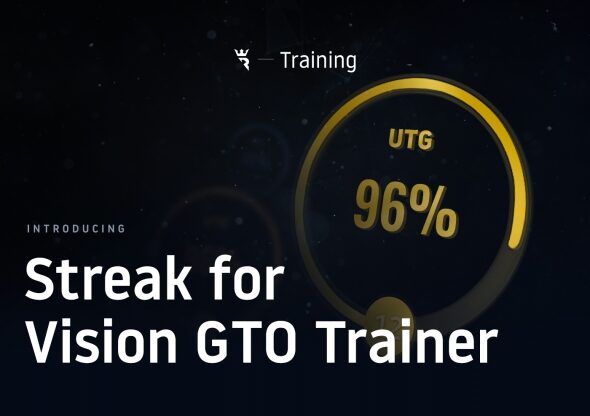 —
That's all for now. This column will be back once again come spring, where we'll continue updating you with the latest news, updates, and product releases that Run It Once Training has to offer.