Here at Cardplayer Lifestyle we've decided to embark on a new initiative, in collaboration with Run It Once Training, to bring you what we hope will be a quarterly update on their initiatives and activities. As one of the more popular poker training sites, there's always a lot going on over at Run It Once Training headquarters, so we felt that a quarterly update would help keep track of it all so you could keep abreast of their latest developments.
Without further ado:
Run It Once Poker Charity Stream
This Saturday, April 11th, Run It Once Poker is running a 32 player Heads-Up No Limit Hold'em tournament with 16 of your favourite pros to raise money for GiveDirectly COVID-19 Emergency Relief Fund.
As part of the special event, Run It Once Poker will donate €10 for every player who plays a hand on Run It Once on Saturday, April 11th (UTC). On top of that, the collaborative partner Double Up Drive will be matching all donations up to $500/person up to a total of $250,000!

The event will be broadcast on the Run It Once Poker Twitch channel with commentary from Joe Stapleton, David Tuchman, and Henry Kilbane.
Best of all, you can even PLAY in this tournament yourself and end up battling some of your poker heroes on Run It Once Poker, regardless of where in the world you are situated (yes, even the United States!). Click here to find out how to claim your spot in the Heads-Up Freezeout tournament.
"The Anti-virus": FREE Access to the Essential Subscription until April 21st for ALL new and existing members ($24.99 monthly value)
Times are tough right now, with many in forced quarantine or lockdown due to the Coronavirus pandemic. The silver lining of that dark cloud is that it's a great time to brush up on your poker study.
As such, Run It Once has decided to offer their Essential plan for free as an additional source of entertainment while you're stuck inside.The Run It Once Essential library features 2,150+ advanced and fundamental poker coaching videos and gets updated five times a week to help you climb through the micros and crush the low-stakes. It's a great tool to help you accelerate your journey towards poker profits.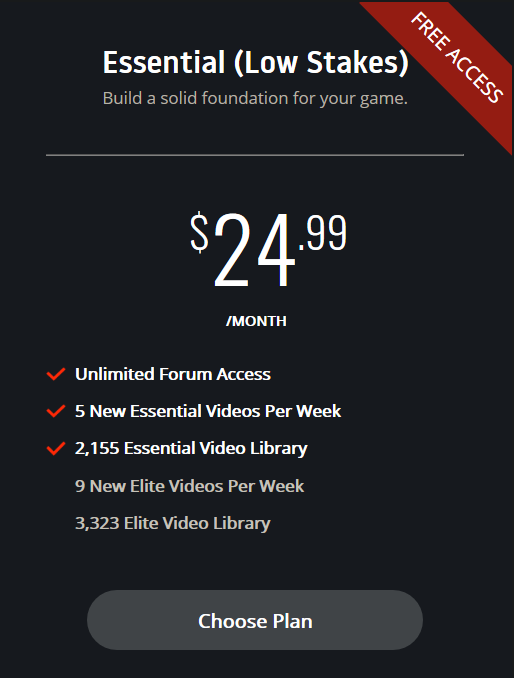 Heavily discounted Mental Game Mastery: A-Game Poker Masterclass 70% off = $297 Lifetime Access
It's hard enough to play your best under normal circumstances, and it's that much more difficult with all the external fear and uncertainty surrounding COVID-19. Thus, to help you stay on your A-Game during these trying times, Run It Once founder Phil Galfond, in conjunction with Elliot Roe, have decided to make the A-Game Poker Masterclass available for $297 (70% off the normal price) until Las Vegas casinos reopen.
During that time frame, Elliot will be doing live group coaching calls every week so you can get real-time feedback on all your questions. Elliot is who many of the best players in the world trust to help get them through their toughest times. His course will give you the principles and mental frameworks to perform at your best no matter what obstacles you face.
Want to learn more about the course itself? Check out our in-depth review of the A-Game Poker Masterclass.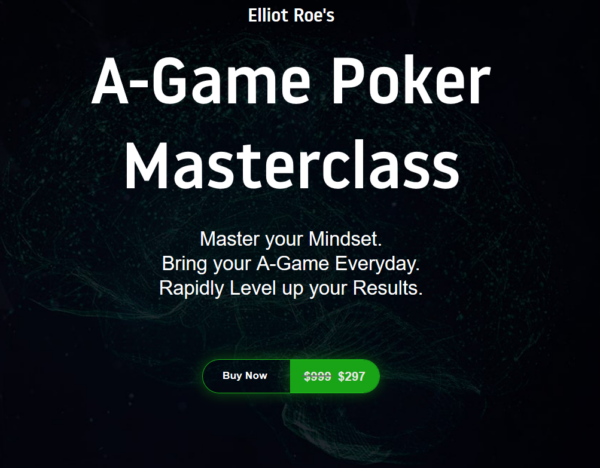 5 vs. Galfond: NLHE Cash Game Battle of the Ages
A battle of the ages kicks off with Phil and five of his fellow Run It Once friends dropping the gloves for some high stakes €5/€10 NLHE action. Can the PLO Goat hold his own at this legendary table featuring NLHE high stakes crushers Kevin 'KRab42' Rabichow, Elías 'SinKarma' Gutierrez and many more? Get all set up for your Elite access at Run It Once to follow this unique series along with upwards of 5,500 coaching videos from some of the best poker players of the world.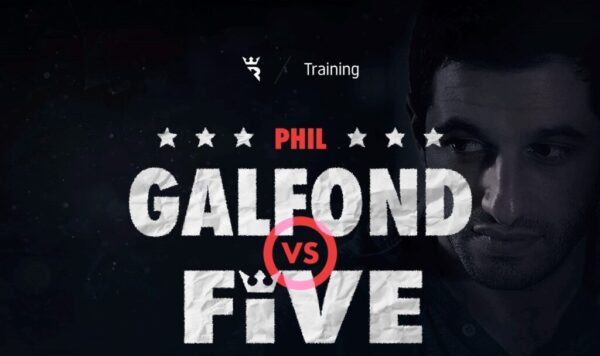 New Launches — Interactive GTO Study Tool (Vision) and the Ultimate MTT Beginner's Course: From the Ground Up MTT Edition
In February, Run It Once Training launched its new effective and easy to use PLO study tool called Vision. It allows you to smoothly browse through thousands of hours of game theory optimal strategies without having to wait for hours for a solver to provide the solutions you are looking for. Check out the full power of Vision here.
You may already have heard of the Run It Once NLHE beginner's course entitled From the Ground Up which takes all beginning and intermediate players to an entirely new level.
In March, Run It Once launched the even more comprehensive MTT Edition of From the Ground Up covering all the essentials of tournament poker over the course of 41 videos, the first two of which you can watch for free.
—
That's all for now. This column will be back once again come summertime, where we'll continue updating you with the latest news, updates, and product releases that Run It Once Training has to offer.