Most online casinos that offer player-versus-player poker also charge a rake fee, which is used to offset the cost of hosting the game and facilitating the tables to their players. It is put in place as a measure to make a profit in a game where the house edge is non-existent, as players wager money among themselves and never against the casino.
Thus, the rake is only present in player versus player (PVP) poker tables. It is not present in poker games where users wager money against the house, such as Casino Hold'em or Caribbean Stud.
In this article, we'll tell you everything you need to know about the rake in poker, as well as the easiest way for players to maneuver around it and not lose too much money in the long term.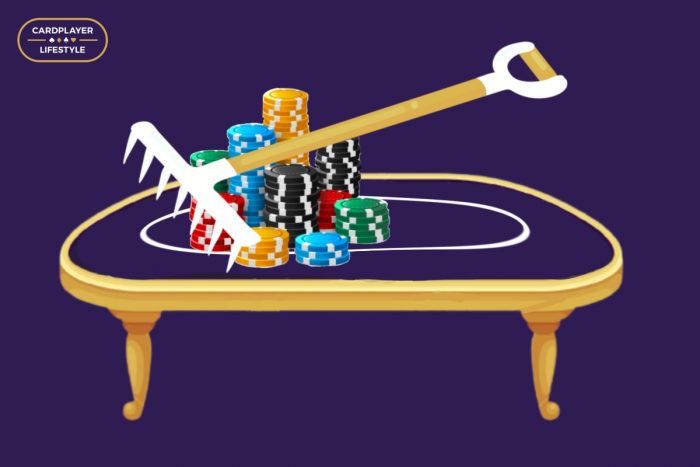 What Exactly is the Poker Rake?
Rake is the fee that the house charges for facilitating poker services to its players. Any percentage of money taken from players that isn't part of a game is considered a rake fee, although its value can wildly vary depending on the table in which you're sitting.
This is a common practice among the majority of casinos, although how casinos charge a rake fee varies. Some sites are straightforward about it and simply charge players up front, while others take a commission out of every hand that is at play.
Regardless, the rake is usually a very small amount of money that takes a bigger toll on amateurs than it does on veterans.
How to Make a Profit with a Rake Rule in Place
As small as a rake fee may be, the fact that rakes exist means that players are always being charged money to play, which can cause negative long-term effects on their budgets. However, many people are unaware that rake fees exist, given that they're often tiny and they're automatically charged.
In fact, rake fees are often so small that players barely notice that they exist. Some casinos charge less than 0.5% per bet as part of their rake fee, so it may be nothing but a tiny dent to your overall budget. If you're a frequent winner, it'll barely affect you.
In any case, here are some crucial ways that will allow you to make a profit when a rake fee is in place:
Take advantage of rakeback bonuses! Some casinos give part of the rake back as a way to reward some players – especially those who belong to their loyalty programs;
Use $200 no deposit bonus 200 free spins real money bonuses to earn some extra cash playing casino games before heading to the poker tables. You won't mind the presence of a rake if you can make a profit elsewhere;
The easiest way to make a profit with a rake in place is actually quite obvious: be better than other players. It's that simple. If you win round after round, you won't notice the presence of a rake at all.
Types of Rakes in Poker
As stated before, casinos have different ways of charging rake fees to their players. We'll take a look at the most common ones here:
Hand Rake or Dead Drop: Dead drop rakes are charged to whoever has the dealer button, but not to other players.
Fixed Rake: Fixed rake fees are charged per hand, regardless of the size of the pot or betting limits on the table.
Pot: Some casinos take the rake fee directly from the pot. When playing online, the rake fee is taken automatically by the software, but land-based casino croupiers take chips from the pot and set them apart as part of the rake fee.
Tournament Fees & Event Participations: Signing up for tournaments by paying real money is a form of rake. After players sign up to play, it's common for tournament tables to be rake-free.
Subscriptions: Another way of charging a rake fee is by subscription. Players pay a monthly fee to the casino to play, and tables are all free of rake fees.
Rakeback Bonuses Explained
The launch of online casinos into the mainstream scene has made many website owners opt to offer players benefits to have them register and play on their sites over the competitions. That's how rakeback bonuses came into prominence.
As such, many casinos will give back the money withheld from player bets after they've played a certain amount of money or after they've been in the casino for a certain amount of time. Getting back the money held as part of the rake fee is considered a rakeback bonus.
Rake Free Casinos – Do They Exist?
Yes, there are many rake-free casinos out there, as well as ways to find the lowest poker rake. How do they make a profit, you may wonder? It's easy: volume! They draw a large base of players towards the casino, many of whom will end up playing other casino games that will in fact make the site a profit.
Those who only enjoy playing poker can largely benefit from this, but bear in mind that most big casino brands with poker rooms, like Betsson, do have rake fees imposed upon their tables. Always read the terms and conditions of a casino before you decide to play in it.