PokerStars is one of the largest and most well-known poker providers. The online poker site is home to a wide selection of activities and non-stop action, offering great weekly events and real money payouts. It also holds the record for hosting the biggest-ever online poker tournament and the highest number of people playing at once. Experts from the NJCasimile.com website have prepared a review of the PokerStars NJ website, where they outlined the most interesting points. The most interesting aspect is considered to be the issues of registration and direct play. But no less important are aspects related to the security of personal data and player finances.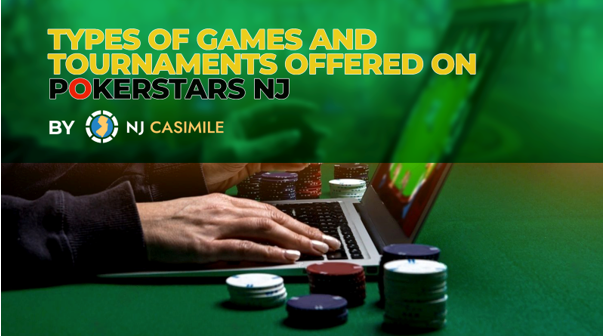 If you fancy online play, PokerStars tournaments are live in Pennsylvania, New Jersey, and Michigan, as well as numerous other jurisdictions around the world. If you want to play for real money in an online poker room in the New Jersey, let us tell you everything about their tournament offering and games available in PokerStars NJ.
Types of games
PokerStars New Jersey offers some of the most exciting pastimes beyond purely poker. They include live roulette, blackjack games, video poker, slots, table games, and more. Interestingly, a "Home Games" feature allows you to start and arrange a private real money online poker with friends. Besides casino games and poker, you can also bet on basketball, football, and ice hockey and other sports. Let us examine them below:
Video Poker
Before we get to the video poker offerings, it needs to be mentioned that you can play Texas Hold'em and Omaha, as well as numerous other poker variants, at PokerStars. Players can also participate in live events. They include the PokerStars No Limit Hold'em Players Championship, as well as other marquee series like the Brazilian Series of Poker, and the European Poker Tour.

Online poker play at PokerStars is regulated by a number of jurisdictions around the world, just like live poker play is. This provides players safety, reliability, and maximum peace of mind during a gambling holiday. Other entertaining poker variants spread on the site and in their live events include Omaha Hi/Lo, Seven Card Stud, Razz, H.O.R.S.E & 8-Game mix.Plus, of course there are numerous versions of video poker, which you play "against the house" and can win based on the paytables.
Live Roulette
Roulette is one of the most popular forms of casino entertainment. Participants play different stakes and styles of live American, Auto, and Auto-lightning roulette to land a big payout. American Roulette has a 94.74% RTP (return to player), while the Auto-Lightning and Auto Roulette have a 97.3% RTP.
Live Blackjack
Visit the online casino to enjoy the most widely played casino pastime in the world – blackjack. Experts in their reviews advise you to find regulated online poker and popular live dealer blackjack variants via NJCasimile to know where to invest your time. Whether you are a high-roller or a first-time player, PokerStars NJ offers various options. You can pull up to a table online from anywhere in the Garden State, taking on the dealer for a chance to win across different variants. Some of the live blackjack options offered in the casino include:
Blackjack and premium blackjack: ordinary blackjack allows single and multiplayer and offers 100% RTP with a minimum fee of $0.50. Likewise, the premium blackjack offers 100% RTP but requires a $5.00 minimum stake.
Classic blackjack: classic blackjack has an RTP of 100%, and you can play alone or with multiple people for a minimum of $0.10.
Atlantic City premium blackjack: there are three variants – Atlantic City, Atlantic City premium, and Atlantic City double-deck blackjack. Although there is no multiplayer option, they have a 100% RTP, so play with a minimum of $5.00.
European blackjack: The European blackjack requires a $1.00 minimum bet, but you stand a chance to win 100% RTP. Apart from European blackjack, check out infinite and double-deck blackjack.
Online Slots
Play over 100 new, jackpot, and Megaways slots in the casino. The popular ones are:
Rise of Merlin
Gorilla Kingdom
Hypernova Megaways
Win a Beast
Jumanji
Joker Inferno
and more
Other Table Games
Apart from casino poker variants and slots, you can also find a vast collection of classic card and table games at the casino. They include craps, baccarat, deuces wild, dragon tiger, football studio, and many more. Likely though, you're on the site for their poker offerings.
Types of tournaments
One of the best ways to earn huge returns at the online poker room is to participate in a tournament. All players start with the same number of chips, and the last player will win the biggest portion of the prize pool. Below are some popular types of available tournaments:
Guaranteed: this is a type of tournament where the prize pool is guaranteed to reach a defined amount. As a result, it eliminates the uncertainties of not knowing the average expected win.
Poker tournament money: players in New Jersey who win a seat to an event through a satellite tournament can unregister, earn reward points and receive cash instead. Then, they can use the T-money to register for another event since the money is not withdrawable.
Heads-up: in heads-up or 1-on-1 events, gamblers are paired to play bracket matches until one player is left. It is like a real-life tournament where you can outplay your opponent between two matched tournament players.
Hyper-Turbo: unlike turbo events, the blind levels increase exponentially in hyper-turbo fixtures. Each round lasts for 3 minutes, and it is a great way to win a seat in an event.
Multi-Table: participants start with an equal, fixed number of chips. They compete at numerous tables for another player's chips as the blinds increase. You lose when you run out of chips, and other players advance until one winner wins the chips of all the losers.
Phased: this tournament lasts over a couple of days and time. As a result, it is flexible and only associated with smaller-field matches. Finally, the remaining player pool will combine into a larger event.
Progressive knockouts: every entrant into the fixture does so with a cash bounty. When you knock out an opponent, you win a cash prize and keep playing. Part of the money will be added to your bounty offer and another to your cash prize. The amount will steadily increase when you eliminate more players, making you a target for other hunters.
Rebuy: this is the only event that allows the participant to buy more chips when they run out. Although it has a few restrictions, it is handy for avoiding an early loss.
Re-entry: Like rebuy, re-entry fixtures allow eliminated players to enter an event again, even after losing all their chips.
Satellites: the price of a satellite is entry into a larger event instead of paying a huge price. They are accessed via the lobby mobile and available under the 'Sit & Go' tab, scheduled as regular fixtures.
Online poker tournaments offer a lot of events. Apart from the ones mentioned above, you can join shootouts, Sit & Go, Spin & Go Time Tourneys, and Turbo.
Conclusion
PokerStars NJ is home to the best cash games and tournaments. You can practice your skills with free money or join daily or weekly tournaments with real money. The operator offers a 100% bonus of up to $600 for new customers. With this, you can play desired cash games. We recommend you open an account today and check the progressive and other tournament types to see how they work.