The 2022 World Series of Poker has returned to Las Vegas for the summer for the first time since 2019. After a year off due to the COVID-19 pandemic and a 2021 WSOP that took place in October and November of last year, the return of the World Series of Poker to Vegas this summer is a source of major excitement, in particular, the legendary Main Event.
Costing $10,000 to play since 1971, the so-called 'best tournament in the world' has been won by poker legends over the years. Each man who has won it – no female has yet won the event to date – has carved his name in poker history. With this year's festival taking place at Bally's (soon to be the Horseshoe) and Paris casinos, we've taken a look back at those who have already won the most coveted prize in poker and picked seven stars who have defined the incredible event.
1. Doyle Brunson (1977 & 1978)
It's impossible to look at the World Series of Poker without conjuring the image of the 'Godfather of Poker' Doyle Brunson. Nicknamed 'Texas Dolly', Brunson was a tour de force during the early years of the WSOP as well as poker in general. A former sportsman at college, injury was professional basketball's loss but without doubt poker's gain.
Doyle Brunson didn't just win back-to-back world championships in 1977 and 1978; he did so with the same winning hand – ten-deuce, known forever as 'Texas Dolly'. Brunson's legacy of 10 WSOP bracelets is a fearsome one that sees him behind only a certain other Main Event winner we'll come to later in terms of total bracelets won.
Now aged 88 and officially retired, Brunson nevertheless played several events in 2021 and we'd expect to see him at the poker felt for as many years as he has left.
2. Stu Ungar (1980, 1981 & 1997)
When it comes to players who have won it three times, there is no-one who has matched Stu Ungar. Johnny Moss may have won three WSOP Main Events, but since the first one was a six-handed second vote to determine the best player – the first vote having seen each of the six men vote for themselves! – Ungar is the only man to have won three Main Events where it was decided at the felt.
After initially winning back-to-back titles in 1980 and 1981, Ungar's plummet from the pinnacle of the game through substance abuse was heartbreaking. Resisting numerous impulses around the game of poker in the gambling atmosphere in 1997, Ungar won in style in 1997 to capture his third — and perhaps most memorable — Main Event title. Tragically, Ungar, known as 'The Kid', would be found dead in a Vegas motel room little more than a year later after gambling away his share of the $1 million prize money on gambling and sportsbetting.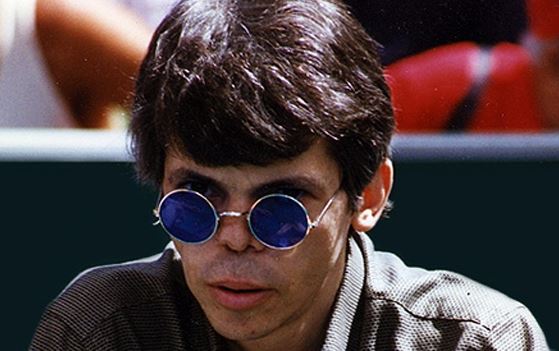 3. Johnny Chan (1987 & 1988)
Johnny Chan, known as 'The Orient Express', changed the face of World Series of Poker when he won back-to-back Main Event titles seven years after Ungar's magnificent achievement of the same. Chan was, at times, unplayable in the WSOP Main Events he won and his legendary 'look to the sky' against Erik Seidel in the final hand in 1988 became a key scene in the Hollywood poker movie Rounders.
Johnny Chan has 10 WSOP bracelets and sits in joint second on the list of all-time bracelet winners after a period of domination perhaps no other player has ever experienced. Between 1985 and 2005, Chan won 10 bracelets, averaging one every two years during that period.
Chan had the opportunity to win three titles in a row the next year after winning back-to-back when he took on the Main Event field again in 1989. Up against a young precocious 24-year-old math whizz heads-up, Chan only needed to win the final duel to seal a three-in-a-row victory, but was beaten by the man who would start working on the greatest record of anyone in WSOP history…
4. Phil Hellmuth (1989)
He's only won a single WSOP Main Event, but Phil Hellmuth was the man who beat Chan in 1989 and has since won another 15 WSOP bracelets. Hellmuth, whose initial win saw the man nicknamed The Poker Brat launch a poker career impressive as any other, has since won the WSOP Europe Main Event, too, in 2012 for over $1.1 million.
Hellmuth, whose 16th bracelet came in 2021, is either a perennial favorite or anti-hero of poker fans at the World Series of Poker, but he cannot be ignored. Frequently lambasted for his attitude to other players, Hellmuth's legendary poker rants has nevertheless gained more fans than they have ever lost and at the age of 57, the Wisconsin-born Poker Hall of Famer is widely regarded as the greatest player that the World Series of Poker has ever seen.
Hellmuth's ability to combine incredible math knowledge with a counter-punching style and reading ability became a template for young poker players to aspire to for years to come.
5. Chris Moneymaker (2003)
It is fair to say that Chris Moneymaker's infamous Main Event win in 2003 changed the face of poker forever. Having qualified for $86 for the Main Event by playing online poker satellites, the former accountant banked $2.5 million when he outlasted stars of the felt at the final table to capture poker's biggest prize. The concept of winning your way into a live poker event via an online satellite at a UK online casino or other poker room was a relatively new one back then, but these days it's something players can take for granted.
A superb spokesperson for both poker professionals and the average American in tandem, Moneymaker's success led to his victory – the first by an online qualifier in the Main Event – being dubbed 'The Moneymaker Effect'. His achievement in 2003 doubtless started a poker boom that is the bedrock of all modern poker, and aspiring players and seasoned pros have a lot to thank the former PokerStars and now America's Cardroom ambassador for to this day.
6. Joe Cada (2009)
When Phil Hellmuth won the Main Event in 1989, he was just 24 years old. For 19 years, his record as the youngest winner stood proudly. In 2008, Peter Eastgate broke the record but he held it only a year before Joe Cada took it from him. Winning the Main Event for $8.5 million in 2009, Cada, at the age of just 21 years old, set a record that to this day hasn't been beaten.
Cada was a grinder, a phenomenal talent who put in hours and hours of work before his success in 2009.
By winning the big one, Cada's victory paved the way for young players to dominate the game en masse for all the years following his triumph against logger Darvin Moon. Further than that, however, his selling of action – in particular to Cliff Josephy – was a guiding light for coaches to the best players and the poker youth to become more successful than ever before in a shorter period of time.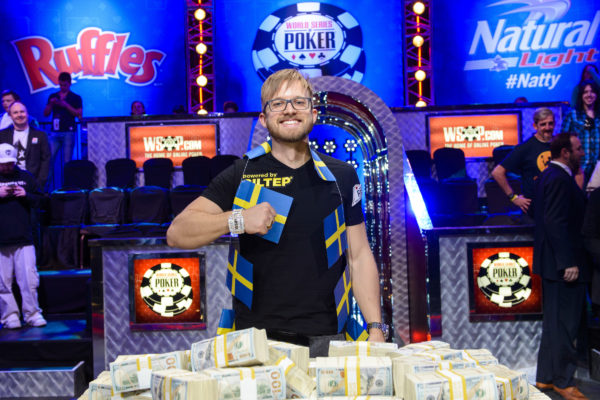 7. Martin Jacobson (2014)
Swedish poker sensation Martin Jacobson's win for $10 million in 2014 came just five years after Cada's howling at the Moon in 2009, but in poker terms, it was a different era entirely. Jacobson, a former chef, cooked up a stunning win from the middle of the pack after a November Nine victory that alluded to the age of poker that we would still find ourselves in eight years later.
VIDEO Q&A with Martin Jacobson
Jacobson worked on simulations of the final table obsessively over the autumn hiatus and not only did that prove profitable in the short term, but it paved the way for a proficient strategy over time, too. Players used Jacobson's personal attention to detail as a jumping board for the GTO lifestyle that is now the present and future of poker.