The Festival, an all-encompassing gambling series, bringing together the excitement of live poker, casino games, and sports betting will be debuting in Bratislava's Banco Casino from September 20 – 26. This unique series is the brainchild of one Martin "Franke" von Zweigbergk and was supposed to kick off in Tallinn, Estonia, earlier this year. The original plan fell through due to coronavirus restrictions.
With things now finally getting back to normal, The Festival will first be heading to Banco Casino. Bratislava is just the first of many cities that Martin has in his crosshairs. He has big plans for The Festival, and hopes he'll be able to bring it to many different cities in the future.
What Is The Festival All About?
Live poker events are nothing new, but The Festival isn't your traditional poker series. It will offer something for everyone. In addition to poker tournaments and cash games, The Festival will also feature competitive blackjack and roulette tournaments. All participants will also get to enjoy a variety of leisure activities.
The Festival Series is heading to Banco Casino Bratislava, a casino and city I now have visited more than 20 times. Each time I have discovered a new favorite restaurant or befriended a few more great people that love gaming as much as me. Now I will treat them with a treat.The Opening Event will be a Sviten Special Tournament, my new favorite poker game. There will also be a Blackjack and Roulette tournament. We are all in for a great week of action, both on and off the felt! – Martin "Franke" von Zweigbergk
The main idea behind The Festival is to bring people together for some quality entertainment. You don't have to be a poker player to go and enjoy your time, as there are various other casino-related activities on offer:
€250 Roulette Championship
€250 Blackjack Championship
€250 Slots Tournaments
€250 Sports Betting Tournament
So, no matter what type of gambling you might prefer, you'll find something to keep you entertained during The Festival in Bratislava. Or, if you're traveling with a non-poker playing friend or partner, there'll be something for them to do while you're grinding away on the felt.
The Festival Poker Series
Of course, if you're reading this blog, you're probably most interested in poker action. The good news is that there are several poker events taking place over the week, with some decent guarantees.
The €550 Main Event is the highlight of The Festival, featuring a €300,000 guarantee. There are three starting flights on September 21, 22, and 23, allowing up to two reentries per day. With a starting stack of 30,000 and 45-minute levels, this tournament promises some quality action. If Pot Limit Omaha is more your game, there is the €220 PLO Masters event taking place on September 21. Those with bigger bankrolls will have even more to do, as there are two high roller events, one for Hold'em and one for PLO, both featuring a €1,100 buy-in.
Other tournaments on The Festival schedule include:
€220 PKO event on September 22
€110 Half' n Half (NLHE & PLO) on September 23
€220 PokerListings Deepstack Championships on September 24
€110 OFC Pineapple on September 24
€330 Heads Up event on September 25
€110 PLO turbo event on September 25
€110 Short Deck tournament on September 26
But the real treat is definitely the Sviten Special event, although you'll need to get to Bratislava on September 20 to play in this one. Sviten Special is a unique poker variant that represents a mix of PLO5 and five card draw, where the pot is split between the best PLO and the best five card draw hand. You even get to discard some cards and get new ones after the flop, so if you enjoy action, you'll love this game.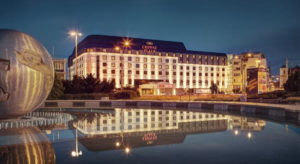 All in all, The Festival in Bratislava is an excellent choice if you've been missing the live action and want to get back into the mix of things. There is something for everyone there, the poker schedule is rich, and buy-ins are very reasonable, so it's hard to think of a reason not to go!