Last Friday, I had the privilege of competing in a small media event, which was a satellite to the Hollywood Poker Open Main Event in Las Vegas. Now, you might be thinking… "wow, cool story, bro". But this wasn't just any ordinary event against a table full of random media people.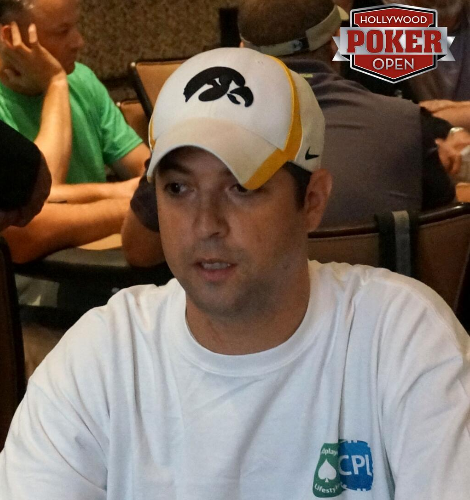 Nope, this table included the guy that is responsible for my interest in the game of poker, and possibly yours. That guy, of course, is none other than 2003 World Series of Poker champion, Chris Moneymaker. I got to meet and compete against the man responsible for the 2003 poker boom.
The Hollywood Poker Open (HPO) took place at the gorgeous M Resort in Las Vegas, which is where I live. Eight of us media folks were invited to play in a one-table satellite that also included Moneymaker. The winner received a seat in the HPO Main Event the next day, which is an event that paid out more than $350,000 to its winner (Simon Deadman…cool name, by the way – see his winner's pic below).
Moneymaker was the headliner for this event. As it turns out, he is a great ambassador for the young, but growing Hollywood Poker Open. I don't say that only because he is a world champion, but more so because he seems like a genuinely good dude.
Meeting Chris Moneymaker
Before we all battled on the felt, we met for a light lunch at M Resort for an hour. During this time, I got to chat with some very cool people in the poker media. But, even better, I got to get to know a little bit about Chris Moneymaker. I spent a good 15–20 minutes chatting with him about everything from poker strategy to sports (residing in Nashville, he's a die-hard Tennessee Vols fan in case you didn't know).
What I took away from my discussions with Moneymaker and watching him interact with others is that he is one of the good guys in poker. And I mean that sincerely. I'm a fairly good judge of character. Honestly, I'm sort of a snob in that I usually know right away if someone is or isn't a good person.
I play poker at Aria and Bellagio in Las Vegas quite often. Many of the top poker pros play at those casinos frequently. What you see on TV isn't always their true character. For example, there's a very well-known bracelet winner who frequents the Aria. Most poker fans consider him to be a pretty good dude, but ask the poker dealers at Aria what they think of him or those that know him well and you'll get a completely different opinion. So it was nice to meet a big name poker player that actually is the same as he appears to be on TV, even though he trash talked me on Twitter after I busted…
@jonsofen still playing Jon gone. #domination

— Chris Moneymaker (@CMONEYMAKER) June 26, 2014
That's right, I busted…
I decided not to write much about the tournament itself because there isn't much to say. I never even won a hand and busted 30 minutes or so into the event. I had absolutely no hands. I never so much as caught bottom pair and didn't have any bluffing opportunities.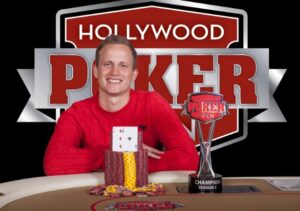 Unfortunately, I never had an opportunity to get into a confrontation with Moneymaker at the poker table. I was hoping to bust him or at least double-up through him. That didn't happen. My final hand basically played itself out. I had $2000 left in my stack on the button, holding K-Q of diamonds. There was a raise to my right, so I just flatted. The flop came 10-4-3 with 2 diamonds. My opponent bet out $300 so I shoved on my draw (which is the right play). He called and turned over 10-4 (ugh!). I didn't hit my draw and that was that.
But it was a fun experience. It was cool meeting and competing against Chris Moneymaker, even in a small event such as this. Thanks to the guy that runs this website – Robbie Strazynski – for handing over his seat in the event to yours truly. And thanks to a friendly gal named Madeline from HPO's marketing team for inviting me.