For the one in two people who own a Smartphone, there is a growing choice of mobile casinos and poker rooms offering free-to-download games and gambling on the move. Surely the U.S. will join in this trend once online gaming becomes legal there. With the popularity of Smartphone gambling increasing at breakneck speed, is it any wonder that many are now asking if the future of gambling is mobile?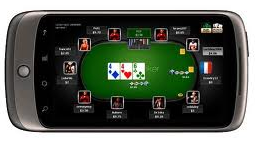 High Demand
According to a recent report by the UK Gambling Commission, around 4.5 million people in the UK are already using Smartphones to gamble on the go. That's over a third of people who have gambled online – and the number looks set to rise.
Whether you just have a few minutes to spare or somewhat more time on your hands, Smartphones provide you with the opportunity to play your favorite gambling games wherever you like.
Revolutionary Technological Developments
The mobile device market is dominated by a few major players. HTC, in its bid to muscle its way to consumers past Apple, Samsung, Sony, Nokia and BlackBerry, has realized that implementing cutting-edge gaming technology is the best way to ensure that it's latest handset to hit the shelves, the HTC One, can keep up with the competition.
If they're wise, HTC's rivals will respond with bigger displays and even higher pixel densities for maximum appeal to the growing number of people playing poker and casino games on their phones and tablets. With so many people downloading gambling apps, Smartphones offering the best gaming experience have the best chance of grabbing the lion's share of the market.
Even live poker play has been revolutionized by apps for your mobile devices, such as Poker Notes Live, which allows you to take notes on your opponents at the felt. Online poker players always took note-taking tools for granted, and now, finally, there's a mobile app equivalent providing the same great tools for live poker players.
Overtaking PC Gambling
With smartphone gambling becoming the quickest and easiest way to play games or place a bet, many industry insiders believe that mobile gambling will soon overtake Internet gambling. At the same time, the gambling sites that offer the best iPhone and Android apps will be the ones that remain the most successful. Perhaps that's why the biggies, like PokerStars, are investing so much time, money, and effort into their mobile software products.
More in the Pipeline
As mobile hardware and software technology continued progressing, we're bound to see more operators jump on the bandwagon and increase the mobile poker and casino offerings even further.
One thing's certain, if you're up for playing poker or other gambling games on your mobile device, you'll have an overwhelming number of options to choose from.