Quality Playing Cards & Games, Inc. (QPC's) is one of the world's premier card game manufacturers and turnkey board game producers. Whatever your needs are, QPC's offers a comprehensive solution for you!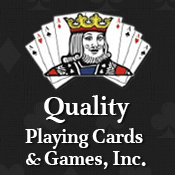 We are proud to print and assemble all products here in the United States as well as at our International Facility, to offer a global solution to our clients. This allows us to assure a high-quality product with reduced production time—allowing you to get your games to market and to your clients in the most economical ways possible!
QPC's has deployed the finest finishing and collation equipment in the industry to manufacture card and board games with any number of cards in the game. From the standard 54/56 cards to trivia games with 1,000 cards, we can print and collate them for you.
We can also manufacture either square or round cornered cards. And, we can produce any size card you want for your games. QPC's can also package your cards in die cut tuck boxes or 2 piece set-up boxes—all manufactured in-house to provide the quality and timely delivery you need.
Only Top Quality Manufacturing
As a high-quality manufacturer of custom playing cards, we offer a different breed of niche products that concentrate solely on the poker playing card and board game industry; wherein great care is taken to ensure that the playing card games and products we manufacture are of a consistent color and shade as specified.
At QPC's, stringent quality control methods go into manufacturing playing cards, and we have a major advantage over other standard printers. We are a preferred production house for customized playing cards, custom board games, and much more. Our orders require the utmost attention-to-detail over numerous quality issues faced by normal printing houses.
We are one of the few playing card manufacturers worldwide that is vertically integrated, having all the processes in house for the manufacture of customized playing cards and games, as they are well-known in many parts of the world.
Manufacturing playing cards and games is a detailed process of special paper stocks and specialized inks for the creation of an ideal deck of customized cards. There are various methods that can be used for manufacturing, but our manufacturing process is just simply the finest in the industry – worldwide.

Recreational Poker Players – We're Here for You!
Are you looking to create customized decks of poker playing cards for a memorable gift at promotional events or maybe as a way to commemorate your special or charity poker event with impressive personalized party favors? Our custom playing cards serve as a great gift and keepsake for teams, clubs, organizations, and much more!
At QPC's we'll work with you to create your customized playing cards with a personal touch and professional quality. Customize all 54 playing cards in the deck with your own card designs. Teach, inspire, create, motivate, and have fun with our beautifully created custom playing cards. For a great gift, personalize the card backs with your photos, memories and special message!
Are you interested in creating your own deck of custom printed playing cards or custom printed board game with all accessories? Request A Quote for our custom playing cards to customize all the cards in your deck or read more about creating your own personalized playing cards deck with your photos and memories with our great patterns, designs and colors. Contact Us today!
*This is a sponsored advertorial post.