There's a very special event happening today, Monday December 19th, as Fedor Holz hosts an exclusive Pokercode Charity Event on Monday evening. Taking place at the Town Hall Meeting, Holz, the German poker legend, will introduce the Pokercode community to the future of the brand and then introduce the charity event directly afterwards.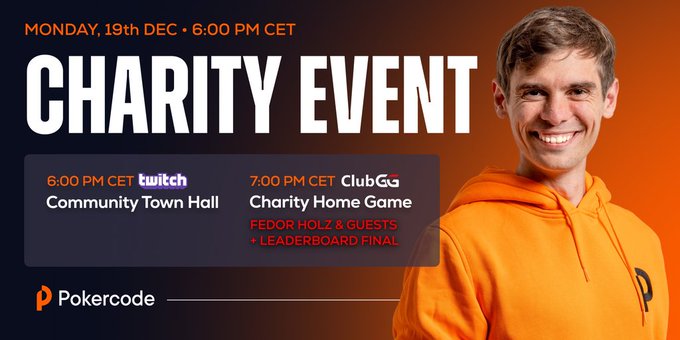 Pokercode Charity Event to Stream Live on Twitch
Pokercode's exclusive Charity Event will take place at 6pm Central European Time (5pm GMT) so the world will be able to watch, join in and donate, too. With a livestream throughout via
Pokercode's official Twitch page anyone who tunes in and donates will be delighted to know that Pokercode will match donations (via PayPal) to a total of €2,000.
Alongside the charity donations is an exclusive freeroll Home Game tournament. Every poker player loves something for nothing and the free-to-play event takes place on ClubGG, which is available in almost every territory out there.
With special guests appearing throughout the live stream, Fedor Holz's hosting skills will be on show as the site he co-owns with Austrian high roller Matthias Eibinger explains what they'll be up to in 2023 and beyond.
Join Fedor Holz for a special charity home game and play against the High Stakes boss himself 🤩

🔥 Don't miss out! 🔥

🔗 – https://t.co/iCG0oufXpf pic.twitter.com/gsm8mo3L2B

— Pokercode (@_pokercode) December 19, 2022
How to Play the Pokercode Freeroll Home Game
Anyone who has already downloaded the ClubbGG software can register for the tournament right now within the lobby. Pokercode, who offer advice and tips such as their bankroll advice on their website are not only a site for great players to become elite. They help any regular Joe or Jane improve their game and the Home Game this Monday is a great opportunity to make it count.
If you've not downloaded ClubGG yet, you can do so via the GGPoker website, by joining the Pokercode Club by using the ID: 970951. When you've done that, register for the Freeroll Home Game and join in the Pokercode Discord group. Simply post the name you play under on ClubGG in the Nickname thread and you'll be ready to play. You can also use the password 'Charity' to register for the Freeroll too.
ClubGG is a play money poker client, and therefore since you can't lose any money, it should be available virtually anywhere. You can register an account via the ClubGG website at any time. The Discord regiatration is vital for anyone who wins, because that's where Pokercode will head in order to pay you your winnings!
Meet Fedor and Chat Poker
Even if you don't feel like playing the game but still want to take part, that's cool too. If you're a poker fan who wants to be in the known without having to sit down at the live or virtual felt, you're just as important to Pokercode and ClubGG. You can simply pull up the Twitch stream, introduce yourself to Fedor and his special guests throughout the evening and watch what happens at the table when the action kicks off!
December is a really busy month on Pokercode, with a packed schedule of lessons, coaching and of course this special Charity Event night which will see the livestream and chat action go into the night. Since 2019, Pokercode was formed as a way to help poker players improve their games, but it has since turned into something way bigger, with the Pokercode Stream Team starting in 2020 during the pandemic.
Since live poker returned in a big way in 2021, Pokercode has been at the forefront of some key developments in the post-GTO landscape of the game. As Holz himself has said, "We believe people who are passionate about the game in the format of tournaments should be in one pool," we believe people who are passionate about the game in the format of tournaments should be in one pool."
Tonight's Charity stream and tournament both represent a different way new players are both being welcomed and listened to by one of the most progressive brands out there.