While covering the 2017 PokerStars Championship Barcelona, I got to speak with some incredible poker players. But in a group of already impressive players, PokerStars pro Bertrand Grospellier — simply known in the poker world as "ElkY" — still manages to stand out.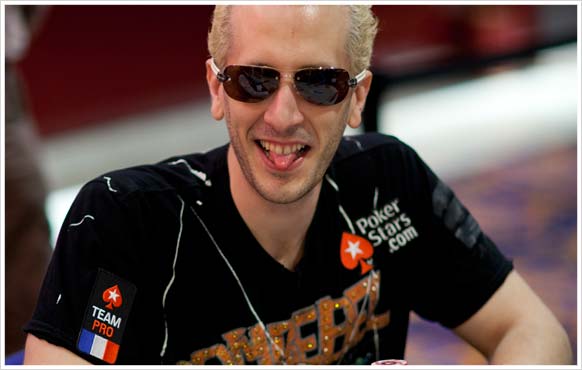 For starters, Elky has always had a distinctive look about him, The charismatic and flamboyant Frenchman is without a doubt known for his wild haircuts, flashy fashion, and darkly tinted sunglasses. But while these attributes make him a lovable personality off the felt, there are none who would question that he is one of the most respected players of his generation on it.
For me, the image of him 24-tabling in front of a wall of computer screens seemingly straight out of the film The Matrix, was the epitome of the incredible talent, dedication, and change the video game culture of the "internet kids" brought to the game. Today, as new innovations like PokerStars' PowerUp continue to blur the boundary separating poker and e-sports even more, that image has in many ways become even more relevant than it was when it was taken.
I had a chance to sit down with ElkY, and ask him his thoughts on whether poker has an "athletic" side, what it's like to play 24 tables at a time, and the relationship between poker and e-sports in today's gaming world.
*Editor's note: This interview was conducted in ElkY's native language, French, and has been translated.
The image of you playing 24 tables at a time is incredible. How is that even possible? How do you concentrate while doing something like that?
Before I was a poker player I played video games. That's extremely demanding from a coordination perspective, making use of the keyboard, mouse, and your eyes. For example between the keyboard and the mouse, the number of calculations required per minute in StarCraft is 240 on average. So, while it's definitely the case that playing 24 tables is difficult — I've played up to 36 — and that you will make some mistakes, coming over from StarCraft has helped me a lot.
Watching @StarCraft is always the best! Only surpassed by hanging w the #SC2 family? So much ❤ for you and this game pic.twitter.com/d2DqbWQoAz

— ElkY (@elkypoker) May 16, 2016
How do you keep track of everything in your head? Do you have an idea of what is happening on every table at all times? Or do you come back to each one, see what's going on, and then play?
At the beginning it was fine when I was playing 30 tables of eight or nine people, but after starting to play Sit N'Go with three or four players, it's hard. There are even tables where I'll miss a hand completely because it goes so fast when there are so few players. And then with Sit N'Go Turbos, it's even faster.
Of course it goes without saying that playing so many tables isn't optimal. I play a lot worse when I play 30 tables then when I play 10 — it takes a lot of training. At the beginning, I would play 20 tables. Now, I do that less because the games are harder, so it's much more difficult to win while playing so many tables than it was before.
When you make a deep run in a tournament, there is a lot more information to take into consideration because of ICM; when everyone has 100bb everyone more or less has the same strategy. So, when playing a tournament there are a lot of different factors. And now that I'm doing Twitch streaming, I'm also talking to the audience and explaining what I'm doing. That takes time, and so I don't have the time to play 30 tables like I did in the past.
The setup is complete, ready to #stream the @pokerstars #SundayMillion on @twitch at https://t.co/vGZMRnCtFJ ?#Mau5 pic.twitter.com/x1mOZb0n4m

— ElkY (@elkypoker) August 7, 2016
Do you consider yourself an athlete?
I think that being a pro player is very much like an athlete, because both are always looking to perform their best — I personally do a lot of physical training because the body and mind are linked, even if poker is of course much more mental in nature. Certainly, playing for hours on end is much more exhausting than people think it is. Sitting at a table for 10-12 hours a day is not easy if you aren't in good physical condition. It's easy to become tired, make mistakes, have difficultly concentrating.
I train myself as well. I'm training for a half-marathon next year, I've also done some boxing as well. I'm always trying to do physical things four to five times per week, time depending.
I broke my balcony window just by closing it. I guess training hard has its downsides too. #sosick

— ElkY (@elkypoker) April 30, 2012
So you formally train? Or do you just get better by playing?
Yes, I play a lot and then I also do training with other players. I train myself in the mold of other e-sports teams; it's important to train together, share strategies, etc. The same type of things can be done for, say, a specific poker tournament that is coming up.
I almost train more than an athlete, because there are fewer limitations. There are physical limitations for a tennis player — they can only train themselves so many hours per day because there are diminishing returns. For video game players, there are fewer physical limitations.
Are there e-sports players who transition to poker?
Yes, there are a lot. There are a lot who have made the transition because there are a lot of skills that are similar between the two of them such as game analysis, competition, and deliberate action. The presence of game theory means a lot of e-sports players also play poker.
Do you like the idea of poker and e-sports converging with games like PowerUp? Do you think they are the same or are they completely different?
I think it's a really good thing because while they are certainly different games, I think it will make poker more modern. I think it will also make poker more flexible, and therefore able to attract many more new players. About 20 years ago, poker faced a lot less competition from other games and entertainment options. Now, there is a lot of competition, and you can even win a lot of money — which is of course the dream — for the majority of players its about just loving the game.
Many people love games, and now there are so many of them that it's important for poker to modernize itself and remain fresh. Even if you love the game, it can be difficult to play a game where the strategy isn't evolving quickly vis-a-vis other video games that are constantly reinventing themselves.
Great way to start the day – @PokerStars power up presentation with @elkypoker & @Liv_Boeree here at #PSCBarcelona ♠️? pic.twitter.com/blK1epkrdO

— Melanie Mo… (@MelanieMoser_) August 20, 2017