"Now don't go thinking about who the better poker player is, because I could just as easily tell a hundred stories that make Ace look good and me look like a chump. And what's the moral? What I'm saying is this—there is no reality, it all depends on how I present what is and how I cloud it. And the answer doesn't matter."

—Jesse May
***
Vegas, Monday night. I was tired. After spending most of the weekend at the Bellagio—where Doyle Brunson sat in Bobby's Room with the ghost of Andy Beal—I was killing time until my Tuesday flight home. I didn't feel like playing cards, but I was waiting for a $2/5 Hold'em seat at the Aria. What else was I going to do?
I'd spent most of the day reading Jesse May's Shut up and Deal, the 1998 novel that follows ramblin' gamblin' men to Atlantic City, Foxwoods, and Las Vegas. Not much happens in the book. Not much, that is, except the experience of playing poker: the pleasant tap of cards on your fingertips, the sweaty stink of your tablemate, the exhaustion that washes over your body after a two-day gambling jag.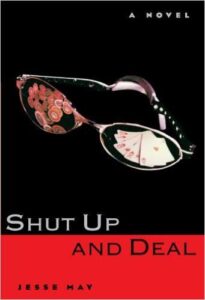 My $2/5 seat was ready. That night, the Aria poker room was filled with weathered faces, hairy necks, gaudy bling, narrowing eyes. This was no batch of recreational players. My table also seemed to be infested with regulars. The guy in the eight seat reminded me of Mickey Dane, the hero of Shut Up and Deal, and his kooky wardrobe—the poplin summer suit, the mustard-yellow Velcro-flat Italian sneakers, the straw hat squeezed atop the mane of Dane's unruly hair.
Holding a rack of reds, I hesitated behind my seat. There was no need to play with these rounders, at this table, on this Monday evening. I could always find a softer game.
But no. I'd been on the road for almost two months, playing in backwoods casinos and Montana saloons. It was time to inhabit the world of Las Vegas professionals—if only for a few hours.
I nodded at the dealer and settled into Seat Six.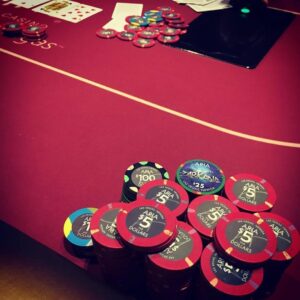 ***
Seat One was a pro. Although he used to play higher, Seat Three was the best player at the table. Seat Four had made a WPT televised final table (he was all over YouTube). Seat Five was a pro. Seat Seven was a pro. Seat Eight wasn't a pro: he was a cold-faced killer, a poker savant who meant business.
Dressed in a bright plaid shirt and a floppy straw sunhat, Eight raised from the button. Seat Nine, a disgruntled French man in his fifties, called from the small blind and Seat One folded.  Nine checked the [A♥,3♦,K♠] flop and asked, "Want to check it down?"
"Sorry, sir," said Eight. "I have a hand."
After Nine called Eight's bet, the [J♠] turn checked through. On the [T♦] river Nine checked again. Eight potted the river and covered his mouth, breathed heavily, averted his eyes, gave off every weak tell that he could—and eventually got a call from Nine's ace-three.
"Just the nuts," Eight said, showing king-queen. He giggled. "Well played, sir. Nice job betting your hand when it was good."
Eight was a chatterbox. Over time—months, maybe years—he'd built a special rapport with Seat Three, a white-haired retired cop. Three had been tight and passive, limping or calling when he entered pots. So when he backraised a squeeze from middle position, his hand screamed aces or kings. Seat Four, the WPT final tabler, wasn't convinced. He shoved all-in.
Three instantly called with aces and Four nodded grimly. Suddenly he was about to lose a $2,000 pot.
The board ran out terribly for Three's black aces—[K♥,Q♦,J♦,J♥,9♥]—but Four kept frowning and grimacing. He slowly slid his cards face-down towards the muck.
Eight giggled. "How can you have nothing on that board?"
Four paused. He studied the community cards, still confused, and exposed his hand.
Pocket tens. His straight was good.
Three rocketed out of his chair and pointed a quivering finger at Eight. "You've got a big mouth! A big mouth!" He stormed away.
Table talk shifted from Eight's poor etiquette (Nine: "You shouldn't have said a word") to the fact that Three, once a high-stakes player, had it coming (Four: "he's a whiny bitch"). Eight left the table to apologize.
"Let me tell you something," said Nine. "I don't want your money—or your money—or yours"—he jabbed his finger at each player's stack, then pointed at the empty seat on his right—"I want his money."
His chance never came. When Eight returned, Nine's wife summoned him to dinner. He slowly rose from his seat and addressed the table with a sad, stern expression on his face.
"This game is a woman," he said, "and it is a tremendous whore."
So much talk about poker stopping who you are. Talk about poker changing who you are. All poker does is let you be who you are.

— Jesse May (@ScurrilousMay) June 27, 2015
***
By the end of the night, Seat Six (that's me, in case you've forgotten) had an entirely different impression of the table. The "pros" were mediocre; a few were terrible. All the while someone busted, another sat, minds changed, the game whirred like an unhinged merry-go-round. And Six kept thinking about the wisdom of that novel he'd just read—Shut Up and Deal. It was about how, in poker, nothing is as it seems.
So How Did Seat Six Do?
And what about Six? Seat Six, rest assured, was one of the few solid players at the table. He'd played tight, rarely getting out of line except to isolate weak players—especially Four—in position. In his last hand at the table, after Four limped in, Six was dealt two queens on the button and raised to $30. Then, something odd happened. Seat Seven, who'd also been playing tight, reraised to $100 from the small blind and action folded around. After some deliberation Six called the raise, saw an [A♦,K♦,7♠] flop, and folded to Seven's hefty bet.
"Just one time," Seven said. The [J♠] and [5♥] fluttered across the felt.
"You've been squeezing too much," explained Seven.
"Ah," said Six.